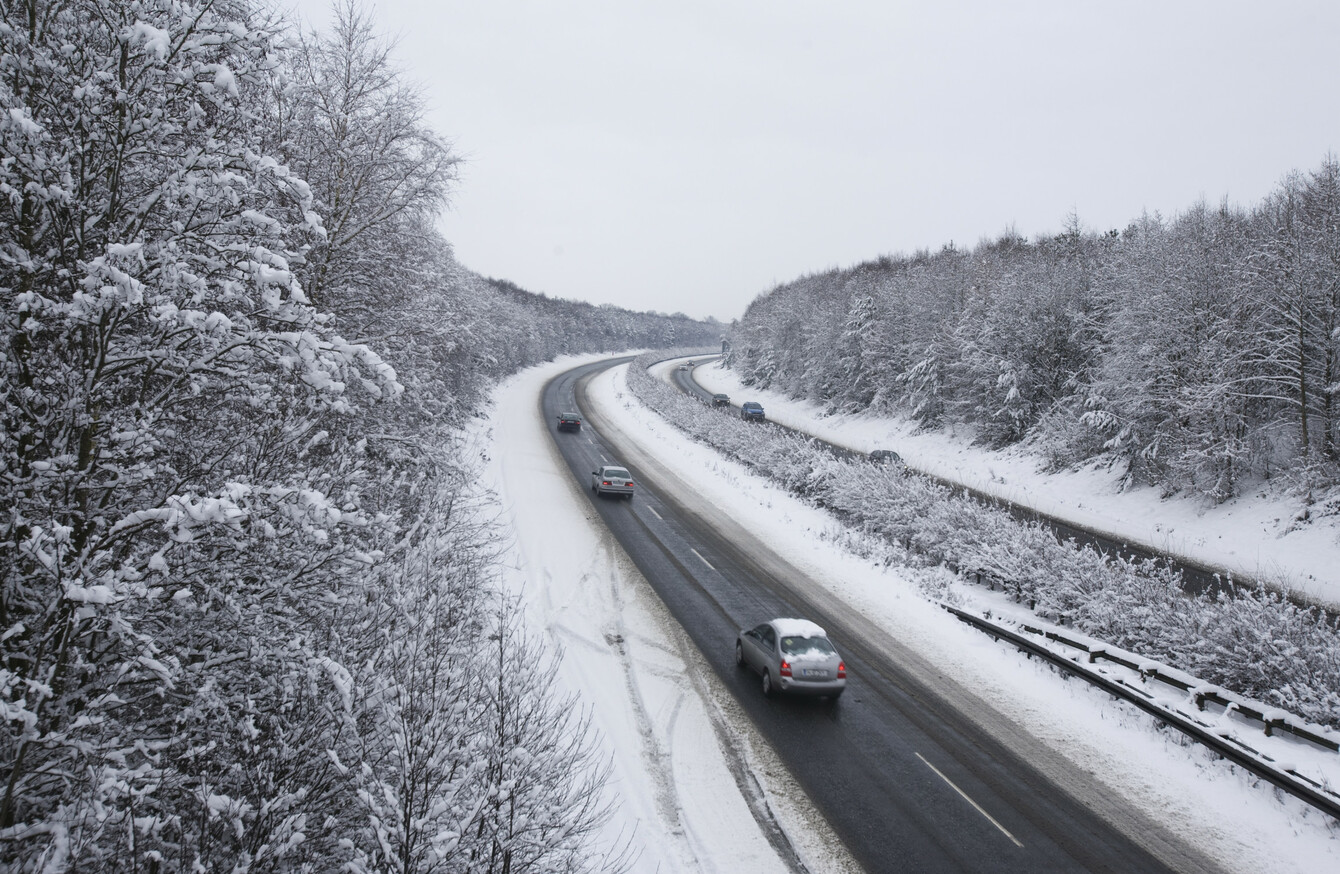 Image: Eamonn Farrell via Rolling News
Image: Eamonn Farrell via Rolling News
Updated at 2pm
MET ÉIREANN HAS issued a status yellow snow-ice warning for 21 counties.
The warning is in place for all of Connacht, Cavan, Monaghan, Donegal, Dublin, Kildare, Laois, Longford, Louth, Wicklow, Offaly, Westmeath, Meath, Kerry, Limerick and Tipperary.
Met Éireann has said that there will be snowfall of up to 3cm tonight and tomorrow night, especially on high ground.
The icy conditions are forecasted to hit parts of Munster between 7am and 4pm, and parts of Leinster, Connacht and Ulster from 4pm onwards.
The warning is valid from 7am tomorrow morning until 6am on Friday morning.
The Road Safety Authority is advising drivers and other road users to be especially vigilant over the next few days, and to keep an eye out for black ice on the roads.
Although the RSA is advising people to avoid unnecessary journeys, they've issued advice for those who have to travel in snowy or icy conditions:
Use all controls delicately and leave extra distance between you and the vehicle in front
Avoid over steering, harsh braking and harsh acceleration
Use the highest gear possible to avoid wheel spin
Select a low gear when travelling downhill, especially if you're going around bends.
Outlook for coming days 
The cold and wet conditions will persist over the coming days, turning stormy on Saturday.
Speaking of today's weather, Met Éireann said:
"Some showers will be heavy, leading to accumulations of snow on mountains and at times to lower levels. The showers will be most frequent in the north and west and down through the midlands.
The showers will become isolated to the coasts of Ulster and north Connacht tonight, with temperatures dropping as low as -3 degrees.
It's expected to be a foggy and frosty morning tomorrow. While most of the country will remain largely dry, thicker cloud will build from early on in the southwest with outbreaks of rain throughout the morning.
The rain will spread throughout Munster and Connacht during the afternoon and Leinster in the evening. Temperatures are to drop to zero degrees and snow is expected to fall throughout the night.
Friday will, again, be a cold and wet day with widespread rain expected. Once again, there'll be spells of sleet and snow mixed in with the rain. Temperatures will be between 3 and 7 degrees.
Stormy conditions will move in across the country on Saturday. Strong southwest winds are forecast during the morning.
Met Éireann is warning of a chance of gale force winds over the Midlands, as an area of low-pressure tracks directly over the country.
The strong winds will be accompanied by heavy rain and snow. The northern half of the country is expected to be the worst affected.
Temperatures on Saturday will be between 5 and 7 degrees in the north and 9 to 11 degrees in the south.
- With reporting from Gráinne Ní Aodha.