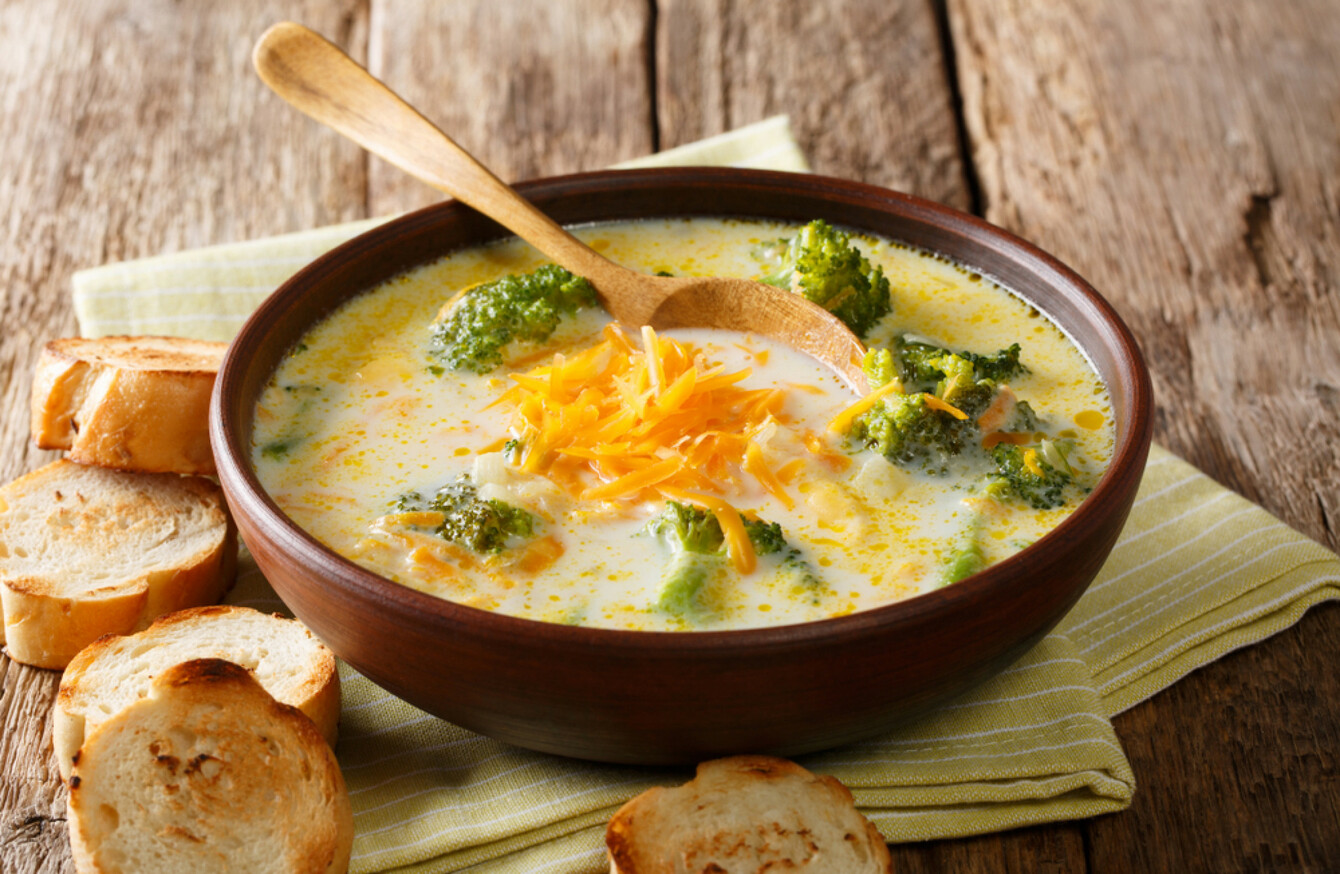 Image: Shutterstock/AS Food studio
Image: Shutterstock/AS Food studio
BROCCOLI IS PART of the brassica family so it's no surprise that it shares some of the impressive health benefits associated with other members like kale, cauliflower and cabbage. Eighty grams of broccoli – roughly just two florets – makes up one of your seven a day, so it makes sense that we were always encouraged to finish our broccoli growing up.
While we've all been subject to over boiled, mushy broccoli through the years, there are some delicious ways to cook broccoli that will transform even the most negative opinions on this wonderful vegetable. From creamy bakes to zingy salads, read some of our favourite ways to use broccoli below.
Broccoli and cheddar soup: Heat some olive oil in a pot and fry onion and garlic until soft. Add in chopped potatoes and continue to fry for another 10-15 minutes until the potatoes have started to soften. Pour over a litre of hot vegetable stock, add broccoli florets and simmer for 15-20 minutes, until the vegetables are cooked through. Blend until smooth, then stir in 150g grated cheese of your choice. Season, and serve with plenty of crusty bread.
Roast broccoli, bacon and feta salad: Chop broccoli into small florets, then place on a baking tray and drizzle generously with olive oil. Bake in a hot oven for 15 minutes, then remove and allow to cool in a bowl. Fry some bacon, then add this to the bowl of broccoli to cool. Make the dressing by mixing together equal amounts of olive oil and balsamic vinegar, and mix in a teaspoon each of wholegrain mustard and honey. Add some rocket and chopped feta to the broccoli and bacon, and dress with the dressing. Serve as it is or as a side to some baked fish or chicken.
Broccoli rice: Similar to 'cauli-rice' which is a rice substitute made from cauliflower, broccoli is also a great vegetable for transforming into a rice alternative. Whether you're looking for a low carb side or fibre rich accompaniment to your stir fry, broccoli rice is super easy to prepare and a great way to get some extra nutrients into your meal. Simply cut the broccoli into florets and add to a food processor, blitzing until small rice sized pieces are remaining. Heat a pan, add in two tablespoons of water and the broccoli, and cook for 2 to 3 minutes. Season with salt and pepper or a drizzle of sesame oil and serve.
Broccoli and sweet potato frittata: Cut a sweet potato into cubes and steam for 15 minutes, adding in chopped broccoli florets for the last 5 minutes. Beat six eggs with two tablespoons of milk, season with salt and pepper and add a pinch of dried oregano. Place the sweet potato and broccoli in a greased ovenproof dish and top with the beaten egg mixture. Bake at 180°C for 30 minutes until set, then serve straight away with a side salad or enjoy as a make ahead for breakfast during the week.
Broccoli and cauliflower bake: Boil cauliflower and broccoli for three minutes until al dente, then drain and set aside. In a saucepan, make a roux by mixing 50g each of butter and flour together to form a paste, then gradually whisk in one pint of milk. Bring to a simmer, stirring all the time, and add in about 120g of cheese (mature white cheddar works best) and a teaspoon of dijon mustard and season. Place the cauliflower and broccoli in an ovenproof dish, then pour over the white sauce. Cover with breadcrumbs and a little more cheese, and bake at 180°C for 40 minutes.