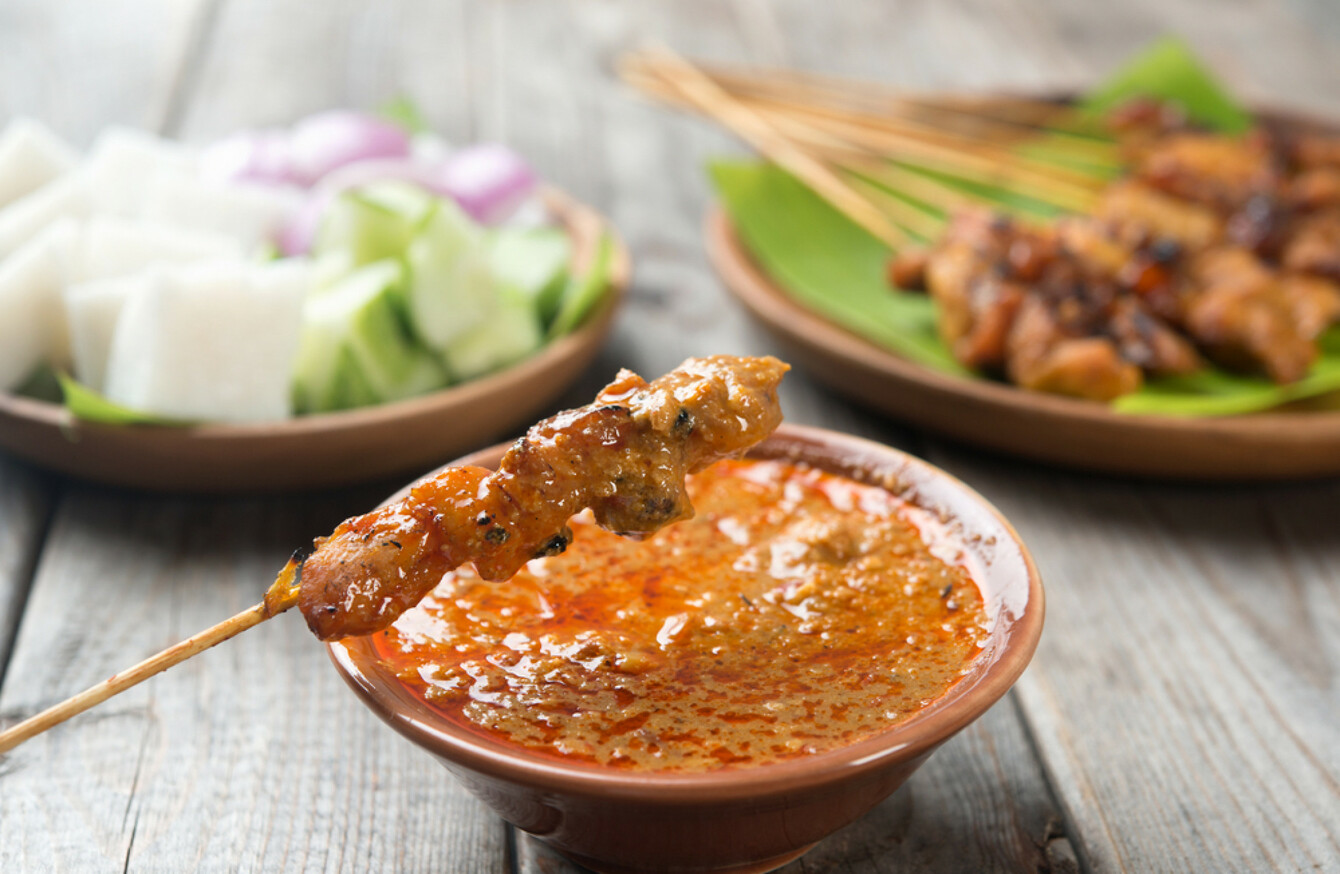 One-pan satay sauce, perfect with chicken skewers.
Image: Shutterstock/szefei
One-pan satay sauce, perfect with chicken skewers.
Image: Shutterstock/szefei
COCONUT MILK IS one of my must have kitchen essentials. I buy extra so always end up with at least one tin in the cupboard at all times.
It may be unclear from its name, but coconut is classed as a fruit, and grows abundantly on trees across Malaysia and Southern Asia all year round.
While coconut water is the white liquid that flows from a coconut once cracked, coconut milk is made by soaking the flesh in water and straining it.
It's an ingredient you'll probably have seen countless times on Thai restaurant menus and in curry recipes, but coconut milk has natural richness and sweet taste that can be used in so many other ways.
From overnight oats to zingy noodle soup, below are some of our favourite ways to use up a tin of coconut milk…
1. Coconut overnight oats
This recipe will make three portions, so that's breakfast for half the week sorted. The night before, add 50g oats to a bowl with two tablespoons of chia seeds and top with a tin of coconut milk, along with two cups of water or milk of your choice. Now for the fun part: add in whatever flavourings you like! Peanut butter, cocoa powder or a handful of strawberries all work well. Leave overnight, and serve with a drizzle of honey or some more berries. 
2. Thai noodle broth
Add a tablespoon of curry paste to a pan and cook for a few minutes in oil. Add in some of your favourite veggies (mushrooms, peppers, broccoli, peas… whatever you like!), along with a pint of chicken stock and coconut milk, and simmer for 10 minutes. While this is simmering away, soak rice noodles in hot water for five minutes, then drain and add to the soup mixture once the vegetables are cooked. Add a dash of soy sauce to taste, and serve topped with chopped coriander.
3. Pineapple and coconut smoothie
This simple smoothie is a great option for breakfast on the go, or indeed a snack at any time of the day. Add two cups of pineapple to a blender with a banana, a spoonful of oats and some ice. Top with two cups of water and a cup of coconut milk, and blitz until smooth. If the mixture is too thick, simply add in some more coconut milk or cold water until you reach a consistency you like.
4. One-pan satay sauce (perfect to top chicken, fish or as a dip)
Combine a tin of coconut milk, a spoonful of brown sugar, two heaped spoonfuls of peanut butter and a dash of soy sauce in a pan and bring to a boil. In a cup or small bowl, mix together a teaspoon of curry powder and spoonful of boiling water until it forms a paste like consistency. Add this to the sauce and boil for a further three minutes. This sauce can be kept in the fridge for up to three days and reheated when ready to use.
5. Savoury coconut rice
In a large pan, fry some chicken strips and, once golden, add in chilli, garlic, peppers and ginger. Fry for about ten minutes, then add in two cups of well-rinsed basmati rice. Stir, then top with one tin of coconut milk and 250mls of chicken stock. Cook for 15 minutes, stirring occasionally, and adding more hot water if required. Finish with a dash of soy sauce and serve with coriander and a wedge of lime.