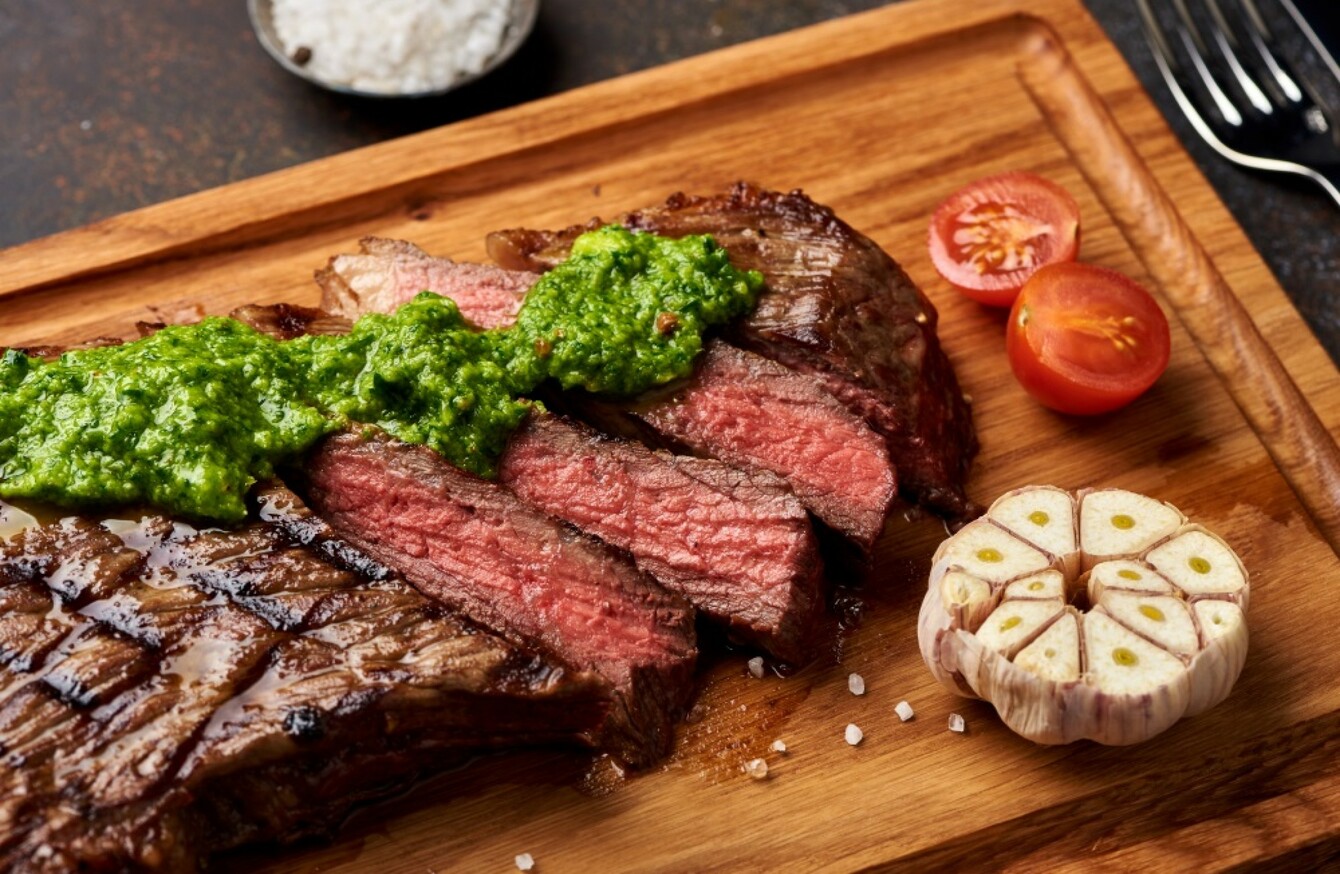 Steak with chimichurri sauce.
Image: Shutterstock
Steak with chimichurri sauce.
Image: Shutterstock
IRELAND'S TASTE OF warm weather has been wonderful so far, but it's not quite a real holiday when you have to go to work as usual, eat meals at the right time (rather than tapas at 11pm) and carry out all the other tasks that reality demands.
Just because you're on home soil for the foreseeable doesn't mean you can't make the most of the great summer produce available, and bring a taste of holidays to what you cook. Think vibrant Mediterranean flavours in a salad or a dollop of colourful Argentinian-inspired chimichurri topping your steak.
I've rounded up some international recipes that require minimal preparation, so you can get back to soaking up the sunshine while dinner cooks away in the oven. Check them out below…
1. Steak with Argentinian chimichurri sauce: The wonderful fresh aroma of a chimichurri sauce (and that bold green colour) is enough to transport your kitchen to Argentina. It's also incredibly easy to make, and a case of just throwing all of the ingredients into a food processor. Blitz a mixture of fresh parsley, coriander, spring onions, garlic, and half a chilli (as much or as little as you like), along with vinegar and lemon juice. Add in olive oil until you've reached a desired consistency, then season to taste. Serve straight away, or store in a jar for up to 10 days. I love this classic sauce with steak, but it would make a great accompaniment to almost any type of meat or fish.
2. Italian panzanella salad: This classic Italian dish is made from leftover bread, which soaks up all of the delicious flavours of the tomatoes. Some recipes use ciabatta, others opt for a sourdough, as seen in this recipe by Lily Higgins. Tear up a leftover loaf of bread and place in the oven for 15 minutes at 100°C, to help dry it out. Roughly chop some ripe tomatoes and place in a bowl, along with capers, chopped red onion and roasted red peppers (from a jar is fine!), and the pieces of bread. To make the dressing, mix together equal parts olive oil and red wine vinegar with some seasoning. Toss everything in the dressing, add in seasoning if needed, and garnish with fresh basil leaves. The perfect side dish for a BBQ!
3. Moroccan lamb tagine: With sweet apricots and tender lamb, this is a one pot that certainly packs in a taste of sunshine! In a casserole dish, brown some lamb pieces, and after a few minutes, add some finely diced carrot and onion. Fry for about 5 minutes, then stir in crushed garlic, ground ginger, cinnamon and cumin. Stir to combine, then pour over a pint of hot chicken stock, a tin of tomatoes, add in a handful of dried apricots and a spoonful of honey. Bring to the boil, then turn down the heat and place in the oven for 2 hours at 150°C. Serve with couscous and warm pita bread.
4. Spaghetti puttanesca: Packed with punchy Italian flavours, a puttanesca sauce really delivers on taste and can be on the table in under 25 minutes. Boil the spaghetti in salted water and, while this is cooking, make the sauce. Fry garlic and anchovies in some olive oil, until the garlic is soft and the anchovies have almost dissolved. Next, stir in olives, capers and chili flakes, followed by a tin of chopped tomatoes and some tomato puree. Simmer on a medium to high heat for 5-10 minutes until the sauce has thickened, then stir through the cooked pasta. Toss to combine, then serve straight away with chopped fresh parsley. If you're looking for a protein kick, tuna is a common addition, as in this recipe by Anna's Family Kitchen.
5. French chicken Provençal: This is a great recipe for entertaining, and would pair beautifully with a French white wine. In a casserole dish, brown some chicken thighs (on the bone), then transfer to a plate. Once the chicken has been browned, add some onion and garlic to the same dish, and gently fry for about 5 minutes until soft. Add a glass of white wine, and simmer until it has reduced by half, then add in a tin of chopped tomatoes, tomato paste, rosemary, thyme, black olives and a cup of chicken stock. Season, add the browned chicken pieces, stir gently to coat the chicken in the sauce, and cook in the oven for 30 minutes. Ensure the chicken is fully cooked, then serve with boiled baby potatoes and a side salad.