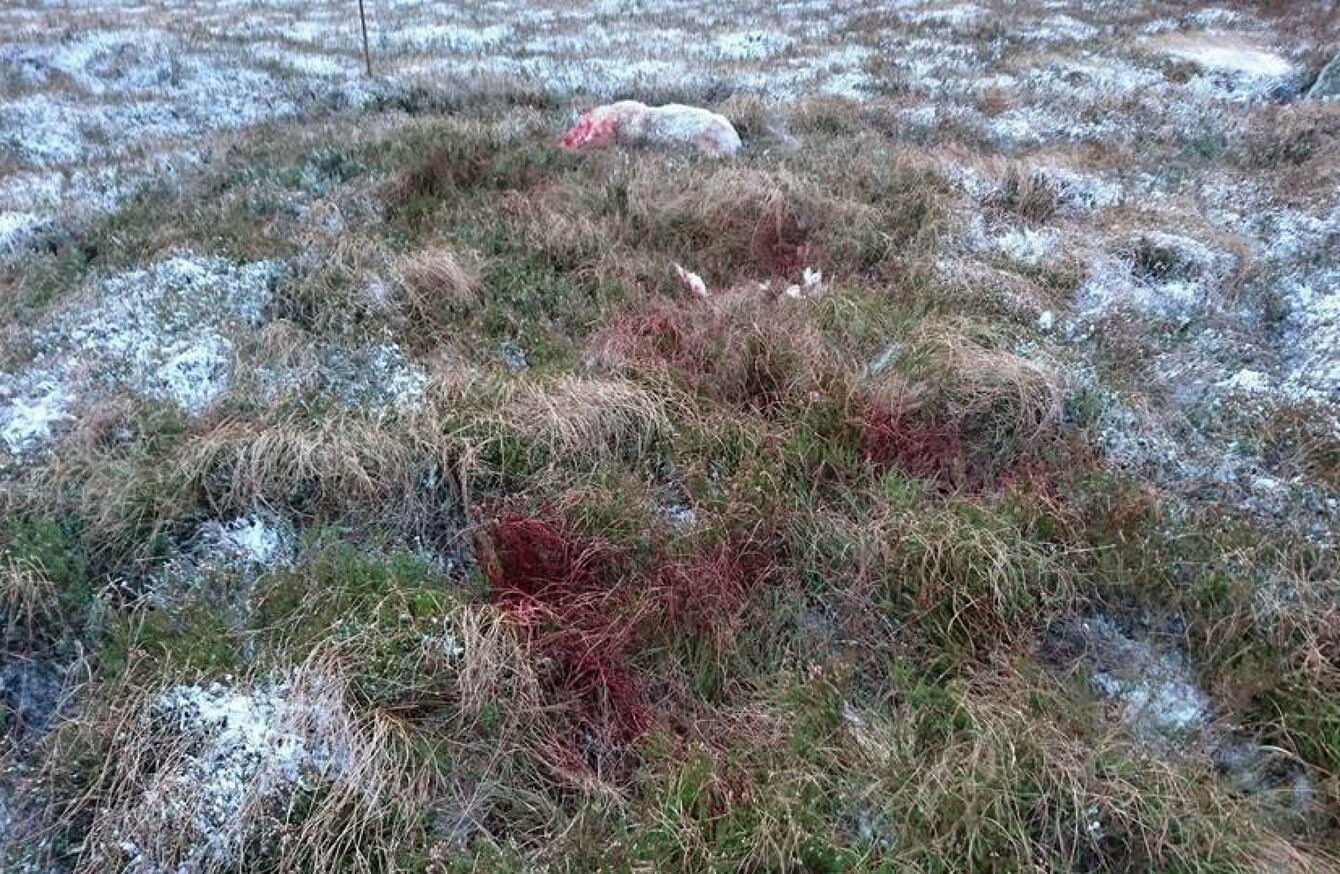 Blood on the grass.
Image: Wicklow Uplands Council
Blood on the grass.
Image: Wicklow Uplands Council
*WARNING: THIS PIECE CONTAINS A GRAPHIC IMAGE*
WICKLOW UPLANDS COUNCIL are pleading with dog owners to stop walking their dogs in the Wicklow Mountains following a number of sheep killings over the past few weeks.
The call comes after the latest incident on Saturday when a ewe was found butchered at White Road, near the Sally Gap.
A spokesperson for the council said that the incident was not the first one reported in the last few weeks.
"Footprints in the snow show that somebody, presumably the owner, caught the dog and took it away without reporting the incident."
"If anyone has any information please contact your local garda station, the attack happened between 1pm and 3pm."
Over the Christmas period, farmers near the Lugnaquilla area stopped a number of walkers with dogs from entering the area after a number of sheep were killed.
A local sheep farmer, who has suffered a number of losses recently said that farmers in the area would be forced to withdraw access to established walks in Wicklow.
"It is not something that we would want to do, people have been walking these routes for centuries and the Wicklow Way is an important part of tourism in the area.
"But we also have our own livelihood, myself and a number of nearby farmers have had sheep killed over the years but it has gotten worse lately.
"It has gotten to the stage that even dogs on leads are causing trouble as they are frightening the sheep."
Another farmer said that it would get to the stage that loose dogs that stray onto farms in the area would be shot.
"I personally wouldn't have a problem with dogs on leads, and most owners are responsible and understand that there are working farms in the area.
"Recently though more dogs have been left to roam free without a lead and that it were the problems start."
Similar calls were made in rural Kerry last August after 40 sheep were killed in on a West Kerry farm.