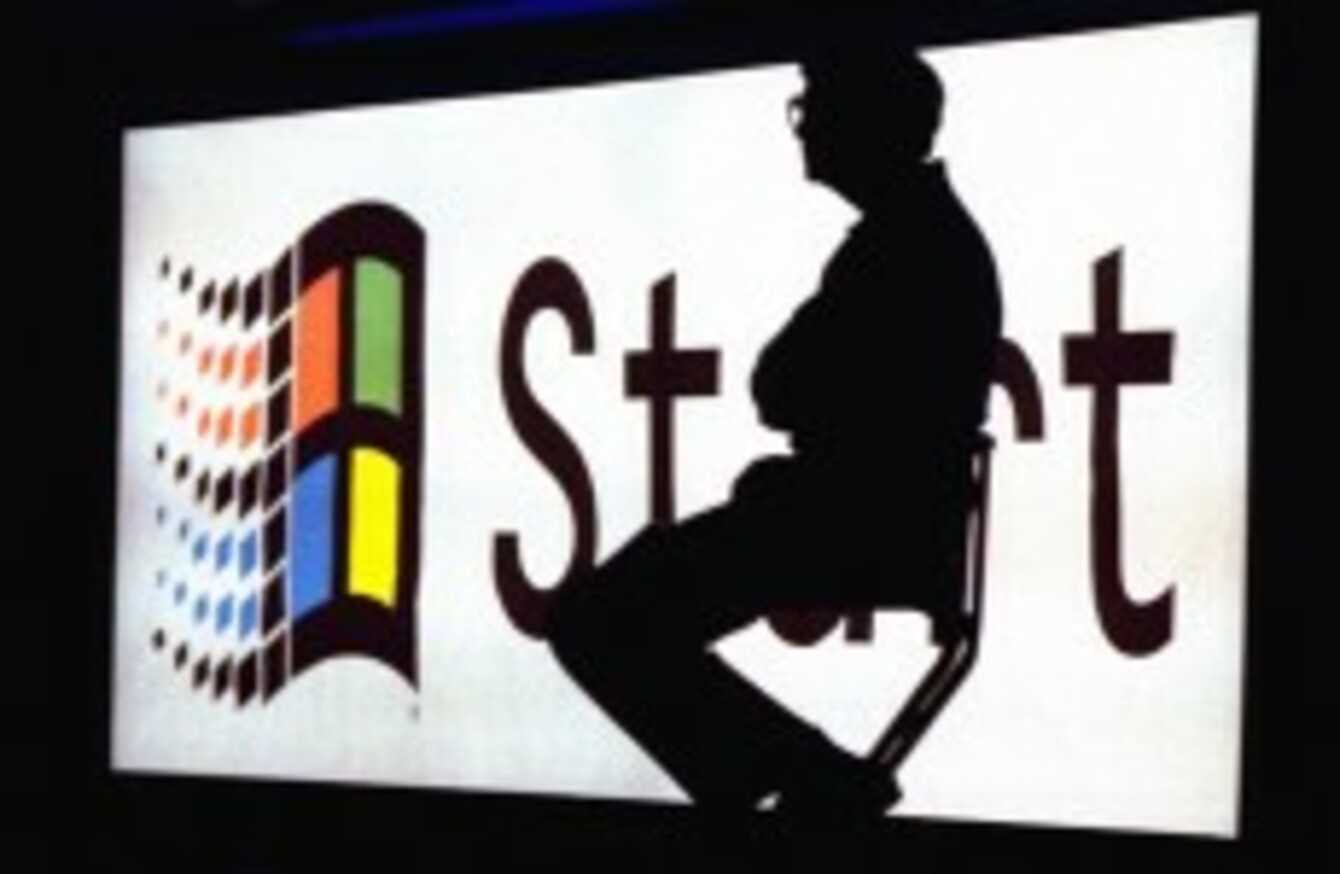 Then Microsoft chairman Bill Gates sitting in front of the now-iconic Start button during Windows 95's launch event.
Image: Associated Press
Then Microsoft chairman Bill Gates sitting in front of the now-iconic Start button during Windows 95's launch event.
Image: Associated Press
FOR MANY PEOPLE, their first steps in the world of PCs and devices started with what is easily one of Microsoft's most iconic products.
Windows 95 was released this day 20 years ago (24 August 1995), and it brought with it a vast number of ideas and features we take for granted today.
It's fondly remembered by many and even little things like hearing the startup chime is enough to bring those memories back.
Source: GoofyMadden/YouTube
Yet it's easy to forget (or hard to remember if you're part of a certain generation) what made it great, and just how significant its influence was.
Before Windows 95
Back in the 90s, having a PC in the home wasn't exactly a rarity but it wasn't exactly common either.
Those who owned one had them for work purposes and there was no clear standard either. Alongside Windows, you had the Apple Macintosh, Commodore Amiga and Atari ST, all of which were trying to crack the personal computer market since the late 1980s.
But by the time the early 1990s arrived, the idea that a computer was for everyone was beginning to take shape. As home computers became cheaper and more accessible, the timing of Windows 95 couldn't have been better for Microsoft, but it would be unfair to base its success on just that.
Celebrity status
Microsoft was prepared to push Windows 95 as far as it could and it pulled out all the stops to ensure it was a success.
The company spent $300 million at the time promoting it, paying for the rights for The Rolling Stones song 'Start Me Up' – and in what was likely a first for the industry, the release of Windows 95 became a major global event. It held a launch event at its Redmond Campus which was broadcast across the globe via satellite television.
Source: Michael Garboski/YouTube
And then you had the pop culture promotions to help it out. One of its tutorial videos to help promote Windows 95 starred Jennifer Aniston and Matthew Perry, a year after Friends made its debut.
The video tends to pop up regularly now, but if you haven't seen it before, watch and marvel at how far we've come.
Source: FooltechFromTheAshes/YouTube
The promotion worked as it sold 40 million copies within its first year. To put that into perspective, Windows 3.0 sold 4 million in its first year while Windows 3.1 sold 3 million in the first three months.
What made it great

For one, it was a major leap forward from its predecessors Windows 3.1, not only in graphics but in multitasking and organisation.
The biggest feature by far was the Start button – its popularity on 95 and future versions meant that Microsoft brought it back for Windows 10 – and the taskbar, giving users a quick glance of open programmes.
Before that, previous versions of Windows used a system called the 'Program Manager' which you used to open up other windows and programmes without having to use a command line (MS-DOS).
#Open journalism No news is bad news Support The Journal

Your contributions will help us continue to deliver the stories that are important to you

Support us now
Adding the start button further simplified this process and made it more accessible for first-time users. Combine that with other small additions like minimise, maximise and close, something now found on all modern computers.
The other major benefit was how it worked with almost all hardware on the market. Much like Windows 10 now, there were few machines that weren't able to run Windows 95, making it accessible to almost everyone.
While it's now the punchline to many jokes, it's easy to forget just how much of an impact Internet Explorer (IE) had. For many, it was their first web browser and opened up the doors to the internet, something Bill Gates said "is the most important single development to come along since the IBM PC was introduced in 1981″.
This was part of Gates' letter 'The Internet Tidal Wave' which he wrote in May 1995.
The Internet is at the forefront of all of this and developments on the Internet over the next several years will set the course of our industry for a long time to come. Perhaps you have already seen memos from me or others here about the importance of the Internet… In this memo I want to make clear that our focus on the Internet is crucial to every part of our business.
The first version of Windows 95 shipped without it, but future releases included it and opened up a whole new world to people. The popularity of Windows played a major role in both IE's success and bringing the web to the masses.
And then there were the games. Solitaire, Freecell and Minesweeper were some of the games included with Windows 95 – and they stealthily taught players the skills needed to carry out tasks on their computer – but on top of that, they showed that PCs were more than just work devices.
While PC gaming already had an audience thanks to titles like Doom, the release of titles like Civilization 2, Grand Prix 2, Command & Conquer, and Diablo showed that the PC was just as much an entertainment device as it was for writing word documents.
Source: Nap'n'Retrogaming/YouTube
While the industry has changed significantly since then, many of the same principles introduced on Windows 95 remain and we're all the better for it.
Originally published 11.49am