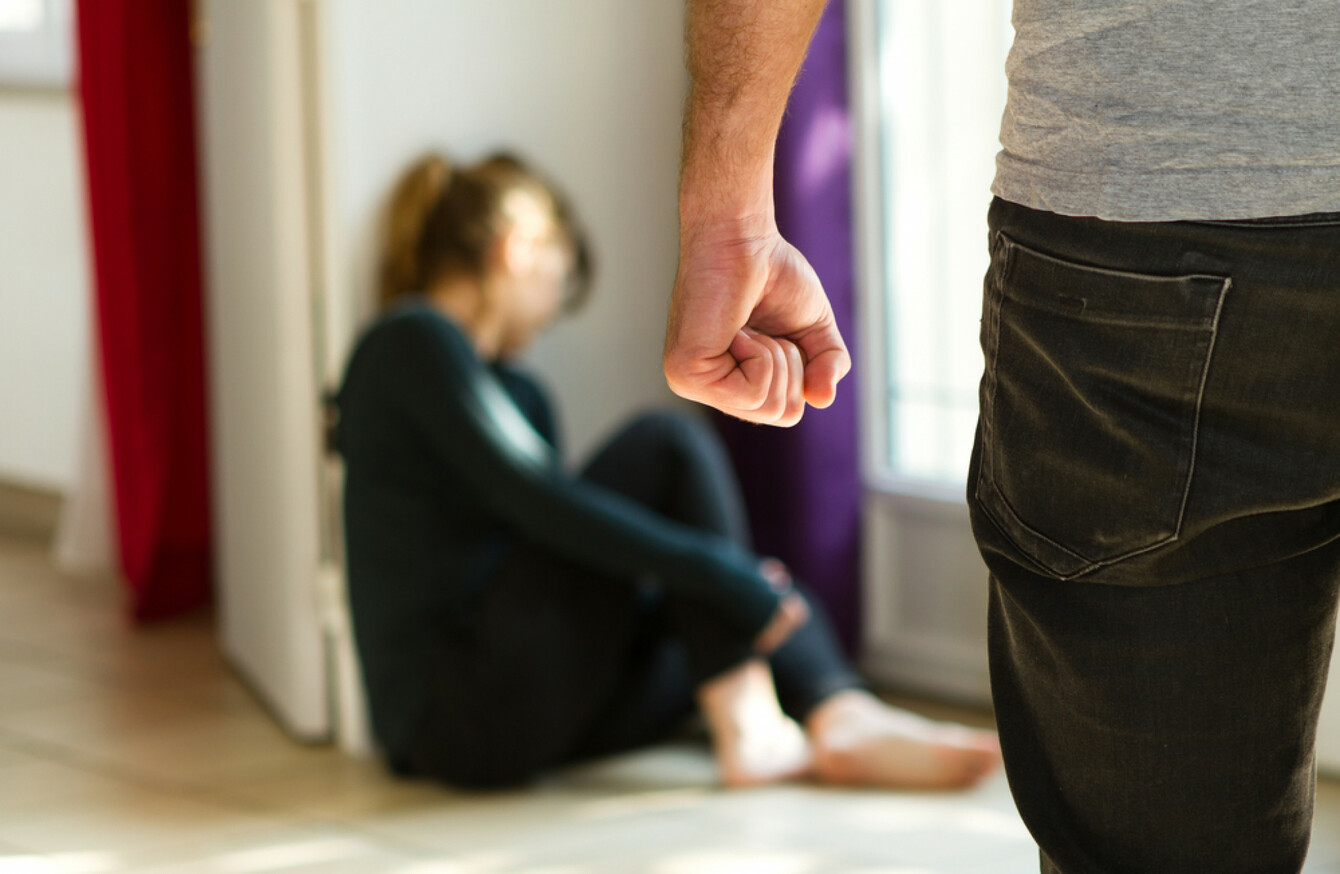 Image: Shutterstock/sdecoret
Image: Shutterstock/sdecoret
A NEW STUDY has shown that men who are convicted of the manslaughter of current or former intimate partners serve less time in jail than other men convicted of the same charge.
According to the 2017 Women's Aid report, such men are sentenced to, on average, 2.8 years less than other men convicted of manslaughter of women.
Eight women have died violent deaths in Ireland this year and the new report is now detailing how women are more likely to be killed at home than any other location.
Women's Aid has called on the Government to bring in a number of new measures to ensure the safety of women and children from domestic violence. The group also wants to make a couple of changes to current legislation.
The report recommends: "That when offences including physical violence (including resulting in death), psychological and sexual violence and stalking are carried out by a current or former partner or spouse the intimate relationship should be considered an
aggravating factor when it comes to sentencing."
Jessica, a woman who was supported by the charity through her journey to safety, wanted to share her story for the report's launch.
"I was out with friends that night and when I got home he was hiding in the garden, waiting…" she recalls.
"I lost consciousness after the first punch, and again later in the attack. My eyes, face and skull were fractured that night, and I have permanent scarring and nerve damage. It was merciless, I thought he was going to kill me.
"Any time he'd ever hit me my head or face was always the first place he'd aim for. My daughter's third birthday was the following day, and I discharged myself from hospital to help her blow out her candles.
I was readmitted on Christmas Eve for reconstructive surgery on my face. He got a three-and-a-half year prison sentence, with the last year suspended.
The report also asks that the Domestic Violence Bill includes provisions for experts being made available to the court to assess the risk the perpetrator poses to the
children. These experts should also assess the impact that the direct abuse and witnessing abuse has on the children.
Other notable statistics derived from the study include:
Eight women have died violently in 2017.
Between 1996 and 2017, 216 women died violently. Of those, 171 cases (79%) have been resolved.
Nine cases (4%) are awaiting trial and 36 cases (17%) remain unresolved.
Sixteen children were killed alongside their mothers with 14 of these children killed during an incident of intimate partner femicide.
Women are more likely to be killed at home than any other location (63% of cases).
The most common method of killing was stabbing with knives or other sharp objects (38%).
88% of women knew their killers.
In almost all murder-suicide cases (21 out of 22), the killer was the woman's partner or ex-partner.
Women's Aid saw an increase of almost 5,000 calls to its national helpline last year as the organisation extended its call hours. Callers to the helpline reported 16,946 instances of domestic abuse against women in 2016.
A further 3,823 disclosures were made reporting child abuse, including physical and sexual abuse.
2016 was the first year the charity provided the National Freephone Helpline on a 24/7 basis, resulting in an additional 4,910 calls which were responded to by the organisation.
A total of 96% of the callers to the helpline were female.
The report emphasises the impact that domestic violence in the home has on children, with child abuse often coming hand in hand with mothers being abused.
Margaret Martin, director of Women's Aid, spoke of the concern the organisation has about the numbers of children being directly abused and exposed to domestic violence.
"In 2016, women told us that their children were being hit, slapped, shouted at and called names, and in some cases, sexually abused," Martin said.
Children have been told they will be killed alongside their mothers.  At times, the perpetrator of the abuse has deliberately targeted the children as a way to hurt both them and their mother.