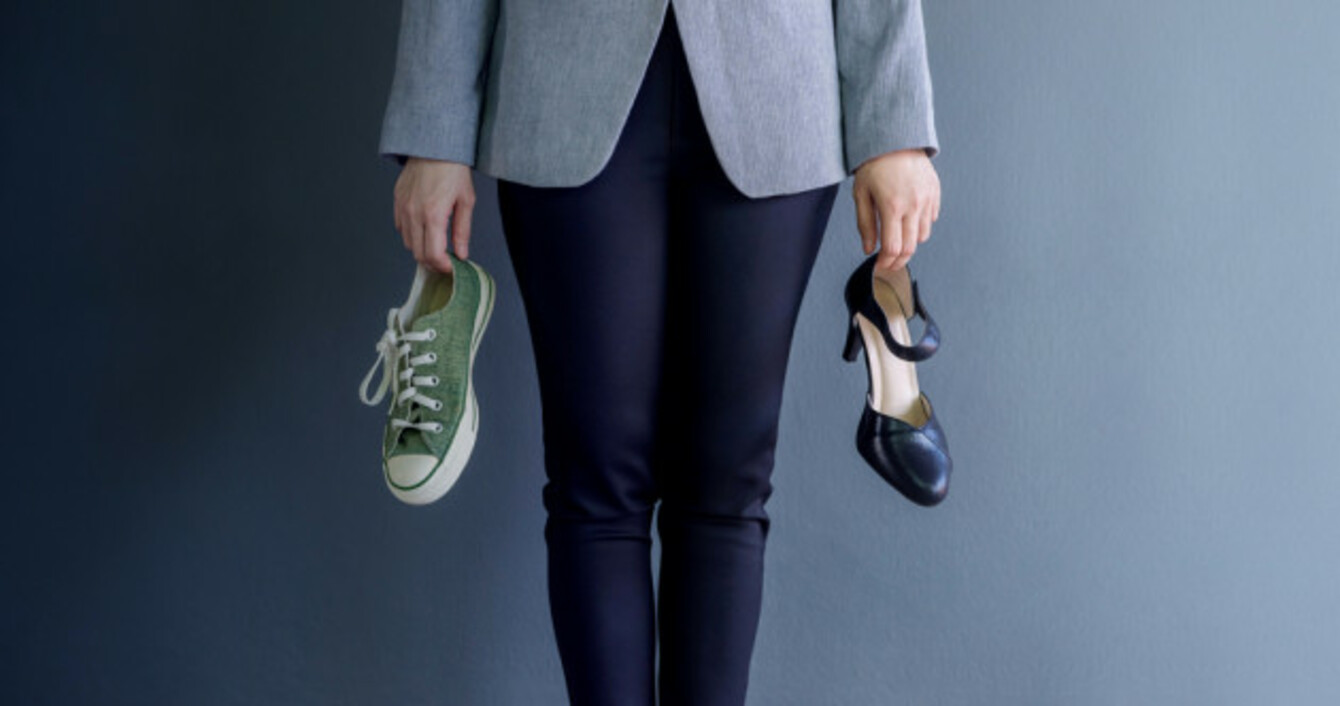 Image: Shutterstock
Image: Shutterstock
CIARA GARVAN IS someone who made a big change to her work-life balance after spending too long commuting to and from her job.
"I was working full-time in a corporate career. My background had been IT Project Management. Although I loved working in technology, after the arrival of my kids I really struggled with the hours."
Tired of this setup, Ciara founded WorkJuggle, a startup that aims to improve the flexibility of both employees and employers – something that's sorely needed in the 21st century quest for work-life balance. But work-life balance is a somewhat slippery concept – what exactly does it mean?
Who has one, and who doesn't? Should you be worried if you don't have it? How can you achieve it?
"It's important to note that what is for one person it isn't for another when it comes to a work life balance" says life coach Derval Chambers Petit, who says she sees people who "get caught up in others' ideas of a good work life balance " all the time. For her, a solid work-life balance allows her to "do what I want in both my personal and professional life".
The effects of poor work-life balance
Startup culture, the digital world and the expectation for many businesses to be "always on" have contributed to slowly disimproving work-life balances for many of us: so much so that in the past five years, Ireland has gone from 9th to 17th in the OECD's ranking of countries achieving a good work-life balance.
Hannah Byrne, who works with youth mental health charity Spunout.ie, struggles with this balancing act too: "Sometimes I let it get to the point of burnout before I actually do something about it, which is definitely not healthy", she says.
A poor work-life balance causes stress, and has been linked to cardiovascular disease and diabetes, as well as mental health issues. And yet the numbers keep rising.
So, what has Irish people thinking life is all work and no play?
Am I working too much?
Derval says that a common theme she sees with clients is the "always switched-on" employee. "Technology makes it easy to access your work email at home – the days of switching off your computer and leaving work at work are gone" she says.
Our reflex is to pick up the phone when we get a notification, and this can set the mood for an evening.
Hannah says the same thing: "I really think [work life balance] is about allowing yourself to switch off. Sometimes we don't want to give ourselves permission to relax and unwind, because we feel like we have to be on top of everything all the time."
An unhealthy work-life balance can be tricky to spot, though. Derval says to take note if you're "using so much time and energy at work that you're too tired to do anything else [at home]". Or if you spend the weekends recovering as opposed to socialising, or doing the things you enjoy. Of course, this will ebb and flow around quarters, and busy periods – but if you notice it become a constant, you may need to re-calibrate.
Fortunately, there are a number of things you can do to rectify this imbalance. Some put the onus on you to change your mindset, whereas others require working with your employer.
According to Derval, she has often seen bosses take responsibility and "leading by example – sending the message to employees that it's ok to be flexible". Things like not sending emails after hours, or scheduling meetings before lunch on a Friday can help, according to Derval.
Hannah takes a long-term view: "If I know I have a busy few weeks ahead, I try to plan it around the time that I know things are going to slow down and I can take a day off without worrying about what still needs to be done."
#Open journalism No news is bad news Support The Journal

Your contributions will help us continue to deliver the stories that are important to you

Support us now
For Ciara, much of the frustration around work was due to her commute. "Time spent on the M50 is just a complete waste. I would be so frustrated driving home after work knowing that I was getting closer to the kids' bedtime and the day was nearly over".
With WorkJuggle, Ciara is in control of her own schedule – she works around companies and can "front load work by working early in the morning" so that she'll be able to collect her kids from school, or put them to bed.
Turn off your notifications
If you can't start your own business, fear not – there are plenty of small, practical things you can do to improve your work-life balance. Start by unlinking your work email from your personal phone, and, if you have one, leaving your work phone in work.
When Slack notifications or Gmail appointments pop up, we can't help but check them – removing these from your home life works wonders. Ciara recommends a book called Deep Work, about the benefits of "turning off email/social media apart from at set times during the day – [because] to be able to focus for long periods of time to produce something of real value is not conducive with email alerts".
Derval recommends focussing on what you want to achieve outside of work: ask yourself what small but significant changes you can consider. This may be leaving on time one night a week, to go swimming, or spend time with your family. Derval says that planning and being realistic around these goals is really important, and to "be really clear about what you want".
"Employers know that a happy, healthy employee is more efficient than an unhappy one" says Derval – but sometimes they won't push for that change.
It doesn't have to be a radical overhaul, though – "people can find what works for them – it mightn't be perfect, but it can be better."
Likewise, Hannah says that allowing yourself to make changes is really important. "Allow yourself to be at home when you're at home. Switch off your email, ignore your notifications, and deal with it during work hours. Nothing is worth sacrificing your mental health."