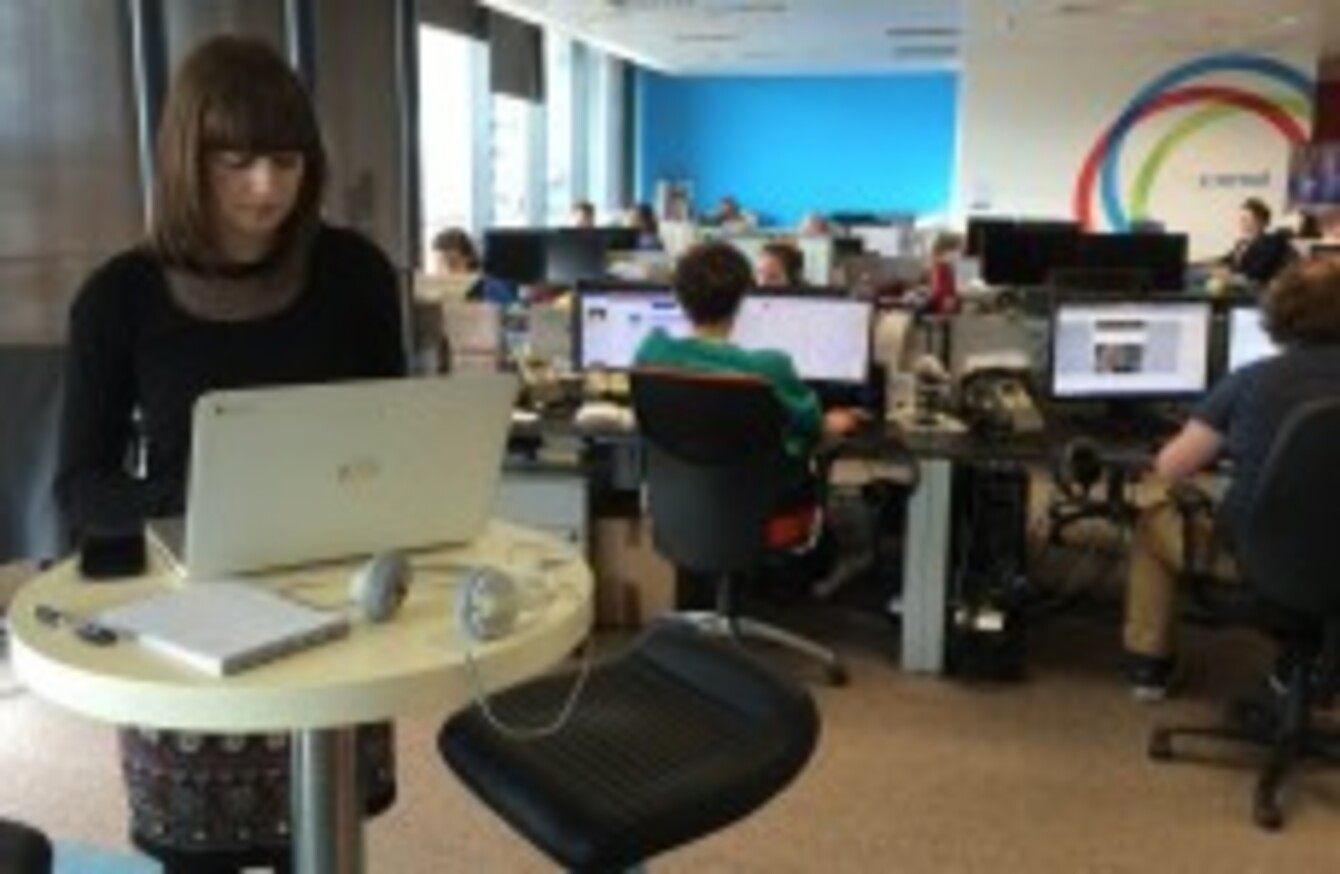 Looking positively thrilled to be on my feet.
Image: Nicky Ryan/TheJournal.ie
Looking positively thrilled to be on my feet.
Image: Nicky Ryan/TheJournal.ie
A STUDY COMMISSIONED by Public Health England suggested this week it would be beneficial for office employees to spend up to four hours of their working day on their feet.
Their recommendation was aimed at producing long-term benefits for the health of workers, encouraging them to exercise more and thus reducing their risk of heart disease, blood pressure and diabetes.
We decided to test out their suggestion to see how feasible it would be to spend half your working day in an office standing up. We obviously can't test out the long-term benefits, as half a day standing is unlikely to totally rule out future heart disease, but we thought there may be some other short-term benefits to this theory. We were keen to find out the downsides as well.
So this reporter made use of our now infamous High Table, which has been host to politicians like Joan Burton, Leo Varadkar and even the Taoiseach himself, to see if these recommendations by Public Health England are in any way practical.
I split the four hours up, and for the first hour and a half, it did seem like I was more alert and productive.
When my time came to sit back at my desk for a while, I did, however, feel a sense of relief. So much so, that I almost forgot I was supposed to be doing this and ended up having to do the rest of the two and a half hours all in one go, close to the end of my shift.
This time, I was uncomfortable, shifting back and forth on my feet a lot.
It has to be noted that my choice of footwear on the day was not the most practical and we can assume this was not taken into consideration by the experts conducting the research.
Still, standing stationary for a couple of hours does not seem workable and without wanting to be melodramatic about it, the whole thing became a little oppressive.
The report itself points out that standing still for a long time is not good for you, so experts suggested that workers should move around. This recommendation seems entirely ridiculous and impractical for desk-based workers unless we are planning to strap laptops to our waists and walk while we work. Or perhaps they want us to jog on the spot while we type?
All in all, switching back and forth between sitting and standing was not majorly disruptive to my work day but it was slightly less enjoyable, I was more tired and I got less done. I definitely would not want to have to do it every day but then the research is not suggesting workers be forced to do it.
In some workplaces, desks that raise up to allow workers to stand and lower back down to let them sit when they want are already being used. Boards.ie is one of these places and developer Andres Moran spoke to us about his use of one of these desks as he has a better idea of what it is like to do it long-term.
"Up until a couple of weeks ago when I had a back injury, I was using it at least four hours a day. sometimes the whole day," he said. "Now I do use it for literally a couple of hours."
For Moran, it has been a generally positive experience though he said it takes some time before you feel comfortable working standing up.
"I would say that when I am standing up I feel freer to stretching and move, and I see that as the main positive impact. Whether that leads to being more productive, I would say maybe, but wouldn't have a definite answer for that."
It probably does, as Moran said, take some getting used to, and a more gradual introduction is a better idea than forcing yourself to stand for four hours. Though it has the potential to work, it is not likely to see a wide-scale roll out in offices across the country.
We certainly are not ready to give up our swivel chairs yet.