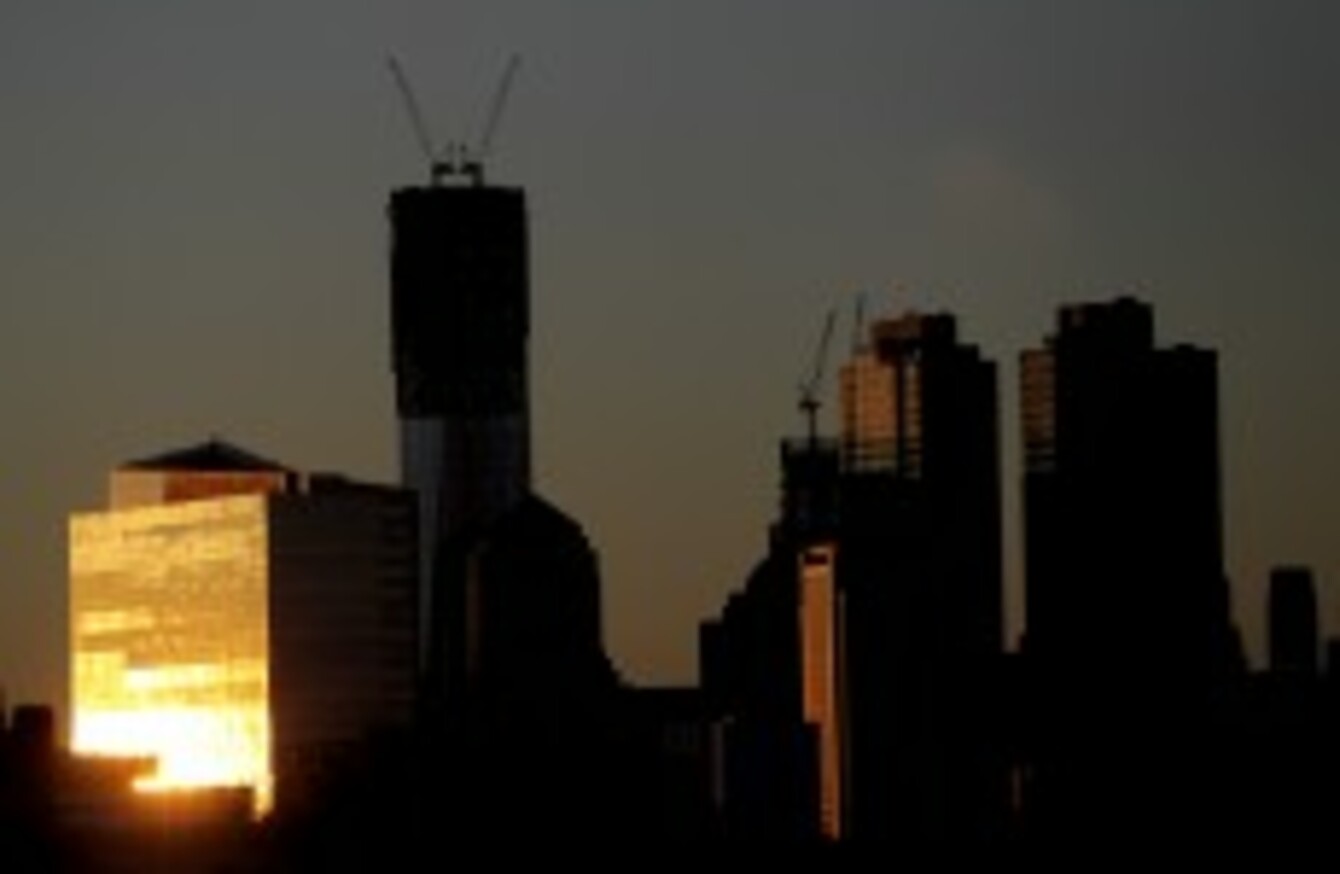 The new tower, second from left, this morning
Image: Julio Cortez/AP/Press Association Images
The new tower, second from left, this morning
Image: Julio Cortez/AP/Press Association Images
ONE WORLD TRADE Center will today claim the title of New York City's tallest building – previously held by the twin towers on the same site destroyed in the September 11 attacks.
Workers will erect steel columns that will make the skyscraper's unfinished skeleton a little over 381m high, just enough to peek over the roof of the observation deck on the Empire State Building.
The milestone is a preliminary one. Workers are still adding floors to the so-called Freedom Tower and it isn't expected to reach its full height for at least another year, at which point it is likely to be declared the tallest building in the US, and third tallest in the world.
Those bragging rights, though, will carry an asterisk.
Crowning the world's tallest buildings is a little like picking the heavyweight champion in boxing. There is often disagreement about who deserves the belt.
In this case, the issue involves the 124-metre-tall needle that will sit on the tower's roof.
Count it, and the World Trade Center is back on top, in the US anyway. Otherwise, it will have to settle for No2, after the Willis Tower in Chicago.
"Height is complicated," said Nathaniel Hollister, a spokesman for The Council on Tall Buildings and Urban Habitats, a Chicago-based organisation considered an authority on such records.
This time-lapse video from Earthcam shows the tower's eight-year construction period in less than two minutes:

YouTube/Earthcam
Experts and architects have long disagreed about where to stop measuring super-tall buildings outfitted with masts, spires and antennas that extend far above the roof.
Consider the case of the Empire State Building: Measured from the sidewalk to the tip of its needle-like antenna, the granddaddy of all skyscrapers actually stands 443 metres high, well above the mark being surpassed by One World Trade Center on Monday.
Purists, though, say antennas shouldn't count when determining building height. An antenna, they say, is more like furniture than a piece of architecture.
Neither the Willis Tower nor One World Trade are as high as the CN Tower, in Toronto, which stands at 553 metres. That structure, however, isn't considered a building at all by most record-keepers, because it is predominantly a television broadcast antenna and observation platform with very little interior space. The tallest manmade structure in the Western Hemisphere will continue to be the 629-metre-tall KVLY-TV antenna in Blanchard, North Dakota.
As for the world's tallest building, the undisputed champion is the Burj Khalifa, in Dubai, which opened in 2010 and reaches 828 metres.