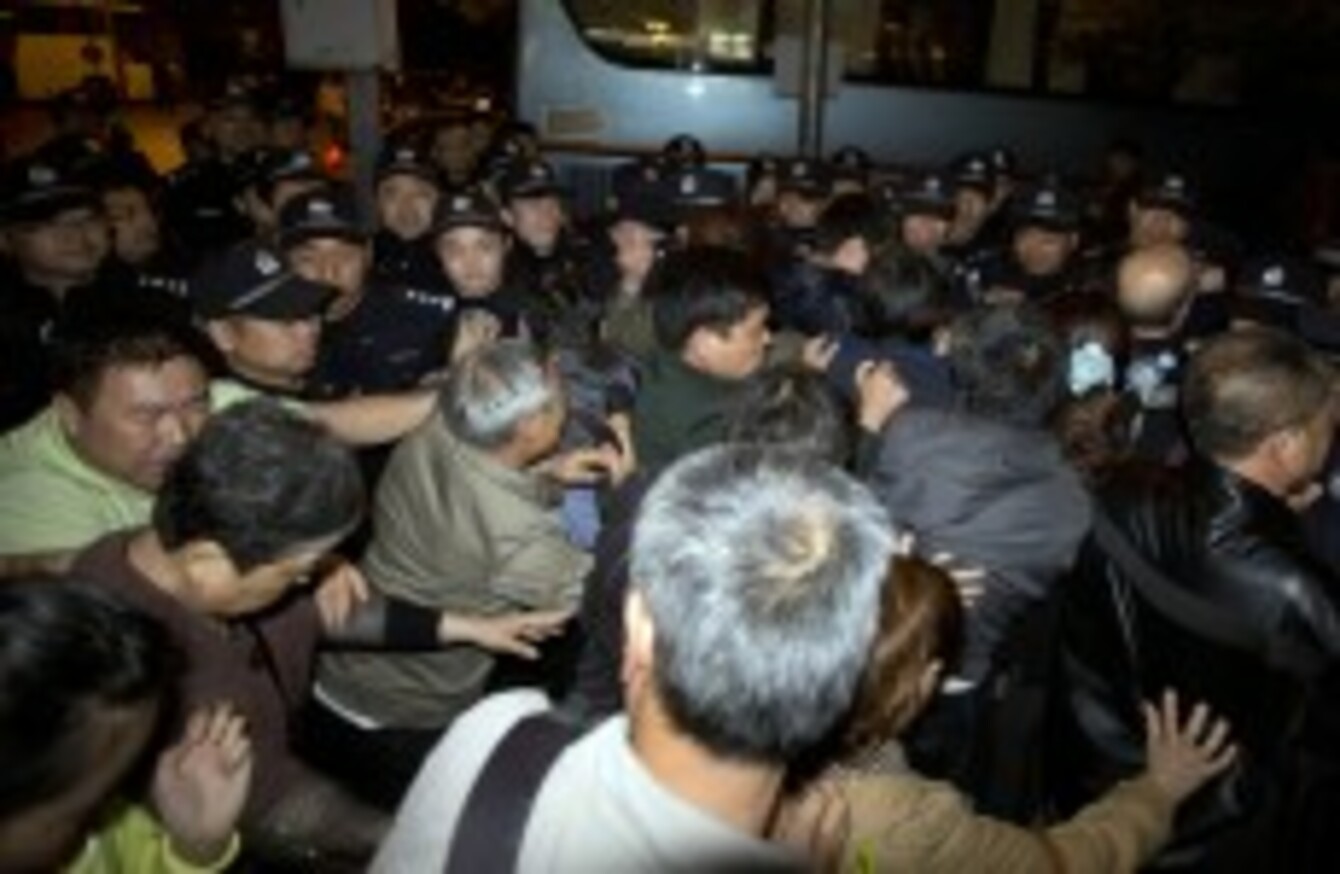 Relatives push through a police line to get to the Malaysian embassy from the hotel in Beijing
Image: AP Photo/Ng Han Guan
Relatives push through a police line to get to the Malaysian embassy from the hotel in Beijing
Image: AP Photo/Ng Han Guan
TEN MALAYSIA AIRLINES staff were held against their will for hours by Chinese relatives of flight MH370 passengers at a Beijing hotel that has seen increasingly tense confrontations over the missing plane.
The airline employees were "barred from leaving" a ballroom for more than 10 hours on Thursday, and another staff member was kicked in the leg in a confrontation two days earlier, the airline said.
Tempers have repeatedly flared at the Lido Hotel, where Chinese relatives have been put up by the airline since the plane vanished, increasingly lashing out in briefings as Malaysian officials and the flag carrier have been unable to explain the plane's disappearance.
"Malaysia Airlines confirms that its staff were held at the Lido Hotel ballroom in Beijing by the family members of MH370 as the families expressed dissatisfaction in obtaining details of the missing aircraft on 24 April 2014 at 3 pm," it said in a statement released in Kuala Lumpur.
Lack of information
The more than 200 family members were incensed when a Malaysian government official did not come to brief them on Thursday, and the meeting descended into chaos as relatives angrily confronted airline staff.
An airline spokesman told AFP "the main MAS officials were barred from leaving the ballroom" as about 60 family members left for the Malaysian Embassy to demand information from government officials.
"The group finally released the staff at 1.44am, 25 April 2014," the airline's statement said.
The relatives who went to the embassy remained there in an overnight protest, two participants said Friday.
The carrier also said a Malaysia Airlines security supervisor was "kicked in the left knee" by an "aggressive" Chinese family member at the hotel on Tuesday.
The airline said it had filed a police report on the incident.
Handling
About two-thirds of the 239 passengers aboard the missing plane came from China.
Chinese relatives have for weeks complained bitterly about what they call Malaysia's secretive and incompetent handling of the search for the plane, which vanished on March 8.
It disappeared from radar on a flight from Kuala Lumpur to Beijing and is believed to have crashed far out in the Indian Ocean.
A multi-national search, however, has failed to find any evidence despite weeks of looking.
A Chinese foreign ministry spokesman said today that his country urges Malaysia to "take seriously" the families' grievances, while urging families to behave in a "rational way".
Dozens of relatives staged a noisy protest last month at the embassy — apparently sanctioned by Chinese authorities, who cleared streets for their approach — decrying Malaysian authorities and the national airline as "murderers".