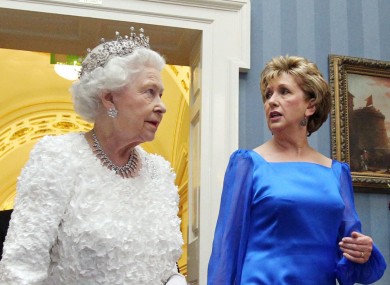 Queen Elizabeth of the United Kingdom and President Mary McAleese of Ireland, during the former's visit to the Republic last month.
Image: Maxwells/PA Wire
A NEW POLL has shown that a clear majority of people in Northern Ireland want the province to remain part of the United Kingdom  - with 73 per cent of respondents favouring remaining part of a single state with Britain.
Perhaps surprisingly, however, the majority of the Catholic community in the North – which has traditionally been perceived as being in favour of unification with the Republic of Ireland to form an all-Ireland sovereign state – now also seems to prefer remaining in the UK.
Just a third of Catholic respondents to the Northern Ireland Life and Times survey said they wanted to join the Republic – down from 56 per cent five years ago – while 52 per cent of Catholics wanted either to be directly ruled by London or to retain the status quo of devolved power within the UK.
But what do you think? Irrespective of your background, or location, today we simply ask: should there be a united Ireland?

Poll Results: