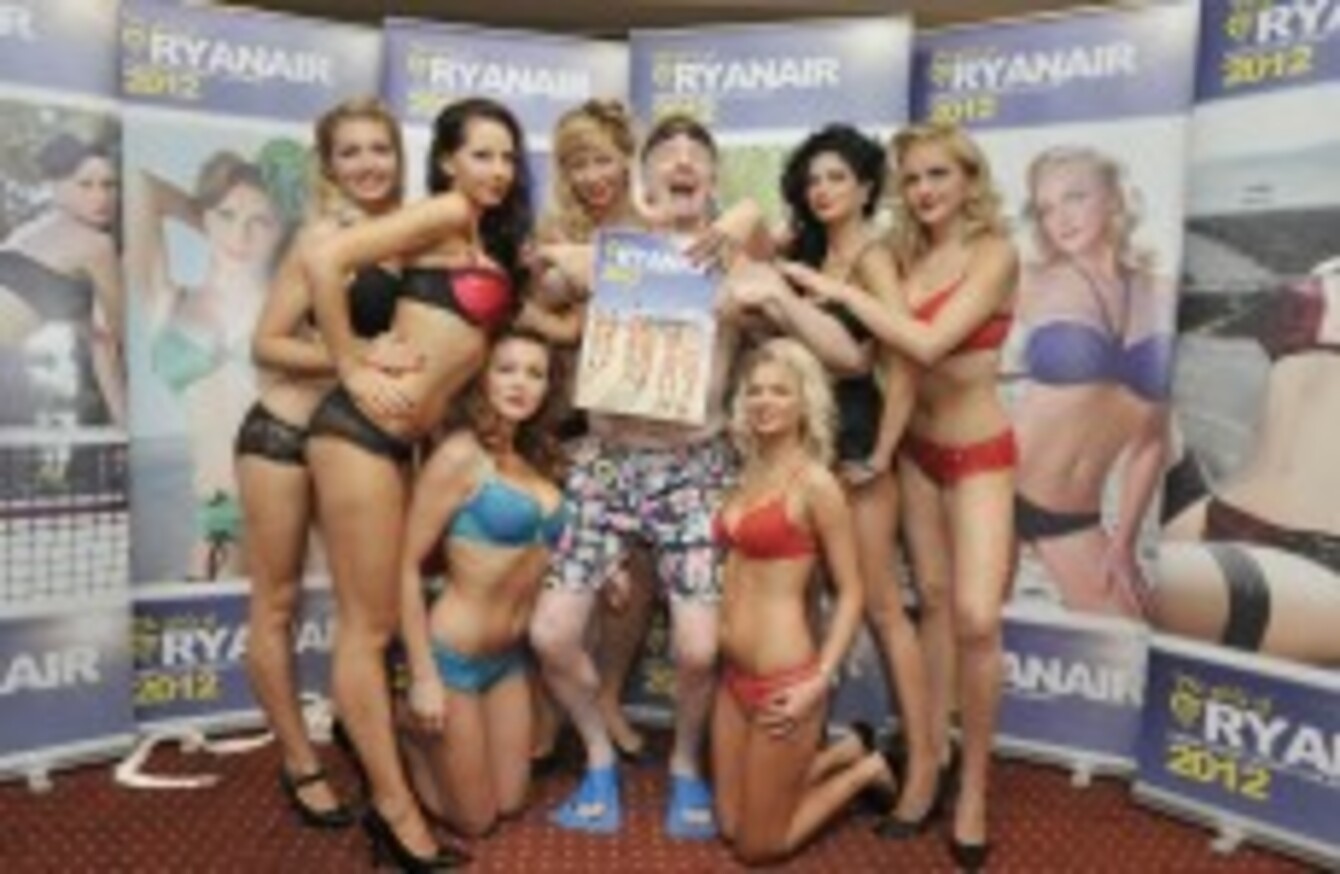 Ryanair boss Michael O'Leary and cabin crew members at the launch of the calendar
Image: Sasko Lazarov/Photocall Ireland
Ryanair boss Michael O'Leary and cabin crew members at the launch of the calendar
Image: Sasko Lazarov/Photocall Ireland
RYANAIR SAID THAT it defends the right of its "sexy cabin crew to strip down for charity" in the wake of the release of its controversial charity calendar.
The calendar features female Ryanair cabin crew staff posing in their underwear.
The airline said that 100,000 Ryanair passengers showed 99.7 per cent support for Ryanair's cabin crew charity calendar initiative which has raised almost €500,000 for charity since 2008.
Less than 300 passengers said they did not support the calendar.
Ryanair asked passengers three questions. To the first, do you support Ryanair's Cabin Crew Charity Calendar, which will raise €100,000 for charity, 99.7 per cent said yes and 0.3 per cent said no.
When asked should Ryanair's 2013 Charity Calendar include men, even if it raises less money for charity, 10.5 per cent said yes and 89.5 per cent said no.
And it appears that the Ryanair passengers surveyed aren't interested in men posing in their underwear, as when asked should Ryanair's 2013 Charity Calendar feature men only, 6 per cent said yes and 94 per cent said no.
Ryanair called on people "to support the efforts of Ryanair's beautiful cabin crew", who are trying to raise €100,000 for the DEBRA charity, which provides care and assistance to children suffering from the painful and debilitating EB skin condition.
Ryanair's Stephen McNamara said:
What is it about a group of good-looking girls selflessly doing their best to raise money for charity that causes a stir amongs tiny groups of protestors?
Speaking to Derek  Mooney on RTÉ last week, flight attendant Ghada Razuki, who does not work with Ryanair, spoke about her feelings about the calendar.
She started a petition against the calendar, which has so far gained 10,293 signatures.
"It's not how I think cabin crew should be portrayed," she said, describing it as "very demeaning to women".
She emphasised that an airline attendant's main job and main priority "is safety, safety safety" and "by portraying women in this light isn't this what passengers are going to expect when they get on a flight".
She said she wants Ryanair to raise money for charity but doesn't understand why women have to strip off into their underwear for it, particularly given the very strict uniform policy on flights for staff.
I think it's going back 25 years – I thought we had gone forward
Stephen McNamara said in reply that it was Ryanair crew members who approached the company with the idea, and that it took management a while to consider it.
We're not sexualising anybody, we're trying to raise money for charity.
He added that it had considered whether to make the calendar a topless calendar but it is not something Ryanair is going to do.