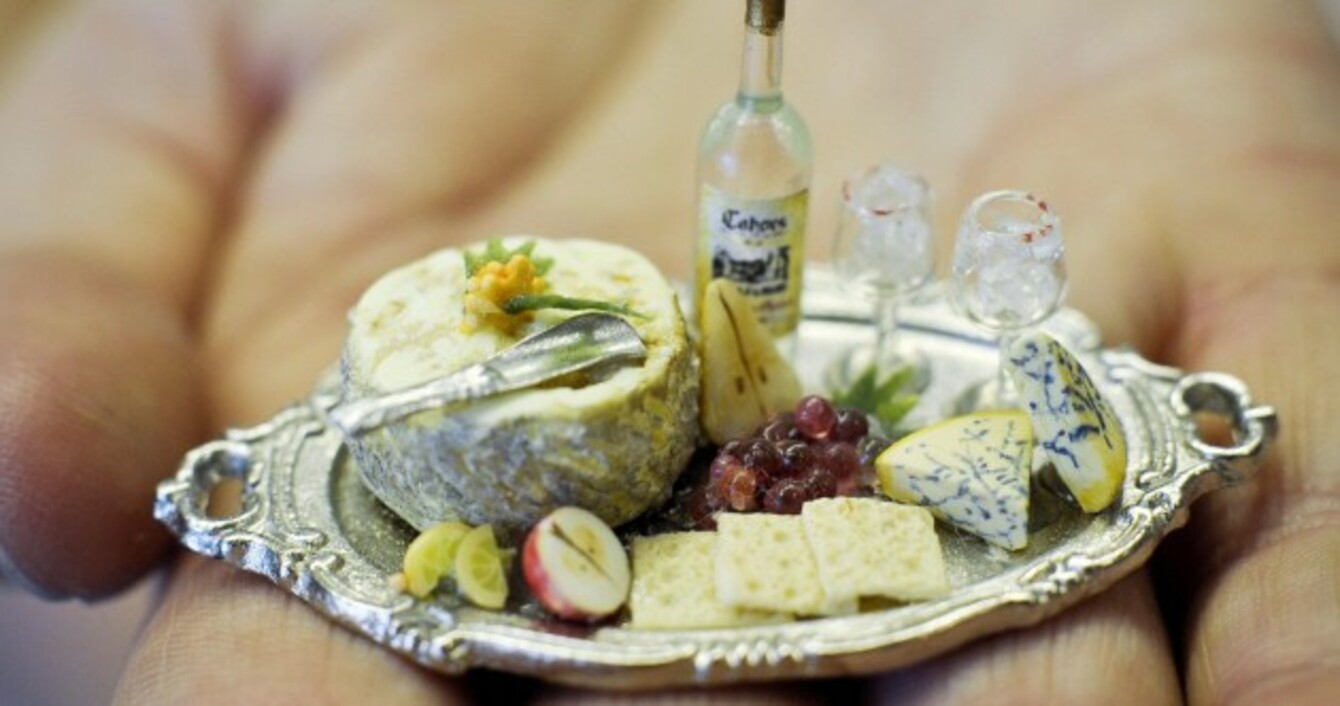 A platter of cheese and biscuits with fruit, wine, silver cheese scoop and wine glasses, made with real glass at he Karon Cunningham Miniatures shop in Bath, UK 16/11/11
Image: Ben Birchall/PA Wire/Press Association Images
A platter of cheese and biscuits with fruit, wine, silver cheese scoop and wine glasses, made with real glass at he Karon Cunningham Miniatures shop in Bath, UK 16/11/11
Image: Ben Birchall/PA Wire/Press Association Images
EVERY DAY, TheJournal.ie brings you a round-up of the day's biggest stories as well as the bits and pieces you may have missed.
Derek Mooney pictured with some of the record-breaking Leprechauns for 'The Most Leprechauns in One Place Record' in the Grand Canal Theatre during the RTE Radio Derek Mooney Show. Image: KOBPIX
The group organising the Save the 19 Bus campaign say they are frustrated by the lack of response to their concerns by the Irish authorities and will now take their fight to the European Court of Human Rights. They said the decision to scrap the 19 Bus on 27 August 2011, had led to"a 65 per cent reduction in service and untold hardship for commuters across the city" - particularly the elderly.
Russian Prime Minister Vladimir Putin has been awarded with a peace prize in China, however the country's Culture Ministry is not standing over the decision. The Confucian Peace Prize was established last year as an alternative to the Nobel Peace Prize after the Scandinavian committee named dissident Liu Xiaobo as its 2010 recipient – however the Culture Ministry disbanded the committee earlier this year.
Mario Monti has unveiled his new Italian cabinet: he is to act as his own finance minister in a bid to streamline his administration, while the rest of the cabinet will largely be made up of technocrats without political backgrounds. Monti says the absence of political personalities in government will "remove one ground for disagreement" and help the country to focus on restarting economic growth.
Police in Atlanta, USA, say that they rescued a suspected teenage burglar from a chimney – ten hours after he slipped into it. The 17-year-old boy was found screaming for help from inside the chimney when firefighters arrived on the scene yesterday.
YouTube personality Rebecca Black became an unexpected internet smash with her song 'Friday'… and she's back to take on her critics once again with the release of her new single. 'Person of Interest' has clocked up 208,161 hits on YouTube at the time of writing – but what do you think of it?
Do you know the pain of attempting to sleep beside a snorer? Well, help could be on its way in the form of a robotic bear: the Jukusui-kun bear, which doubles as a pillow, is programmed to raise a paw and gently tickle the face of the snorer when they emit a particularly loud snort – encouraging the offending party to roll over.
Can you see your house from here? Check out this amazing time-lapse video of the Planet Earth – made with sequences of photographs taken with a special low-light 4K-camera by the crew of expedition 28  and 29 onboard the International Space Station (August – October 2011):

Uploaded by
blogbariscan
via YouTube