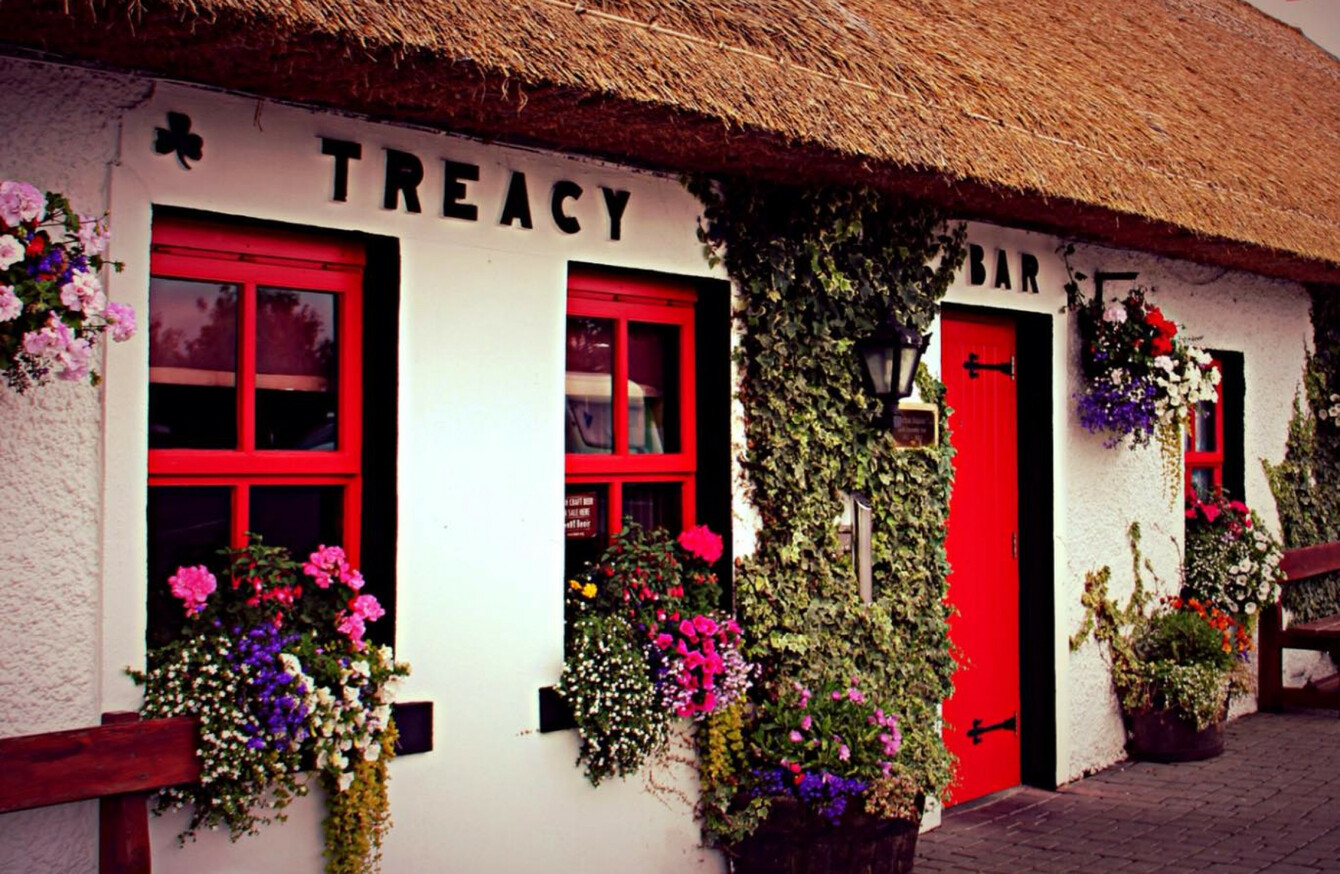 A PORTLAOISE BAR and restaurant has gotten an award from the Road Safety Authority for its commitment to stopping drink-driving.
Treacy's Bar & Restaurant, which is located approximately 5kms from Portlaoise, is in an area with no public transport. Its owner, Thomas Treacy – eight generations of the family have run the pub – told TheJournal.ie that they've always been focused on making sure their customers are safe. But they decided to step it up nine years ago with their own mini-van to give customers a lift home.
At Treacy's they provide a free taxi service to all their customers within a 12kms range. Their eight-seat mini bus is PSV licensed and insured, and the Road Safety Authority gave them a 'special recognition' award this week, saying:
This service has undoubtedly has stopped drink driving and in turn may save lives.
"I think most people now are very aware of it," he said of rural pubs and the dangers of drink driving. "I've worked at the pub since I was 18, and there never was an issue of people getting knocked down."
He said that their policy was that if someone was intoxicated, bar staff would take their car keys from them.
"A lot of rural pubs would be very conscious of safety," he added. "You have blaggards in every organisation, there are some who wouldn't give a hoop – but the majority of publicans do."
Treacy said that they had a second-hand minivan until last April, when they bought a €40k Ford Transit van.
"We wouldn't be able to do it only the fact we have a significant restaurant food business," said Treacy of the initiative, explaining how if they were just a pub alone, and didn't have a busy restaurant, they couldn't afford it.
"I employ 45 people there – it is a busy spot and very well-known."
Pitching in
He believes that Transport Minister Shane Ross could help other pubs introduce such a feature and so help reduce drink-driving in rural areas.
To have insurance on the van, you have to have a hackney licence, said Treacy. There is no charge for the van, and it is treated as a benefit in kind for customers. But the insurance costs €3,000.
"I think Mr Ross will have to do a lot of work to help rural publicans," said Treacy. He said publicans should be helped with the VRT on their vehicle, and be given relief on their insurance.
Treacy came up with the idea for the van himself, after realising people had problems getting home. "We are 10km from Portlaoise and taxis won't come out of Portlaoise, if they go out 10km to pick up a guy and bring him 3km up a road, it doesn't pay for them, and I understand that."
They generally only drop people home, but will sometimes pick up families and large groups who need a lift out too.
"Getting to the premises isn't a problem, people get dropped in and we drop people home," he said.
They'll drop people home whatever time they need, he said – whether that's closing time or not. "Sunday trade has changed completely," said Treacy. "People could be going home at 8.30 or 9pm, as people are getting driving in in the morning."
How many people do they give lifts to? "It all depends on the weekend," he said. "Saturday night could have 40 people, you know, and if the restaurant is busy you could have more. We would serve the local towns – Portarlington, Portlaoise, Stradbally, Mountmelick and Monasterevin. They are all in within 12km."
He said that when they introduced the van, "people were delighted". And they're clearly very accommodating at Treacy's Bar and Restaurant: "Young lads come in who want to go to a disco in Portlaoise at 10.30pm, we'd drop them in even though they're going to a different place."
Treacy does the driving all week, but has a relief driver on Saturday and Sunday. "It's seven days a week – it's a big commitment," he said. A big commitment that's undoubtedly saving lives.