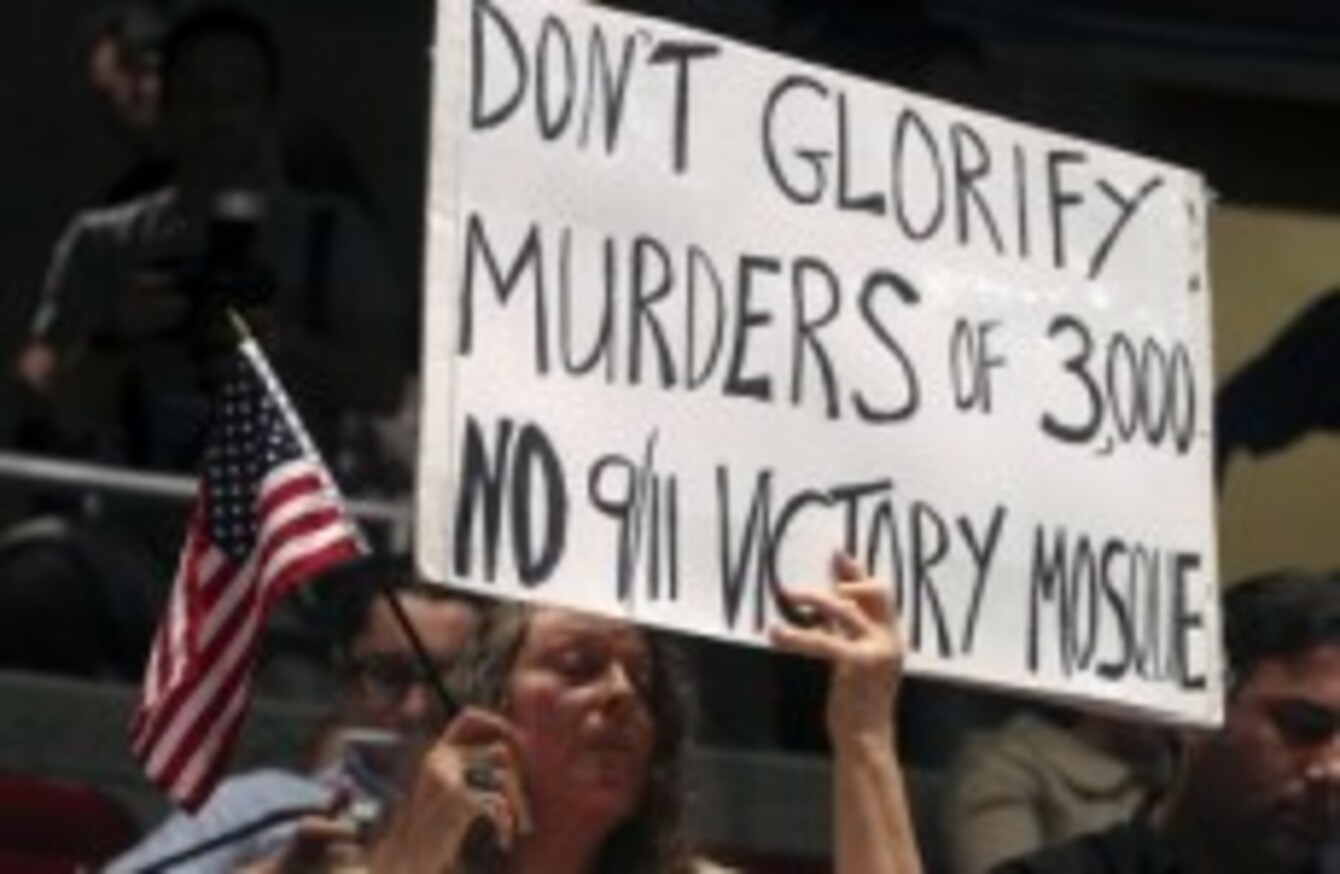 Opponents of a new mosque a few blocks from the World Trade Center believed that the project 'glorified' the people responsible for the 9/11 attacks.
Image: Seth Wenig/AP
Opponents of a new mosque a few blocks from the World Trade Center believed that the project 'glorified' the people responsible for the 9/11 attacks.
Image: Seth Wenig/AP
1 August: The Irish Mail on Sunday unearthed evidence showing that Ivor Callely, who was suspended from the Seanad at the time, had claimed expenses for mobile phones using invoices from a company that had been wound up ten years previously.
2 August: Initial estimates suggested that 1,500 people had been killed following monsoon rains in Pakistan which led to torrential flooding.
4 August: New York planning authorities gave their approval to the construction of a new community centre, including a mosque, a few blocks away from Ground Zero, sparking public protests.
5 August: 33 miners were trapped beneath the Copiapó copper mine in Chile after a roof caves in. The men – 32 Chileans and a Bolivian – were feared dead until they sent a message back to the surface indicating otherwise, a full 17 days later.
9 August: Steven Slater, a flight attendant for US airline JetBlue, made world headlines after quitting his job over his in-flight PA system – and then exiting the aircraft though the inflatable escape chute.
10 August: The European Commission gave its approval to the takeover of Arnott's department store in Dublin by Anglo Irish Bank and Ulster Bank.
11 August: Pope Benedict rejected the resignations of two auxiliary bishops in Dublin, who had tendered their resignations in the wake of the Murphy report into child sexual abuse in the diocese.
12 August: Convicted rapist Larry Murphy was released from Arbour Hill prison, sparking public hysteria after shaking off the trailing media pack by travelling to Grafton Street.
16 August: Taoiseach Brian Cowen was ranked as one of the world's ten most respected leaders by magazine Newsweek, being praised for "prescribing harsh medicine" in the tough economic climate.
20 August – Ryan Tubridy surprised listeners by starting his new 2fm slot – replacing the late Gerry Ryan – three days early, saying he wanted to combat any major media attention for his first day in the job.
21 August – Sweden dropped rape charges against WikiLeaks founder Julian Assange just hours after arresting him in absentia, calling the charges against him "unfounded".
22 August – In Coventry, a woman is caught on CCTV cameras placing a cat into a wheelie bin – an act which leads to a flurry of abuse when the video is posted online, leading the woman to receive death threats. The man, Mary Bale, later said she was "profoundly sorry" for "a split second of misjudgement".
#Open journalism No news is bad news Support The Journal

Your contributions will help us continue to deliver the stories that are important to you

Support us now
23 August – On the day that Leaving Cert students were offered the first round of college places, the website of the Central Applications Office was hit by a 'distributed denial of service' (DDoS) attack, sending the site offline for hours.
29 August: Down's Kalum King tipped Robbie Kelly's last-minute free onto the crossbar as the Mournemen qualify for the All-Ireland football final, beating Kildare 1-16 to 1-14.
31 August: Anglo Irish Bank announced financial results for the first half of 2010: its €8.2bn in losses were the largest in Irish corporate history.
31 August: Actor Mick Lally, best known for his role as Miley Byrne in Glenroe, died at 64.