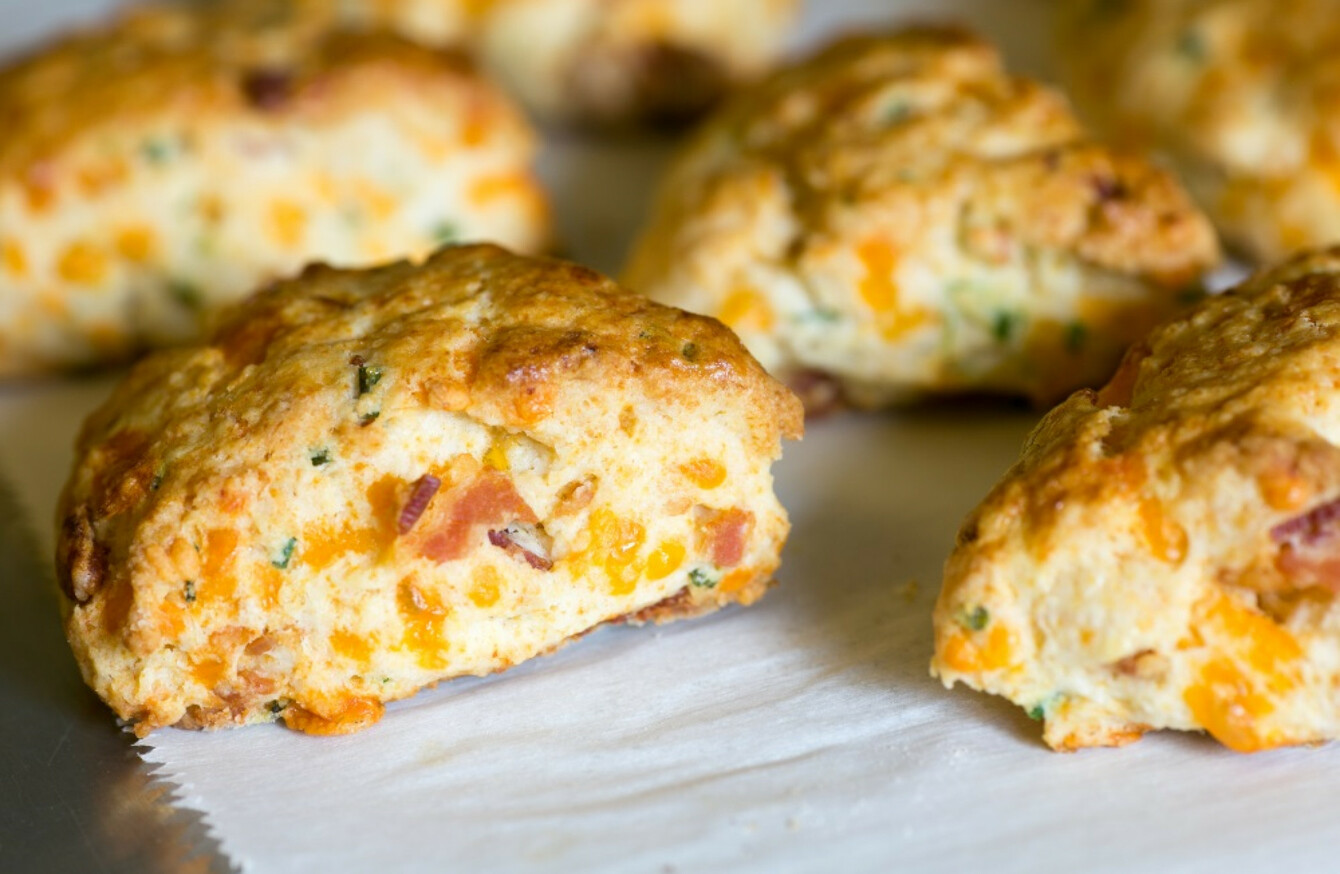 Image: Shutterstock
Image: Shutterstock
THE WORD 'SCONE' might conjure up images of butter and raspberry jam, but a scone is a versatile bake than can hold its own with a huge range of flavours.
Because of the natural saltiness from the butter, savoury ingredients like tomato, cheese and even a bit of spice from chilli or paprika all make excellent additions to the humble scone.
The key to a great scone is all in that fluffy texture. For the perfect results, crisp on the outside and light on the inside, make sure the butter is cold (rather than room temperature) when mixing it in with the flour. Taking an extra minute to sieve the flour and baking powder will also help keep the texture nice and fluffy.
Craving a scone yet? Here are six savoury bakes to try out…
1. Wild Garlic and Cheddar Scones, from Donal Skehan: Wild garlic is in season at the moment and its subtle flavour lends itself perfectly to a scone. If you can't get your hands on any, try using chives or spring onions instead.
2. Cheese and Sunflower Seed Scones, from Alva O'Sullivan: I love the combination of cheddar and Parmesan in this recipe by Alva O'Sullivan, coupled with a hint of Dijon mustard. I reckon these scones would be just divine topped with some tomato relish.
3. Tomato, Courgette and Olive Scones, from Livia's Blog: These lovely scones (that also happen to be dairy and egg free) are a perfect afternoon snack, or would be a great addition to a packed lunch or picnic. You could even use them to make mini sandwiches filled with pesto, cucumber and cream cheese.
4. Irish Brown Soda Scones, from Wholesome Ireland: This is a heartier version of the classic white scone, which could take savoury or sweet toppings. I'd top mine with smoked salmon and cream cheese like the recipe creator suggests, perfect cut in two as canapés, or as part of homemade afternoon tea.
5. Rosemary, Black Pepper and Chive Scones, from Juniper Cakery: This epic flavour combination makes a deeply savoury scone, which would work wonders topped with some melted cheese. A delicious savoury treat!
6. Cheddar, Spring Onion and Paprika Scones, from Jam and Clotted Cream: This recipe takes a total of 5 minutes to put together before baking, so it's great for last minute eating. These scones would be delicious dipped into a bowl of hot tomato soup.