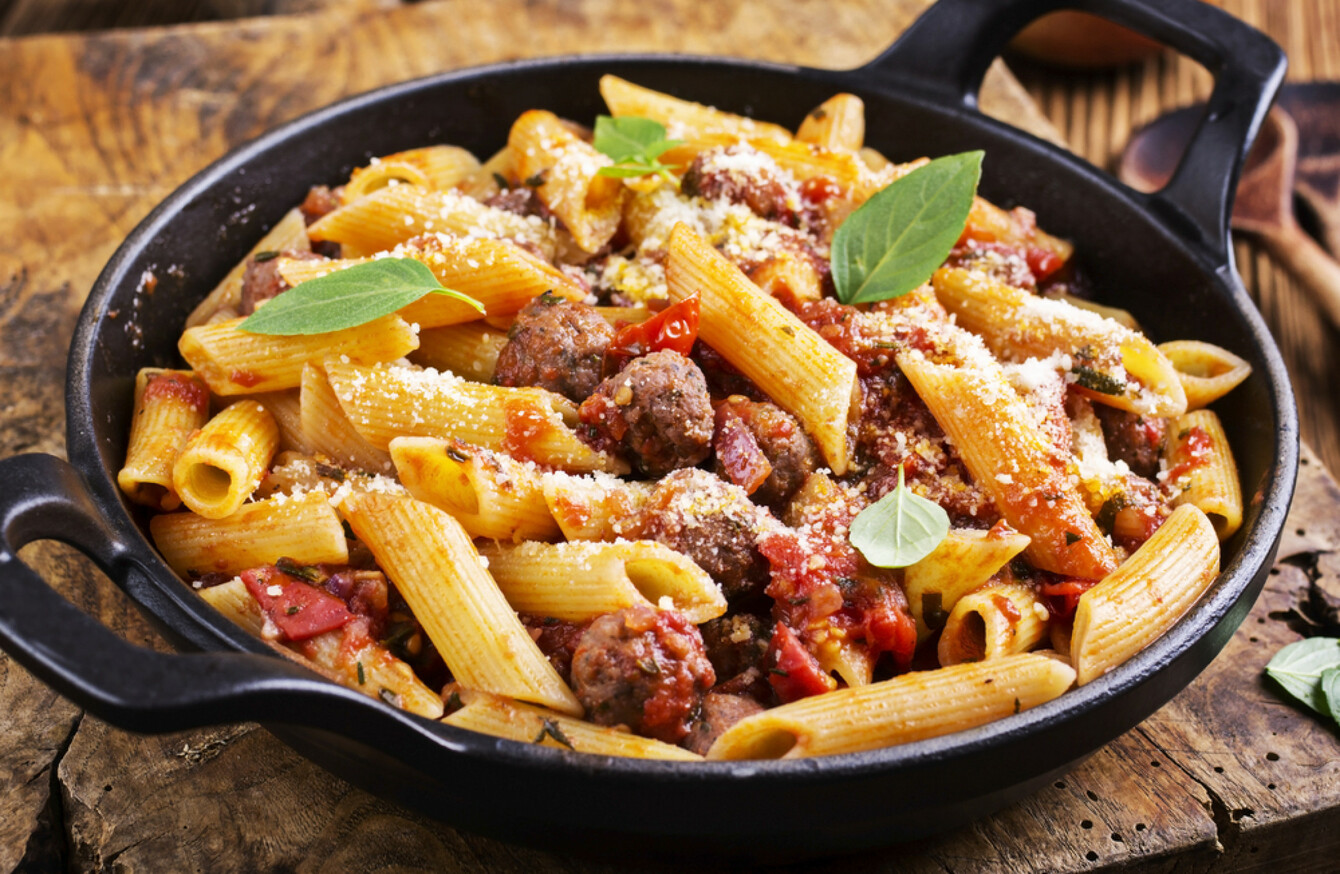 Image: Shutterstock/hlphoto
Image: Shutterstock/hlphoto
WHILE THERE'S STILL a chill in the air, we're craving all things carb-y, sauce-y and packed with flavour. And there's one thing that ticks all the boxes: pasta. Lunch or dinner, baked or tossed, we have a serious love for pasta.
There are endless possibilities when it comes to flavour combinations. For me, one of my favourites growing up was penne cooked in a creamy sauce with ham and peas, which was a guaranteed warmer and will forever remind me of my childhood.
Whether you like a cream based sauce or something with a punchier flavour, we've rounded up some favourites below.
1. Sausage Meatball Pasta Bake, from Donal Skehan: A pasta bake is the ultimate comfort food for cooler weather. This is a real family friendly recipe- you could even add in a few more veggies if cooking for kids.
2. Baked Gnocchi with Chicken, Aubergine and Mozzarella, from Kenmare Foodies: Gnocchi is a handy alternative to other types of pasta as it cooks in half the time, and has a delicious texture. This recipe makes a great base and you could easily add in some chorizo or chili for even more flavour.
3. Chicken with Creamy White Wine Sauce, from Nessa's Kitchen: This creamy chicken pasta is not just packed with flavour, but it can be on the table in just 20 minutes. Perfect for any last minute dinner parties.
4. Pasta e Fagioli, from Tasty Mediterraneo: Packed with beans, vegetables and pasta, this soup is a meal in itself. Served with cheesy garlic bread, this is perfect for a quick midweek meal.
5. Pappardelle with Lamb Ragu, from Nigella Lawson: The robust flavours in this meaty ragu makes it a great supper for those cooler nights. With some extra flavour complexity from mint, oregano and redcurrant jelly, this recipe is bound to impress friends and family.
6. Creamy Chicken Broccoli Pasta Bake, from One Yummy Mummy: Broccoli and cheese are a classic comfort food combination and we love the simplicity of this bake by One Yummy Mummy. With its smooth sauce, full of flavour, this is bound to become a weekly staple.