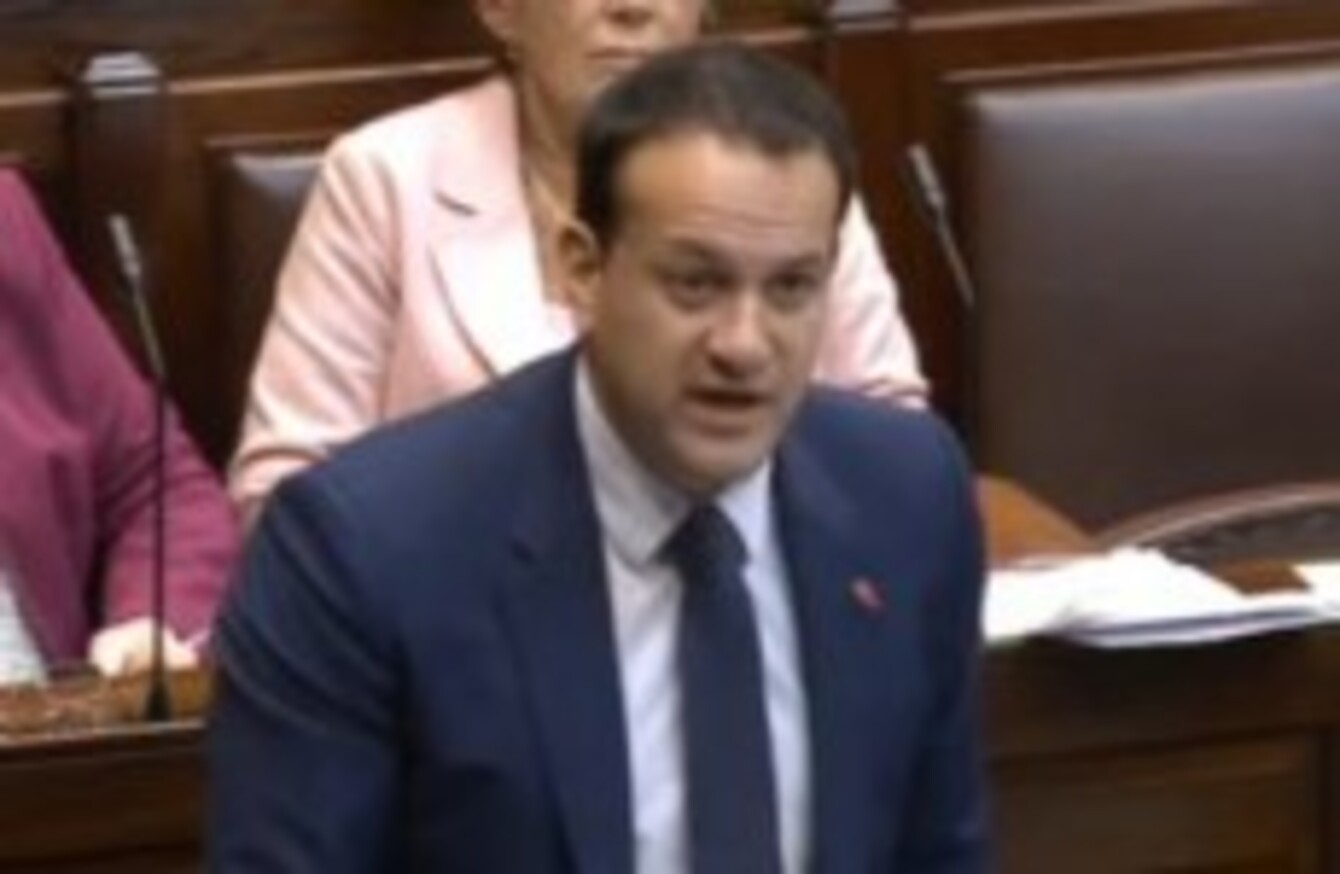 Leo Varadkar in the Dáil today
Image: Oireachtas TV
Leo Varadkar in the Dáil today
Image: Oireachtas TV
Updated 11.55am 
HEALTH MINISTER LEO Varadkar says the government will again oppose a proposal to legislate for abortion in cases of fatal foetal abnormality.
Speaking in the Dáil today, Varadkar also said the coalition had no mandate to hold a referendum to repeal the 8th Amendment which he has previously described as "too restrictive".
However, he said that he would be advocating that Fine Gael campaign for a referendum in the next election, and said it's a matter that should be dealt with in the next Dáil.
Independent TD Mick Wallace dismissed the view that the current government has no mandate as "horseshit" and argued that the government had no mandate to pay bondholders, but did it anyway.
Clare Daly's bill
Their comments came during a debate on United Left TD Clare Daly's bill that would provide for abortions in circumstances where an unborn child has no prospect of life outside the womb, known as fatal foetal abnormality.
This is the latest attempt by Daly to legislate for such situations but the government, as in previous debates, said it would oppose the measure on the Attorney General's advice was that it is unconstitutional. A vote will be held on Tuesday.
The bill would provide for two suitably qualified medical professionals (an obstetrician and a perinatologist) to jointly certify in good faith that the foetus in question is suffering from a fatal foetal abnormality.
Proponents of it have argued it does not confer any new rights in relation to abortion, merely clarifies existing rights and, they argue, it is constitutional.
Introducing her bill today, Daly said that current law makes situations for parents whose baby has no prospect of survival "barbaric" and likened it to torture.
"Grief and loss can be dealt with, but the anger of being let down by your country is another matter," Daly told the Dáil.
'Flawed legislation'
In his speech rejecting the bill, Varadkar summarised the views he gave in a landmark speech last December where he said the 8th Amendment was too restrictive.
However he said that the current government has no electoral mandate to hold a referendum to repeal the amendment which guarantees the equal right to life of the unborn.
He said the amendment as it stands "forces mothers and their partner to bring to term a child that has no chance of survival outside the womb for long.
"This is exactly the type of clinical scenario that Deputy Daly's bill aims to address, and, therefore, I commend her intentions. However, just like last December, I cannot support this legislative proposal.  This is simply because this Bill is unconstitutional."
He later said in response to other deputies' contributions that Daly's bill was "flawed legislation". He said that there are many conditions where it's not clear if survival is possible outside the womb.
Varadkar said there is no consensus on what a new amendment would consist of and added that while the bill was "well-meaning" but he could not support it.
Independent TD Catherine Murphy said that the "barbarism" of Irish abortion laws damages the country's reputation internationally.
Fianna Fáil TD Billy Kelleher said his party would have a free vote on the bill. He called on the government to "brave and bold" in relation to it.
The Cork North-Central deputy recalled a case of a couple whose baby had no prospect of survival. He said that they felt "so demeaned in having to go to England".
Sinn Féin's Brian Stanley said the party could not support the bill and would be abstaining on the vote as the issue had not been considered by its Ard Fheis.
Fine Gael TD for Dublin South Central, Catherine Byrne, said: "If ever there was legislation I'd like to support, it is this one."
She was one of a number of Fine Gael TDs who spoke in support of the spirit of Daly's bill, but all insisted that it was unconstitutional, including Dublin South's Olivia Mitchell:
People Before Profit TD Richard Boyd-Barrett recounted his own personal experience of his daughter Ella, who had a fatal foetal abnormality.
She said she would have been 13 this year and was "a daughter we desperately wanted".
"You cannot protect a life when you are talking about a condition that is incompatible with life," the Dún Laoghaire TD told the Dáil.
Only one Labour TD spoke on the bill. Joanna Tuffy said she believed it was unconstitutional and said that a referendum after the next election was the best way of pursuing the issue.