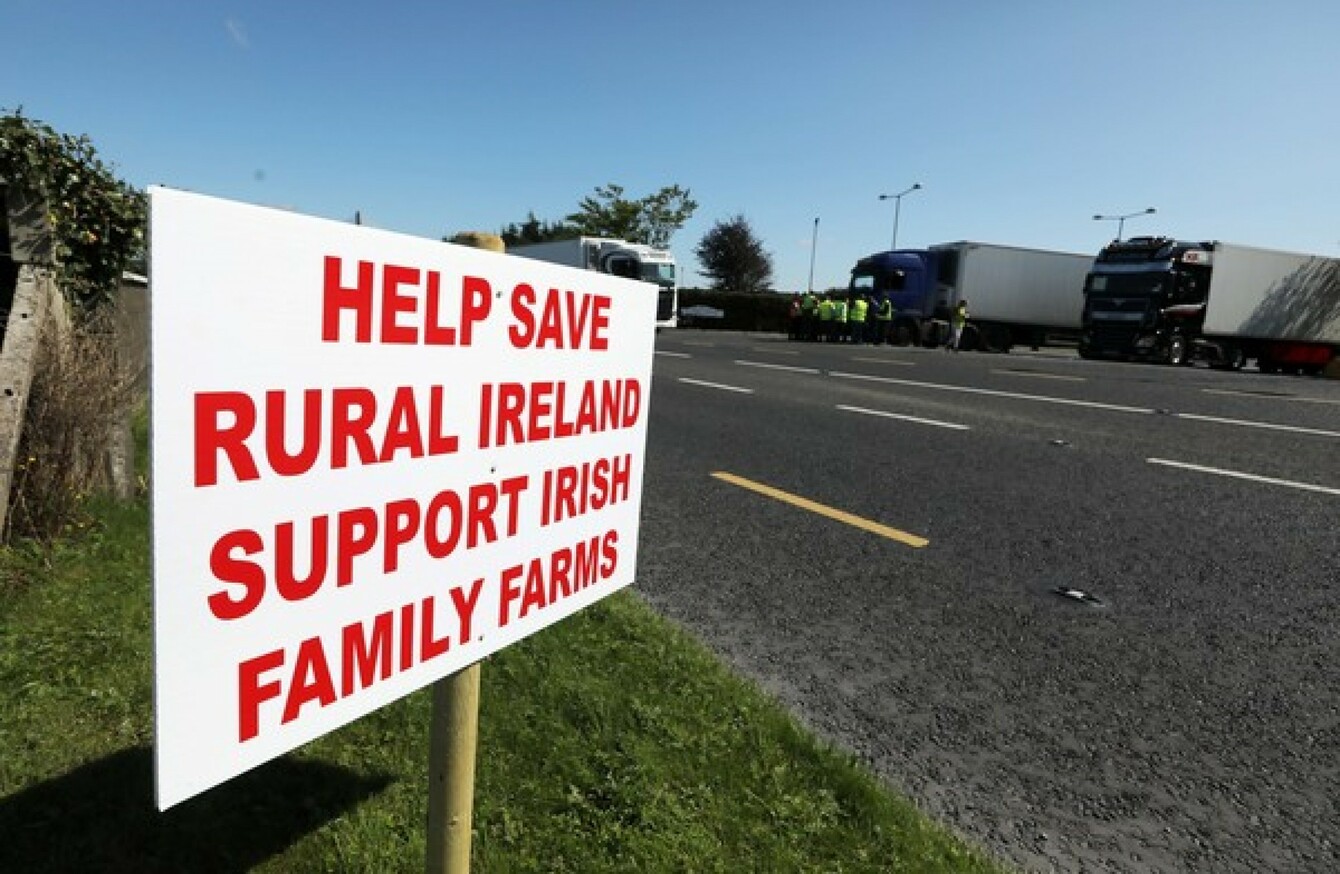 File photo: Some beef protests have started to wind down following an agreement at the weekend.
Image: Eamonn Farrell/RollingNews.ie
File photo: Some beef protests have started to wind down following an agreement at the weekend.
Image: Eamonn Farrell/RollingNews.ie
Updated Sep 20th 2019, 6:52 PM
MEAT INDUSTRY IRELAND (MII) has this evening released a statement saying that the beef protests across the country have caused "severe long term damage to the beef sector". 
The Beef Plan Movement agreed to stand down protests in the agreement made with Agriculture Minister Michael Creed at the weekend. 
It has been urging farmers in recent days not to continue with blockades and has been working with other farming organisations, including the Irish Farmers' Association and Irish Cattle and Sheep farmers' Association to de-escalate tensions. 
However, scattered blockades still remain in pockets of the country. 
MII this evening said that the actions of the remaining protesters are having a negative impact on the entire industry. 
A spokesman said: "A full working week has now passed since the Irish Beef Sector Agreement was reached on 15 September. Despite this, illegal blockades continue today at 18 beef processing sites across the country.
"This involves ongoing intimidation, blackmail and threats to staff, contractors, hauliers and farmer suppliers. Calls by the President, An Taoiseach and several Government Ministers for these illegal blockades to cease and the agreement to be given a chance, are being ignored.
"The illegal action of a small minority is negatively impacting the livelihoods of thousands of workers, farmers with cattle to sell, hauliers and other service providers, and is putting the entire Irish beef sector in jeopardy.
"There is an ongoing blatant disregard for the authority of the State and the law of the land by those involved, which includes non-farming and sinister elements. The notion of protestors voting whether to continue or not with their illegal action is absurd. 
 Earlier today, meat plant ABP confirmed that 100 workers will be laid off, blaming an illegal blockade ongoing outside a factory in Cahir. 
This follows the announcement earlier this week that 355 employees would be temporarily laid off as a result of ongoing beef protests.
It remains unclear when staff at the plant will be able to return to work. There had been fears earlier this week that continued blockades could lead to more lay offs. 
"The protestors' illegal actions are now putting all jobs at ABP Cahir at risk, as well as the livelihoods of 1300 farmers who supply cattle to the site," an ABP spokesperson said. 
"Customers are also being let down, and hard-won international contracts are being jeopardised as these valued customers are forced to source beef elsewhere," the spokesperson added. 
#Open journalism No news is bad news Support The Journal

Your contributions will help us continue to deliver the stories that are important to you

Support us now
The number of protests have dropped in recent days after an agreement was reached last weekend between the meat industry and representatives of beef farmers including the Irish Farmers' Association (IFA) and the Beef Plan Movement.
Trade union SIPTU has repeatedly warned that the dispute over beef prices is putting jobs at risk. 
ABP said that since the commencement of blockades outside its factories, 1,463 staff have been temporarily laid off. 
Both the IFA and the Beef Plan Movement have urged farmers to end their blockades at factories. 
The dispute has had an effect on consumers with supermarkets posting notices that beef products are in limit supply, and restaurants warning that beef options are to be removed from some menus from next week.