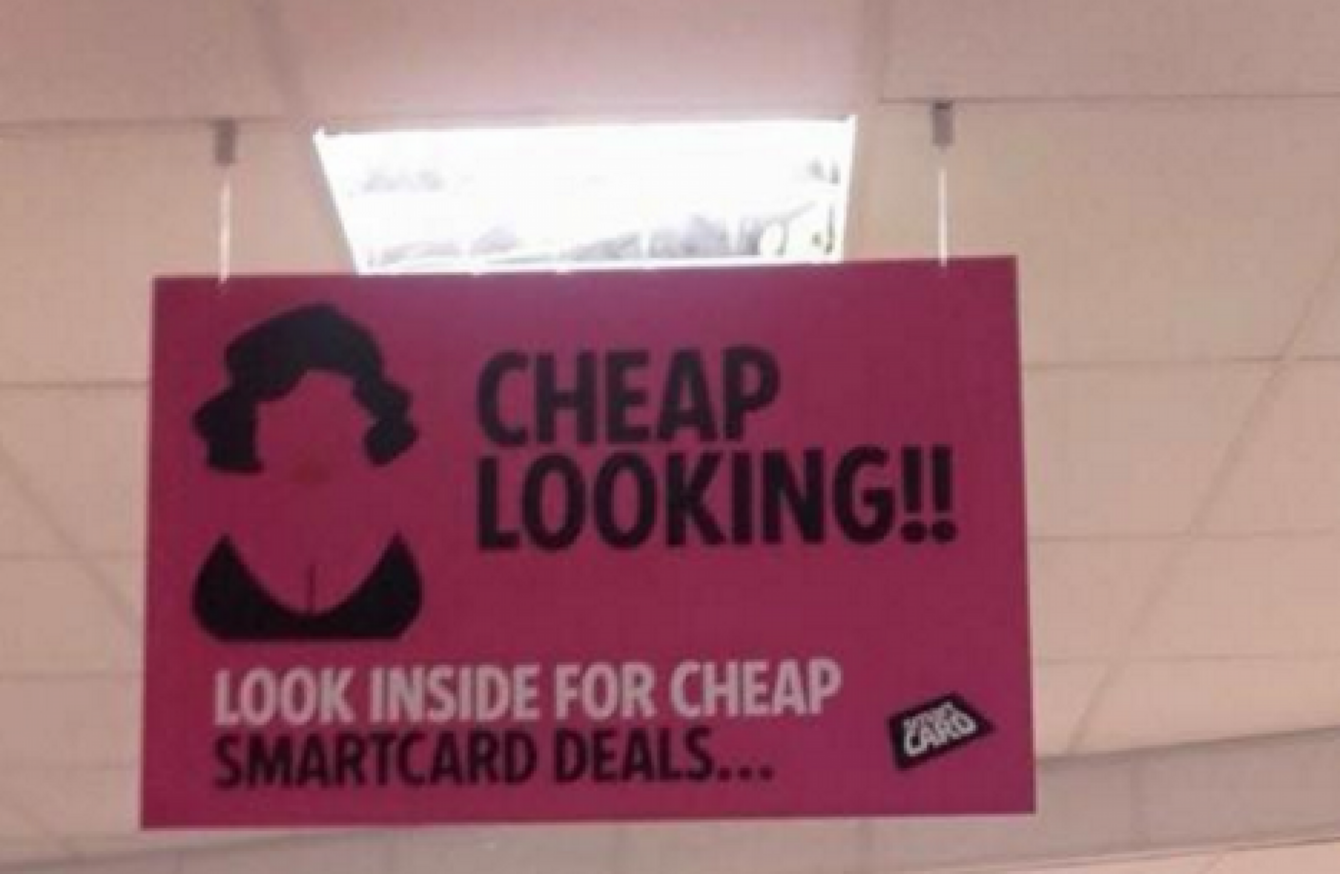 Image: UCC Feminist Society
Image: UCC Feminist Society
Updated: 12:25pm
A GROUP OF students at University College Cork (UCC) have hit out at a campus advertising campaign featuring an outline of a woman with the tagline "cheap-looking".
The UCC Feminist Society said it was outraged to learn that the smart card campaign had been rolled out this week in the university's student centre.
The society said the poster, which promotes travel card deals at the campus shop, effectively stigmatises female sexuality.
The head of the society, Ellie Mahony, told TheJournal.ie: "To suggest that a woman with her breasts on show is 'cheap-looking' aids slut shaming.
Especially in a campus where one in seven students have been victims of sexual assault [according to a study last year], it's not on.
"We are shocked that the student centre would feel the need to stoop so low to advertise to students, more than half of whom are women," the society said.
Cup size
Students have also criticised a second campus ad featuring an image of a topless woman, with stickers covering her breasts.
"What's your cup size? Get 10% more on your hot stuff when you pay with smart card," reads the ad, which has been printed on a large campus poster and on coffee cups distributed to students.
James Upton of UCC Students' Union said union representatives will be raising the issue with the student centre's board of management.
"We received a number of complaints about it yesterday – it should be immediately pulled," he said.
In a statement, UCC confirmed that the posters have now been taken down.
"University College Cork is committed to equality as a core value of the institution," a spokesperson said.
When, yesterday afternoon, the university became aware of the advertising campaign of the student centre it made its views known on the unacceptability of such a campaign.
As a result, the student centre, which is run as a separate entity, removed the offensive messages last night.
Smartcard, the campus scheme behind the campaign, said the ads were being reviewed by management.
"No further comment will be available until this review is complete," a spokesperson said.
The centre's manager did not respond to calls this morning.