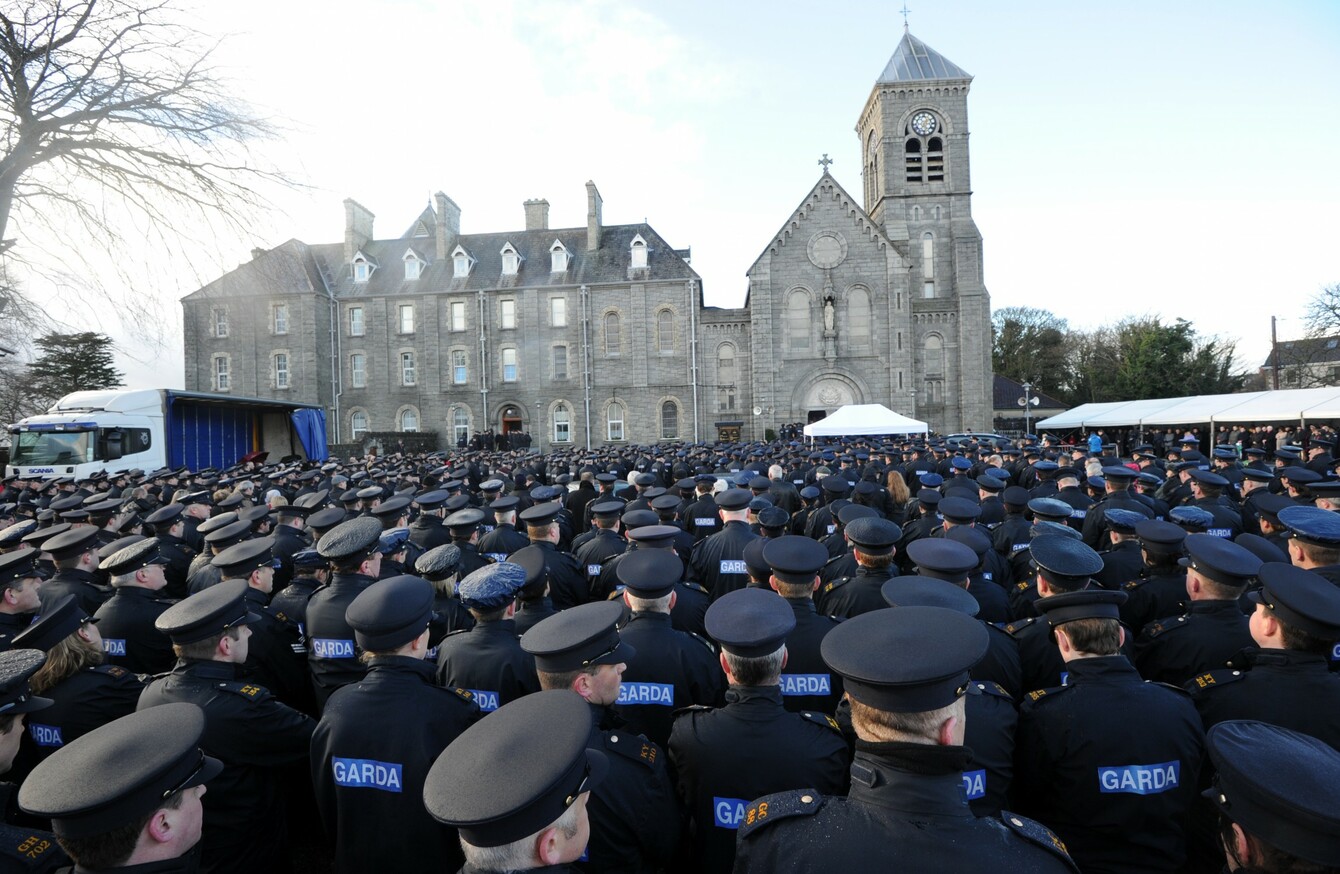 Members of An Garda Síochána at the funeral of Adrian Donohoe.
Image: Laura Hutton/Photocall Ireland
Members of An Garda Síochána at the funeral of Adrian Donohoe.
Image: Laura Hutton/Photocall Ireland
IT'S RAINING IN Bellurgan, Louth, and children are playing on their schoolbreak just 200 feet from where Detective Garda Adrian Donohoe was shot dead in 2013.
A stone plaque is fitted close-by, adorned on either side by colourful flowers.
It reads: 'Erected to the memory of Detective Garda Adrian Donohoe who lost his life here on January 28 2013 while serving his community'.
It might be four years since the callous murder of the loving father-of-two, but it is an event which is still etched into the minds of locals who remember the murdered officer as a GAA-mad father who loved his family and his community.
"There has to be justice. I know there won't feel like there will ever be closure until there's justice for Adrian," said Antóin Watters, a local councillor in the area.
We meet outside the Lordship credit union, the place where Detective Garda Donohoe lost his life. There are a couple of staff members going about their business, reluctant to speak to the press.
"It's something which will always be raw for people and you can understand that completely." Watters adds, before paying another glowing tribute to the fallen garda.
"He was a man of the community, someone everyone who knew him would have looked up to. He was everything you'd want not just from a guard but from a local. I know the guards are doing all they can to catch the people who did it. I'm urging anyone who has any information to come forward as it might be the smallest detail which does it for the guards.
"There can be no doubt about it, the gardaí know what they are doing. Adrian was one of their own and he was one of us as well. I'm sure they're working as hard as possible to bring this case to a close."
The Cooley peninsula has been the region where two members of An Garda Síochána were murdered over four years. Donohoe in Bellurgan and Tony Golden, who was shot dead in Omeath in 2015, 13 kilometres from the Lordship Credit Union.
Two women from nearby Carlingford stop by during our visit to Bellurgan. Friends Rita Ryan and Maeve Keogh often drive through the village as they travel to Dundalk to do some shopping. The women, who are pensioners, said the region has seen so much sadness in the last 40 years and the murder of Adrian Donohoe was one which shocked them the most.
Ryan said: "We thought that was the end of it. There's been so many people killed over drugs and over money. That poor guard was doing his job and he was shot dead in his own community. The guards do their work and they do things that others wouldn't so we can sleep safe at night. It doesn't bear thinking about what that poor family has been through. And then you have the other garda killed up in Omeath as well by these people."
While the village is trying to move one from what happened that night, locals said they will never forget the sacrifice Detective Garda Adrian Donohoe made.
Over the last four years, investigating officers have carried over 5,600 individual enquiries, taken over 2,500 witness statements and examined in excess of 20,000 hours of CCTV footage. Still, no one has ever been convicted of the garda's murder and Finn said someone out there could help provide a "vital cog" in the investigation.
Commissioner Nóirín Ó Sullivan, paying tribute to Donohoe, said: "Adrian was the epitome of all that is good about An Garda Síochána. In his professional and personal life he was dedicated to the community he served. Whether it was his work in Dundalk Garda Station or giving his time to coach underage teams at St Patrick's GAA in Lordship, Adrian was always focused on helping and supporting others.
Our thoughts are with Caroline, the children, and all of Adrian's extended family and friends.
The Irish League of Credit Unions, which represents credit unions in the Republic of Ireland and Northern Ireland, has offered a reward of €50,000 for information that leads to any arrest and prosecution in respect of the murder.
Anyone with information in relation to the murder is asked to call the incident room in Dundalk Garda Station on 042 938 8470 or the Garda Confidential Line number on 1800 666 111.