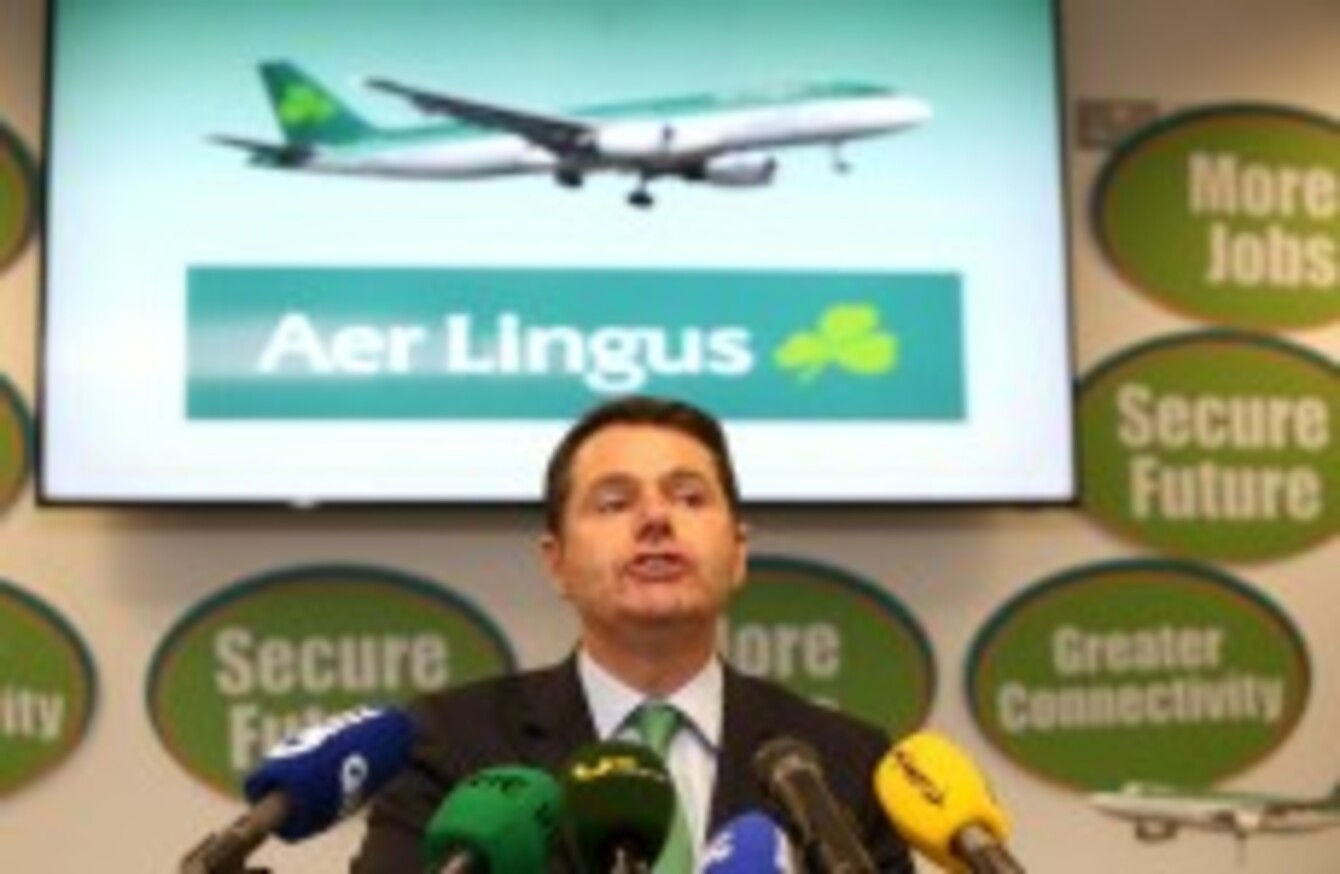 Image: Sam Boal/Photocall Ireland
Image: Sam Boal/Photocall Ireland
THE GOVERNMENT HAS agreed to sell its 25.1% stake in Aer Lingus to International Airlines Group (IAG).
The deal was finally granted approval following a cabinet meeting this evening, the second such meeting of the day. At €2.50 a share, the deal values the government's stake in the airline at around €335 million.
At a press conference this evening to officially announce the deal, transport minister Paschal Donohoe said that legally binding agreements regarding Aer Lingus' brand and location have been agreed, while the airline's slots at Heathrow will continue to be held for an unlimited time.
Donohoe added that Aer Lingus will add extra aircraft and destinations in the future.
Regarding the news that the sale proceeds will be used to establish a new 'Connectivity Fund', the minister said that this will involve "a broad definition" of connectivity and that further light will be shed on this by Michael Noonan and Brendan Howlin tomorrow.
"However, this can and will include everything from ports to airports to roads," he said.
When asked about his thoughts regarding Ryanair's outstanding stake in Aer Lingus the minister replied that "that is entirely a matter for them".
Following the sale the Minister for Finance will maintain one share in the airline. There is no time limit regarding the holding of this share.
Donohoe said that he plans on bringing the matter before the Dáil tomorrow, after which it will be voted upon.
In its official statement the Department of Transport highlighted the aspects to the deal they found most important:
150 extra employees to be hired at the airline by end 2016, with a possible 635 new roles by 2020 (roughly 440 of which will be cabin crew and pilots)
All existing slots at Heathrow to continue to be held by Aer Lingus in a legally binding manner for an unlimited amount of time
All current schedules between Cork, Shannon and Dublin and London Heathrow to be guaranteed for seven years
Aer Lingus' brand and head office location will remain unchanged
IAG are to use Dublin as a natural gateway hub for transatlantic routes
Earlier, the minister had released a statement confirming the sale:
"Today I updated the Cabinet on the latest position in relation to the IAG proposal to make an offer for Aer Lingus," he said.
IAG has provided additional information and certain commitments in relation to its proposal.
Following detailed consideration of this and all of the issues surrounding a potential disposal of the State's shareholding in Aer Lingus, the Government has decided that it will support IAG's proposal.
An IAG statement this evening confirmed the sale and the agreed details:
"The board of International Consolidated Airlines Group, S.A. and the independent directors of Aer Lingus Group plc are pleased to announce that they have reached agreement on the terms of a recommended cash offer to be made by AERL Holding Limited ("AERL Holding"), a wholly-owned subsidiary of IAG, for the entire issued and to be issued ordinary share capital of Aer Lingus."
The guarantee regarding Aer Lingus' flight slots at Heathrow Airport, which was a major sticking point for the government the last time the government rejected IAG's advances, has been increased from five years to seven years with respect to services between Cork, Shannon and Dublin and the London airport.
Aer Lingus will also continue to operate its current international services under the same name and brand, while the airline's head office will remain in Ireland.
As might be expected opposition reaction to the deal has been less than enthusiastic, with Sinn Féin leader Gerry Adams saying this evening that all it amounts to is a "stay of execution" for the Heathrow slots."
"Any assurances by IAG around access for Irish routes from Heathrow will only delay the inevitable loss of these slots to more profitable routes," Adams said.
Losing these vital routes in six months, five years or later is still very bad for Aer Lingus, bad for the economy and bad for Ireland.
Meanwhile Renua leader Lucinda Creighton said that, while she "welcomed" the sale, she was also "deeply concerned that the role played by the Labour Party throughout this process will damage the value of the sale for the tax-payer".
The airline itself meanwhile welcomed the news unreservedly.
"This is a compelling transaction for Aer Lingus, its shareholders, its employees, its customers and for Ireland," said chairman Colm Barrington.
This will lead to an increase in jobs at Aer Lingus, in support activities and the tourism sector and, importantly, will strengthen connectivity to and from Ireland.
Originally published att 8.53pm. With additional reporting from Hugh O'Connell