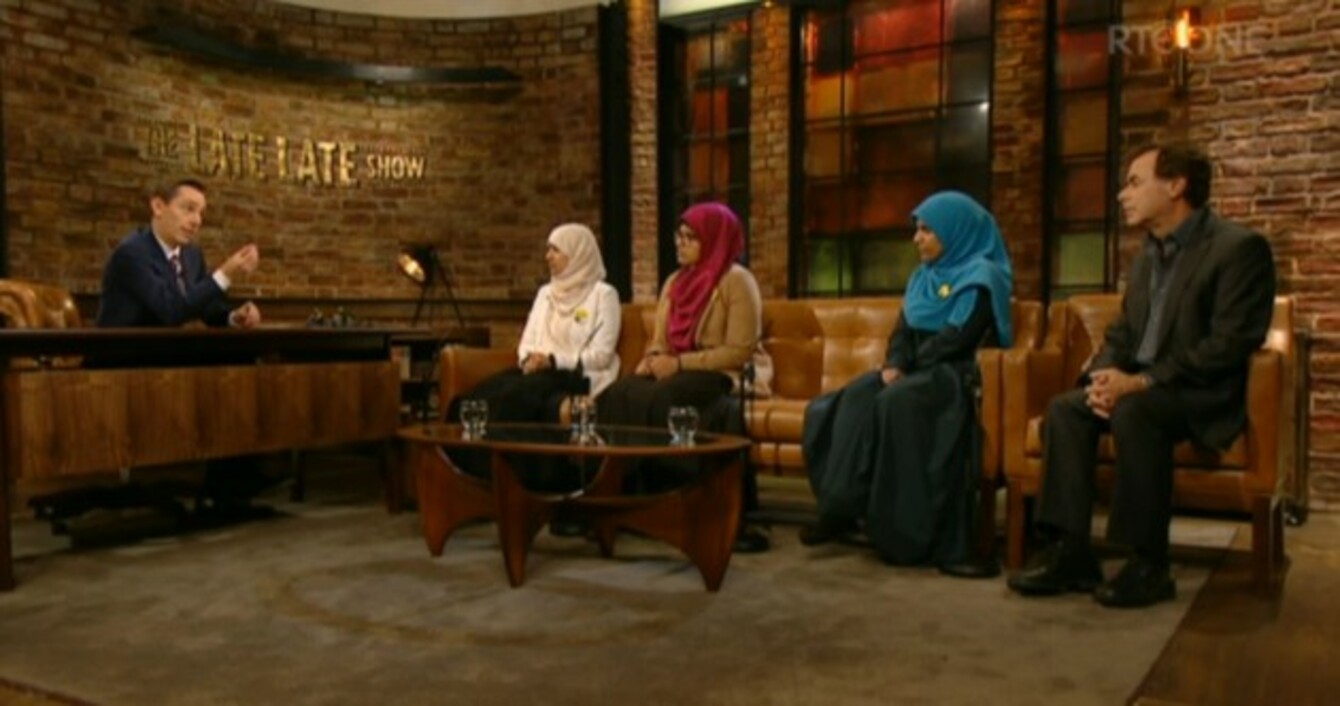 Image: Screengrab/RTE
Image: Screengrab/RTE
Updated at 11.10pm
FORMER JUSTICE MINISTER Alan Shatter made an unexpected appearance with the sisters of jailed Irish teenager Ibrahim Halawa on the Late Late Show tonight.
The Fine Gael TD was on the programme to help ramp-up pressure on Egyptian authorities for the Dubliner's release – and he said that if the current situation continued indefinitely, Ireland should "question the nature" of diplomatic relations with the north African country.
Ibrahim Halawa has now been held at the Torsa prison on the outskirts of Cairo for 19 months.
He and his sisters Somaia, Fatima and Omaima were arrested at the al-Fateh mosque in August 2013 while attending a march against the ousting of former president Mohammed Morsi.
"I took an interest in this right from the beginning when I was still Minister for Justice," Shatter said – after being introduced mid-way through the segment.
In cases of this type, the standard approach from the Department of Foreign Affairs would be "that we can't interfere in the domestic legal arrangements of a friendly foreign country," the former minister said.
However, he said, "Ibrahim's now been in jail for over a year and a half. I've enormous concerns about the nature of any trial – should it take place".
There's been four occasions now when the trial was to take place and has been postponed. It's now supposed to take place on the 29th of March.
"But the form of trial in Egypt will involve Ibrahim and 490 other people being effectively in a cage in a courtroom. And no individual's human rights, civil rights can be protected – no lawyer can properly represent any person in circumstances where you have a mass trial."
Diplomatic relations
"I think we need to say as strongly as we can, please release this young man," Shatter said, when asked what could be done to increase pressure on the Egyptian government.
He said that while he was aware foreign affairs minister Charlie Flanagan was working hard for the teenager's release, and that it was being "pushed hard" by the Government "there are certain things you can say if you're not a government minister".
"We have very good diplomatic relations with Egypt," Shatter observed, adding:
I think now this has reached a point where we should question the nature of our diplomatic relations, if this continues on indefinitely.