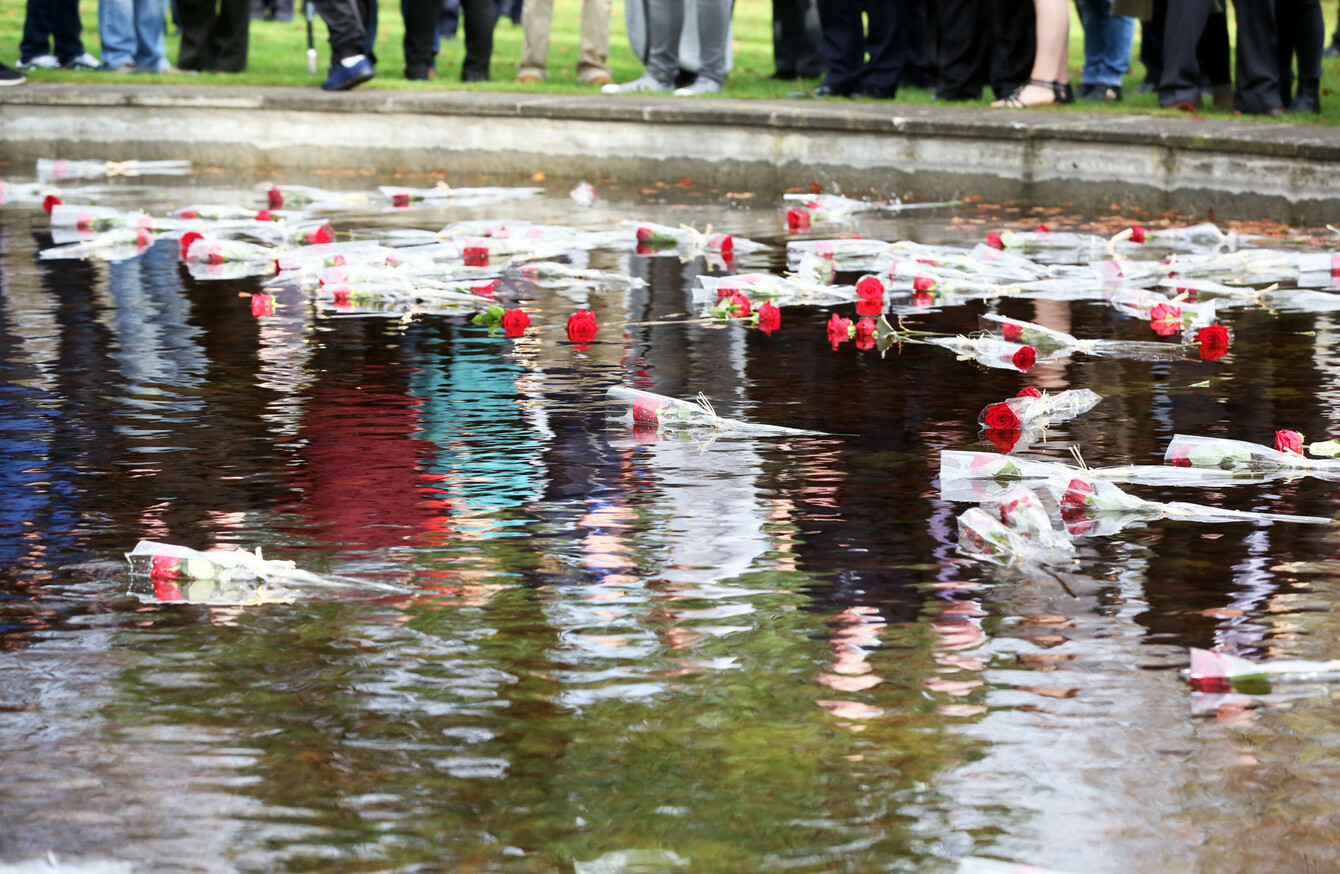 Family members of people who are missing gathered at Phoenix Park yesterday to remember their loved ones.
Image: Sam Boal via RollingNews.ie
Family members of people who are missing gathered at Phoenix Park yesterday to remember their loved ones.
Image: Sam Boal via RollingNews.ie
PATRICIA O'REILLY SAYS that her mother Alice Clifford "suffered from her nerves" before she went missing from the grounds of a hospital 38 years ago.
"She led a busy and stressful life," she told a crowd who had gathered in Dublin for Missing Person's Day yesterday. "In her early 40s, she had been widowed, had to return to part time work, married again and [raised] seven of us – three boys and four girls."
Those four decades have involved "inaction" by the gardaí, according to Patricia, who says she has become "disheartened at the system", and that "major mistakes" were still being made in relation to her mother's case.
After wondering why her mother wasn't included in the book 'Missing: Missing Without a Trace in Ireland', Patricia contacted its author, RTÉ reporter Barry Cummins to ask why. He said that when he was doing research for the book there had been no mention of Alice going missing.
He also asked Patricia did she know her family could have an inquest.
'No', was the answer. This man had given us more information in five minutes than we had been given in 29 years.
After a number of TV and radio appearances, the family received information that led them to believe that Alice might be buried on the grounds of St Loman's Hospital.
In 2016, upon meeting with representatives from the Gardaí and HSE, she and her family were told that a new development – a housing estate – was planned for the land. Most of the old hospital building had already been knocked down by then.
When they went to visit the site in July this year, they saw that work had already begun on the grounds – but builders told them information that a body might be on the site wasn't passed onto them.
Disheartened by the news, she called on the government to increase communication between agencies on issues such as this.
"This was HSE land," she said yesterday. "Surely it was somebody's responsibility to pass on this very important information?"
In response, An Garda Síochána told TheJournal.ie that an "exhaustive" search of the area had taken place in January 2013 which stretched out over a number of days.
The missing person's case is currently classed as 'active' – DNA cross checking has been continuing on remains, but so far have come back negative.
Alice's disappearance
In November 1979, 57-year-old Alice Clifford went missing from the grounds of St Loman's Hospital in Lucan, Dublin.
In the past several years before her disappearance, Alice began to "suffer from her nerves", as Patricia put it. "Pills never seemed to help, and as a last resort she was offered electric shock treatment."
Terrified but hoping it would help, she agreed. She arrived home more bewildered than ever, and things got worse.
She was sleeping all day and walking the house by night. She needs to be watched 24/7.
In 1978 she was offered a week's respite at St Loman's, and another two weeks again in 1979. On the 28 November, two days before she was to return home, she had a craft class at the hospital.
When it finished, the patients returned to their wards but nobody noticed she never made it back, according to her daughter. It wasn't until she didn't show for dinner that the alarm was raised.
After being notified, the family made their way to the hospital, where the grounds had already been searched.
The next day we called into the Travelling community – we also spoke to anyone on the streets who would listen.
It's like she no longer existed – no sign of her anywhere. Months turn into years.
Then, after getting in touch with Barry Cummins and a number of fresh appeals on TV and radio, new information came to light.
A Mr Fitzpatrick, who says he was working in the hospital grounds at the time Alice went missing, says he was laying 100m-long electric cables in a large trench, right outside the building where Alice's craft class was being held that day.
It had then been filled in very early the next morning.
Patricia said: "My mother was 5ft 2in, and around 8 stone. If she had found a way outside and fallen in the trench wearing a cardigan and slippers, she'd have had no chance."
Patricia's eldest brother died in October this year, "taking the burden of this to his grave".
He, like the rest of us believe that she is on that land. There was no sighting of her because she never left that hospital.
After 38 years, most of the hospital has been knocked down, and searching through it has been described by the family as like "a needle in a haystack".
A memorial bench has been placed on the site by Alice's family in honour of her memory.
- With reporting from Michelle Hennessy.