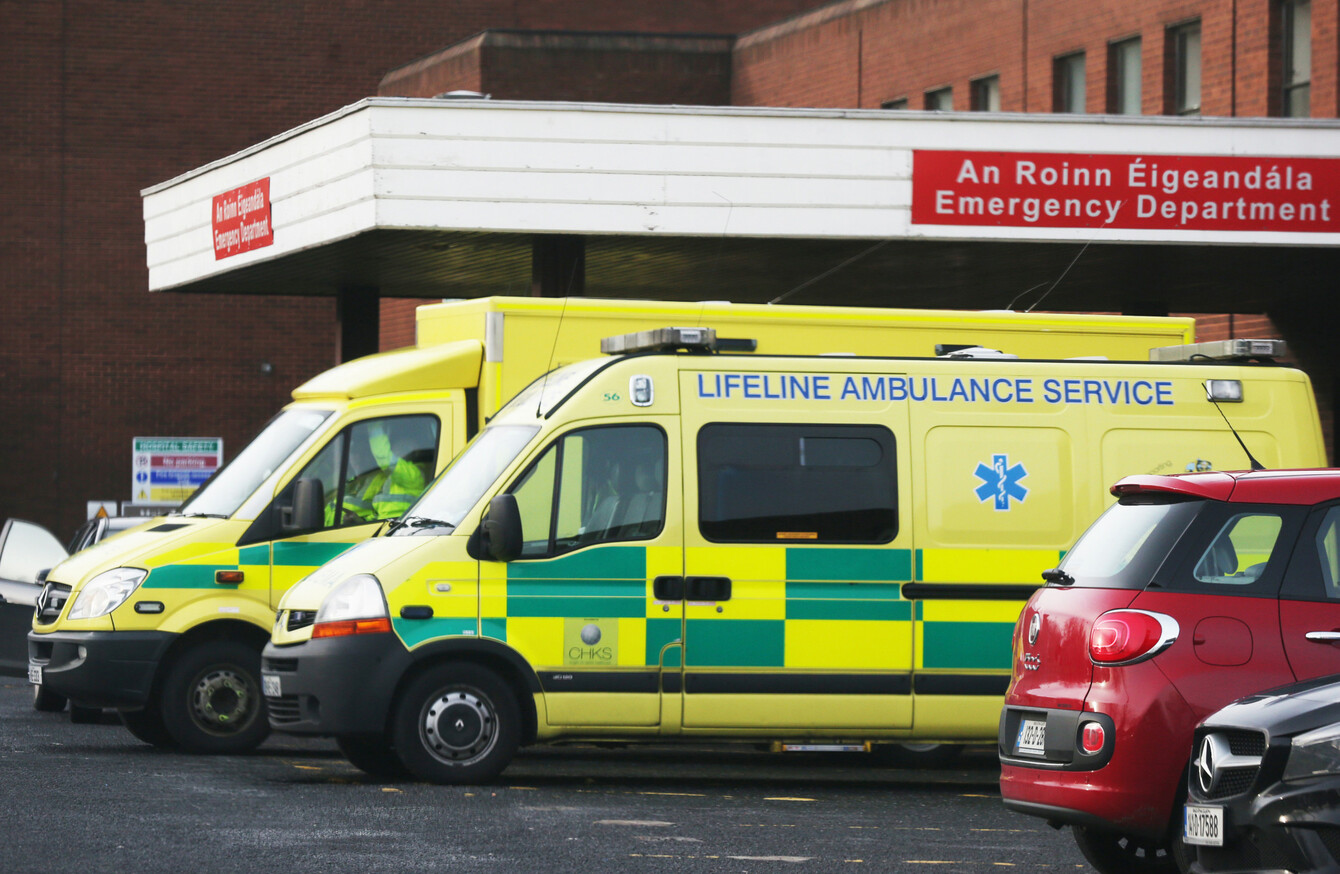 MONAGHAN COUNTY COUNCIL called for answers to explain "inordinate" ambulance delays in the area with the Minister for Health, saying that the cover provided is "inadequate".
The council asked for accountability and explanations for the delays "recently and regularly experienced by citizens in Monaghan".  
In the Northern Standard, an article outlined a meeting between councillors and members of the National Ambulance Service.
At that meeting, Tom Horwell, assistant chief ambulance officer of the North East and Midlands, and William Merriman, chief ambulance officer in north Leinster answered some of the council's questions.
The article quotes them as telling the council that the ambulance service gets 310,000 calls a year; 700 calls a day come through to the Tallaght call centre. There are around 160 vehicles on call every day, 1,700 frontline staff and 102 ambulance stations across the country.
Those at the meeting were told that a lot had changed in the ambulance service in 20 years: there was a shift in population demographic, births are decreasing and the elderly population is increasing because of improvements to medication and treatment.
Sinn Féin councillor Sean Conlon, who was present at that meeting asked the council about the number of crews rostered to cover from the Monaghan town base. When he was told that there were 16 rostered positions and that there was only one day crew and one night crew for Monaghan town on Thursdays, he asked was it a case of "Don't call an ambulance on Thursdays?"
He was told that that would not be the case, that management was aware of the situation and recruitment was ongoing.
Conlon has called for a number of measures to be introduced to reduce waiting times for emergency services, and has said that "inordinate" ambulance delays are caused by a lack of resources for huge areas that ambulances are told to cover.
"Quite often, Monaghan's resources are allocated to the Dublin North east area," he told TheJournal.ie. "Ambulance services need to be more specific around where their resources are allocated."
"It's a battle for resources where there's a number of different ambulances across the region. And by resources I mean manpower, vehicles, and the ambulance base itself."
He also identified other areas that were affecting ambulance response times and their staff, including sick leave cover.
Something that was flagged in previous times, we're aware that those who provide emergency services are subjected to intense traumatic situations where fatalities are involved. Aligned to that is sick leave, to give time for counselling.
Conlon said that this was a flaw in the ambulance service's roster, whereby there's no provision for sick leave.
There should be different times and different structures; they're not filling the posts, they're not providing adequate cover.
Another issue, Conlon says, is that the transfer of patients from ambulances to hospital staff can take hours because of understaffed Emergency Departments.
"Here's an issue as well – the transitioning between the paramedic staff and hospital staff. A paramedic who has taken a patient to the hospital might be standing in the hallways for hours at a time. Staff at Emergency Departments are under intense pressure so the result is they're delayed in taking over responsibility for a patient."
On the subject of whether families should meet ambulances part of the way there when there's a delay to response times, Conlon added that there needs to be "clear and concise" messaging from the ambulance service, and that driving to the ambulance isn't always a solution.
"We all know that in rural Ireland there are three ways to get to someone's house. Rural Ireland is at the coalface of services in many areas."
#Open journalism No news is bad news Support The Journal

Your contributions will help us continue to deliver the stories that are important to you

Support us now
The National Ambulance Service
In a previous statement to TheJournal.ie, the HSE said that the National Ambulance Service's National Emergency Operations Centre (NEOC) allocates emergency resources to households who call 999.
"All NAS resources are dispatched to calls across the country from the NEOC on a nearest available (to the incident) basis and not on a county boundary basis.
This system allocates resources to life-threatening calls so that they receive an immediate and appropriate response, while lower acuity calls may have to wait until an emergency resource becomes available.
The NEOC deploys resources to areas where cover is required or to respond to incidents as they arise to ensure the nearest available resource responds to emergencies, it continued.
"Care begins immediately the emergency call is received, where lifesaving pre-arrival assistance is given by the emergency call takers directly to the patient or any third party that is available to assist.
This pre-arrival care includes the delivery of medications, CPR, use of defibrillator, haemorrhage control, childbirth and many other emergencies that present.
The ambulance service also has 186 community first responder schemes, responding to particular types of medical emergencies such as cardiac arrest, respiratory arrest, chest pain, choking and stroke, and where it is essential for the patient to receive immediate life-saving care whilst an emergency response vehicle is en route to the patient.
The NAS says it prioritises the discharge of patients from acute hospitals in order to provide beds for patients awaiting admission in the emergency departments. Resources are also used to support emergency resources by responding to life-threatening emergencies, and the Irish Air Corps and Irish Coast Guard provide helicopter support.
Improvements needed
The first ever capacity review was carried out by the National Ambulance Service in 2015. This review found that additional staff are needed in order for NAS to meet targets set out by Hiqa.
The NAS says it intends to fill these posts over the next four years.