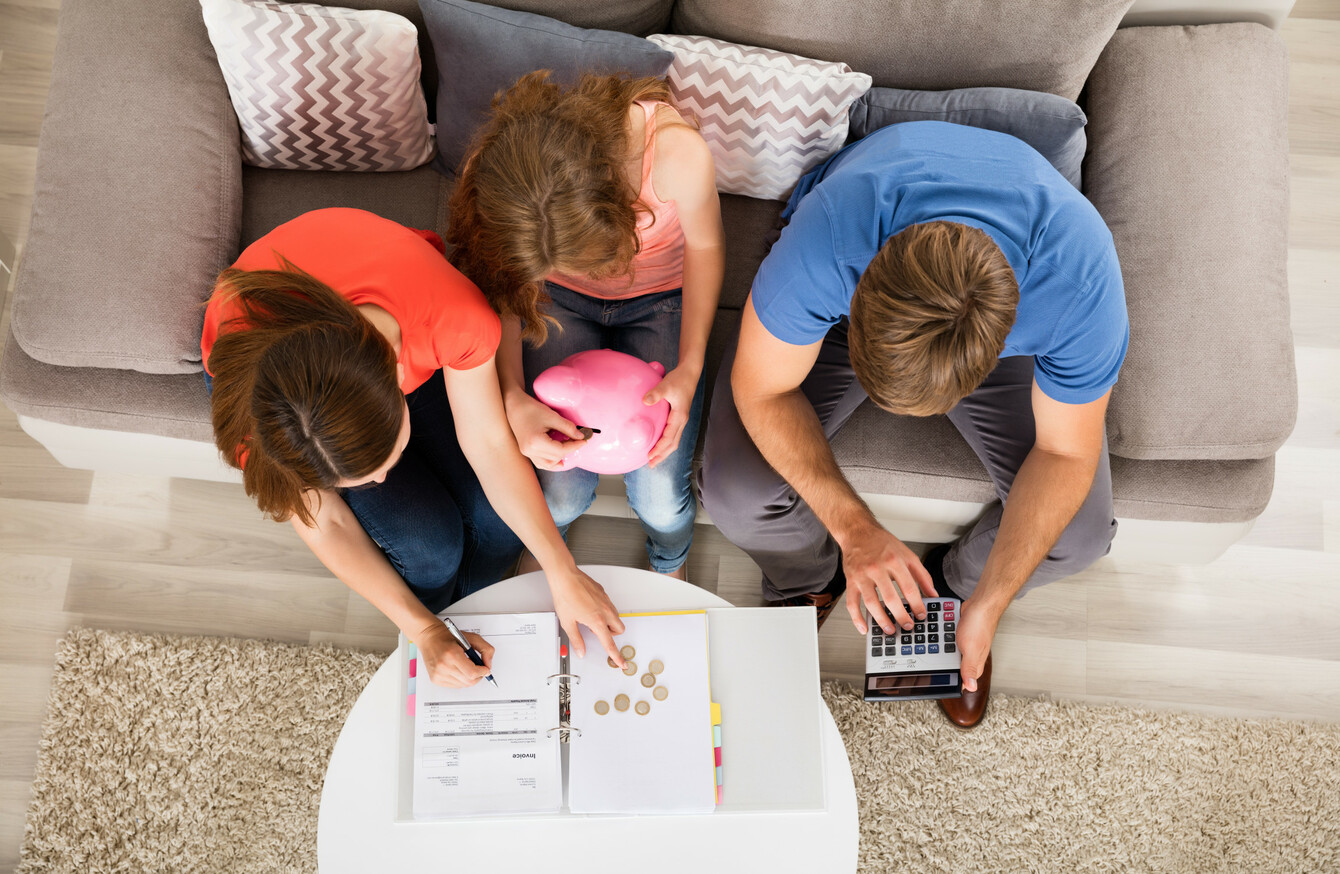 Image: Shutterstock
Image: Shutterstock
FROM BIRTHDAYS AND Christmas to communions and confirmations, money is part of life at all ages. But managing it positively can be a challenge for kids and parents alike
If you have a young kid at home, you might give them weekly pocket money, or maybe they do a few chores around the house in exchange for cash, leaving them with a set amount to spend. 
But how exactly can you teach a child the value of money and the importance of saving, when the desire to spend it instantly can be high? Having an account like An Post Money Mate – the new account for children aged 7 years to 15 years – can help them learn how to manage money from a young age, with features like 'jars' to encourage saving and a 'jobs' function to track the money they earn.
To get firsthand advice, we asked parents to share their tips for creating healthy money habits at home. Read on to see what they had to say…
'We save for holidays as a family' 
We made an agreement in our family that every bit of spare money we get is going into the holiday saving bottle. We set the example of putting the money in and the kids began a really good habit of saving that way. It has yielded great results and stopped silly spending on toys and magazines that they don't need. Sometimes it's hard for them when they really want a certain toy or something, but strong and good relationships with money need to start now. I am awful with my money because I never had to be responsible for it or learn how to be good with money at a young age, so I hope my kids will be different.
- Ciara B 
'I've always limited unplanned purchases'
One thing I'm quite strict on is restricting impulse buying. It's important for children to know that sometimes you just can't have what you want. When they were younger, anytime we went into a shop they asked for magazines and goodies. You have to stay strong and not cave in to their demands. As the years passed, they now understand that every time I go into a shop they are not entitled to treats. Many a time I left with a crying child, but the lesson worked.
- Elaine M 
'I use a weekly rewards system'
I give my son a small sum of money on a Friday if he completes all of his daily jobs. If he misses one of his tasks he is docked €1 per day, even if it's one task. It seems to work so far.
- Shauna G 
'We use pocket money to teach budgeting skills – and practice what we preach'
We tie pocket money to chores and jobs around the house so that the children are "earning" their money at least to some degree.  This weekly money then is for them to spend how they like, so they need to budget that. They get better at budgeting and saving as they get older – when they're small they haven't figured out the idea of delayed gratification! 
We have teenagers now and we talk to our kids fairly openly about money, I think modelling sensible behaviour with money goes a long way. The kids understand when we can't afford things and we'll explain that we need to save for something they may need or want.  It really is a case of practice what you preach as they get older and it's important to be consistent with that.  I think one of the best things we've done for our kids in instilling good money habits is to have them see us making sensible spending and saving choices ourselves.
- Sinead C 
'I encourage my son to think of something to save for'
I'm alway trying to teach my kids about money. My son is 14 and has his own savings account, so whenever he gets a bit of money we're trying to teach him to put a little bit away and to think of a goal for saving, because when he sees it there he just wants to spend it. Out of sight, out of mind.
- Laura T
An Post Money Mate is the new account available for children aged 7 years to 15 years and six months. With An Post Money Mate, your children learn how to earn, save and spend money with their own debit Mastercard and app. They get independence, you retain control. Download the brand new An Post Money app to get started. Not available for joint An Post Money Current Account holders.
T&Cs apply. The An Post Money Mate Debit Mastercard is issued by An Post. Mastercard is a registered trademark. A monthly maintenance fee applies. An Post is authorised by the Minister for Finance to provide payment services and is regulated by the Central Bank of Ireland in the provision of such services.