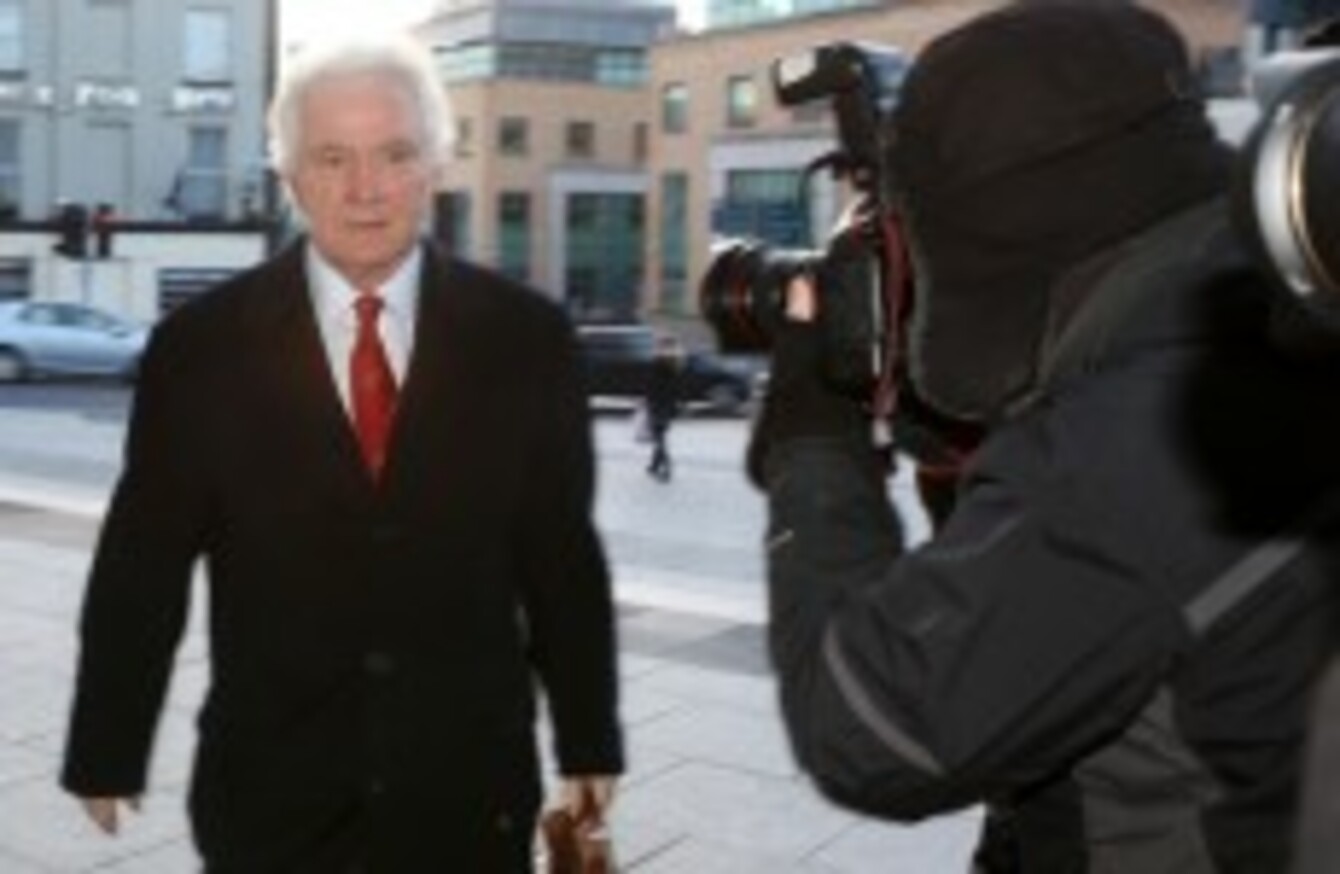 Sean FitzPatrick arrives at court this morning
Image: Niall Carson/PA Wire
Sean FitzPatrick arrives at court this morning
Image: Niall Carson/PA Wire
ON THE FIRST day of hearing from witnesses in one of the biggest court cases the country has ever seen, the trial of three former senior executives of Anglo Irish Bank heard from four witnesses in the first two hours.
Beginning at 10.37am today, the court heard from an economics lecturer, the former company secretary of Anglo Irish Bank, an employee of the Irish Stock Exchange and an employee of the Companies Registration Office.
The courtroom was again filled to capacity with standing-room only in Court 19 at the Criminal Courts of Justice,  although the numbers were marginally smaller than yesterday, the first day of the trial.
The court was shown relevant documents on three large-screen televisions screens placed around the courtroom, including one document showing the directors of Anglo Irish Bank in 2008.
Seán FitzPatrick of Greystones,  Pat Whelan of Malahide, and William McAteer of Auburn Villas in Rathmines have all pleaded not guilty to charges under section 60 of the Companies Act of providing unlawful financial assistance to people – including the so-called Maple 10 – to buy shares in the bank in 2008.
The first of an estimated 103 witnesses was an employee of the Companies Registration Office, who had to prepare certificates which tracked any changes – including changes of directors –  to companies on the register.
"You have the dubious honour of being the first witness in this case," senior counsel Úna Ní Raifeartaigh for the prosecution told Claire Pyke.
The prosecution went through the list of executive directors  and non-executive directors of Anglo Irish Bank, included the three accused, and the dates when they were appointed.
UCC economics lecturer Seamus Coffey told the court about Contracts for Difference (CFDs), the complex financial tool used by Seán Quinn which increased his ownership in the now-defunct bank.
Coffey compared CFDs to betting on a horse, saying that rather than actually buying the horse, people can bet on the horse and will be interested in the outcome of the race. He said that one of the keys to CFDs is difference – if the horse wins by a large amount then the bet would be worth more. However if the horse loses then the bet will be worth less.
Members of the 15-person jury, made up of 8 women and 7 men, took notes as Coffey detailed  the process by which people can take out CFDs
Counsel for Seán Fitzpatrick Michael O'Higgins SC asked Coffey if the brokers or people who trade in derivatives always do well out of them.
"It's a bit like that Trading Places movie where they're explaining that the great thing was that win lose or draw, the great thing was that they always got paid," said O'Higgins.
Coffey said that CFDs were "bound only" by the imaginations of people working in the industry, and said that they had excellent imaginations.