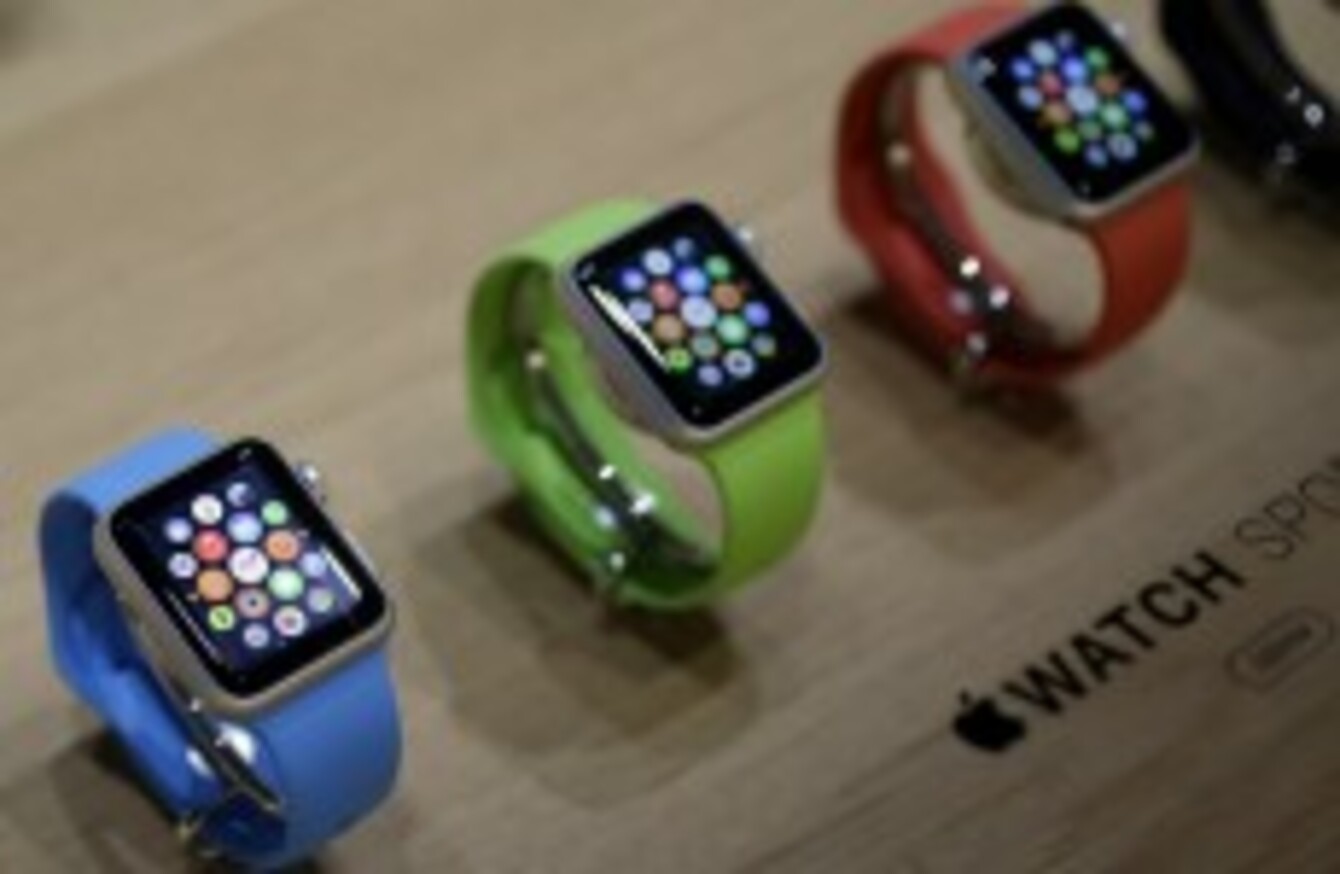 Image: Eric Risberg/AP/PA
Image: Eric Risberg/AP/PA
YESTERDAY'S APPLE WATCH release was very much lacking in hype or excitement, with just small numbers of customers lining up to get their hands on them in the limited stores who were allowed to sell them.
This was to be expected, as Apple decided its new and long-awaited gadget would be available (almost) exclusively online. From 10 April, it was available for preview and pre-order in Australia, Canada, China, France, Germany, Hong Kong, Japan, the UK and the US. And yesterday, we saw the official release of the watch, with the first pre-orders being sent out.
Boutiques in major cities including colette in Paris, Dover Street Market in London and Tokyo, Maxfield in Los Angeles and The Corner in Berlin were also allowed to sell directly to customers from yesterday.
All the discussion about the watch may have had you wondering how you might your hands on one – if you had a few hundred euro to spare – or how many Irish people pre-ordered one. Well, technically, if you're living in the Republic of Ireland, you can't buy one.
The Irish release has yet to be announced and there is no option in the Apple Store for Ireland to even look at the smartwatch. So, unless you have a friend in one of the countries mentioned above who can order one for you and then send it to you, you will have to just sit tight and wait for the Apple gods to deem us worthy.
Though some have said Apple's somewhat low-key release of the watch signals concern in the company that sales will not be as impressive as some of their other coveted items, expert Martin O'Neill, of Acorn Media Design Studios, said he believes this is all part of the plan to make the Apple Watch an exclusive piece of technology.
"If it was available in every high street store, that's the way they're always launched. This had to be pre-ordered and there was that build up that's all part of the Apple hype. People pay for that exclusivity."
O'Neill said Samsung's successful smartwatch made the idea cool but it is Apple who will make it the must-have product.
The delay in releasing it in Ireland feeds into this plan, he believes.
"Apple has done this on a couple of occasions, they stagger out the release dates in different countries and that's all part of the exclusivity too. It makes people want it even more."
The price for the cheapest version of the Apple Watch starts at £299 in the UK. We checked, and anyone attempting to place an order in the UK store is being told they won't get their watch until June.
So it appears there is a long wait ahead of us.
Are you even interested in getting your hands on an Apple Watch? Tell us in the comments below. If you know of a (legal) way of procuring one that we haven't though of, feel free to share the knowledge.