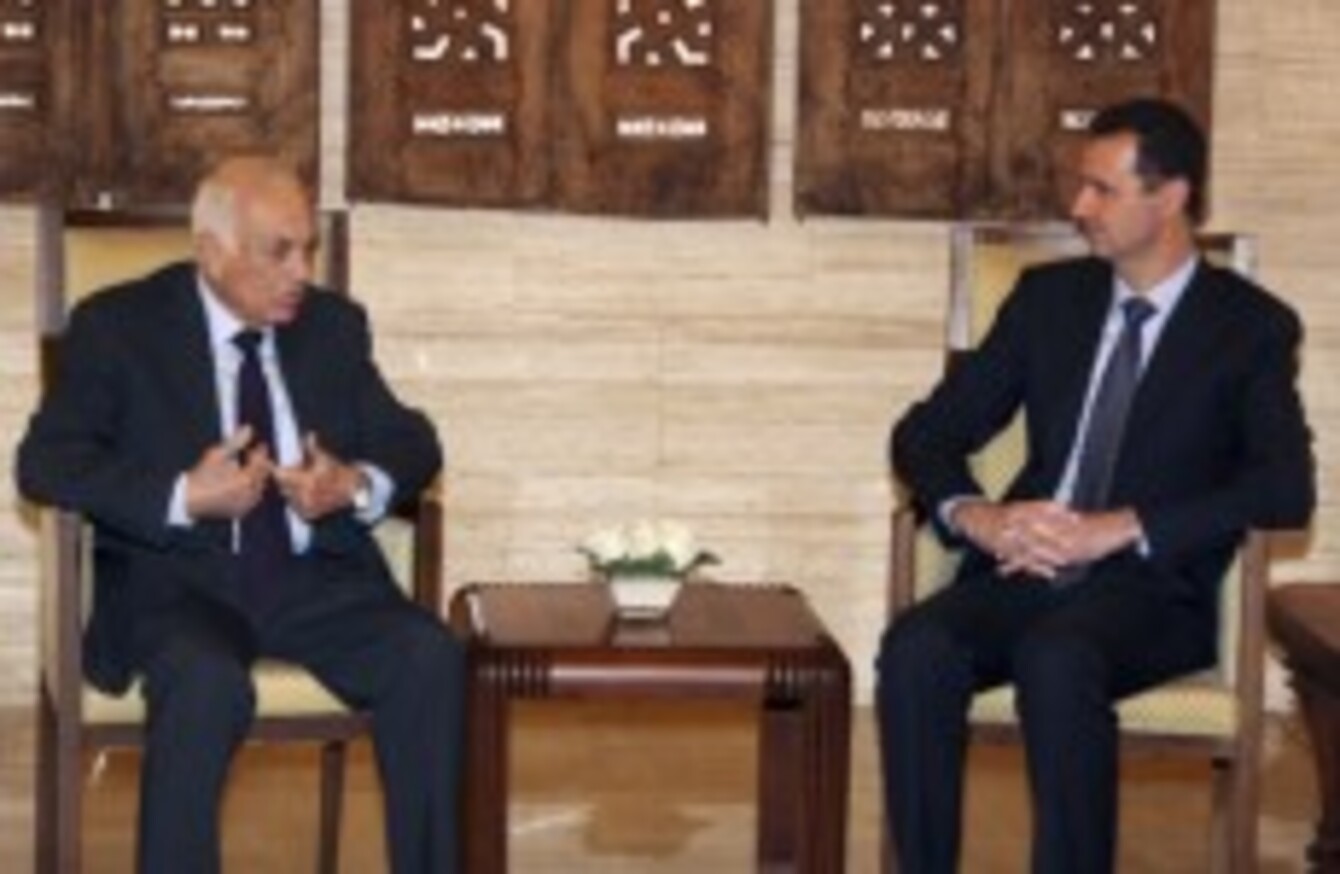 Arab League Secretary-General Nabil Elaraby met with Syria's president Bashar Assad last July.
Image: b
Arab League Secretary-General Nabil Elaraby met with Syria's president Bashar Assad last July.
Image: b
THE ARAB LEAGUE has called an emergency meeting today to discuss whether to suspend Syria, officials said, ramping up the pressure on Damascus to end its bloody crackdown on anti-government protesters.
Suspension is unlikely to have a direct, tangible impact on Syria, but it would still constitute a major blow to President Bashar Assad's embattled regime by stripping Damascus of its Arab support and further deepening its isolation.
Despite the growing international chorus for an end to the crisis, Assad has shown no sign of backing down or easing his campaign to crush the seven-month-old uprising. Earlier today, security forces opened fire on a funeral for a slain activist in the east, while security forces arrested at least 44 people in the capital's suburbs in house-to-house raids Sunday and more than 900 people in the central city of Homs over the past week.
Arab League officials said the meeting in Cairo was called at the behest of several Gulf countries and aims to pressure Assad to halt the crackdown, which the UN says has killed more than 3,000 people since the uprising began in mid-March.
Many Gulf states, including heavyweight Saudi Arabia, already have withdrawn their ambassadors from Syria to protest the regime's bloody response to the protests. Other Arab countries, however, have remained silent or reluctant in their criticism of the Syrian crackdown.
Key position
Syria is a geographical and political keystone in the heart of the Middle East, bordering five countries with which it shares religious and ethnic minorities. Its web of allegiances extends to Lebanon's powerful Hezbollah movement and Iran's Shiite theocracy, and there is real concern shared by many Arab countries that Assad's ouster would spread chaos around the region.
One official said the Arab League will consider other measures if suspension fails to compel the Syria to stop the bloodshed. He declined to elaborate.
The officials spoke on condition of anonymity because they were not authorised to brief the media.
The 22-member Arab League suspended Libya's membership earlier this year after Muammar Gaddafi launched a violence crackdown on protesters there. The League has since reinstated Libya under the country's new leadership.
Meanwhile, around 7,000 people took to the streets Sunday in the eastern Syrian city of Deir el-Zour for the funeral of an activist, Ziad al-Obeidi, who was killed a day earlier. Al-Obeidi worked for the British-based Observatory for Human Rights in Syria, and had been in hiding since troops stormed the city two months ago.
Observatory director Rami Abdul-Rahman said security forces fired live ammunition to disperse the mourners but there was no immediate word on casualties.
Widespread arrests
Abdul-Rahman and other activists said security forces also stormed areas near Damascus and were carrying out house-to-house arrests in pursuit of fugitives as part of efforts to suppress the resilient anti-government uprising. He said at least 19 people were arrested in Dumeir Sunday and 25 people in the suburb of Zabadani.
The Local Coordination Committees activist network said security forces and soldiers were setting up barricades in Zabadani and Madaya and raiding houses.
In the flashpoint city of Homs, both groups reported widespread arrests. The Observatory said 923 people from Homs have been arrested in the past week, most of them from the districts of Bab Sbaa, Khaldieh, Bayada and Deir Baalbaa.
The uprising against Assad's regime began in mid-March amid the wave of anti-government protests in the Arab world that have toppled autocrats in Tunisia, Egypt and Libya.
Besides the toll in human life, Syria's turmoil has battered its economy. The tourism industry, one of the main earners of hard currency, has been decimated.
The United States and the European Union have also imposed several rounds of sanctions against Assad and his regime, including a ban on the import of Syrian oil, forcing Damascus to look for buyers in the east.
Syria's oil minister sought to downplay the impact of the EU sanctions, saying in comments published Sunday that his country has already secured its needs of oil derivatives by signing contracts with a number of oil companies in friendly countries.
He vowed to offer facilities to any company wishing to work in the Syrian oil sector.
Oil Minister Sufian Allaw said Syria has signed contracts with Iran, Russia, India, China, Malaysia and Indonesia and was still looking for other markets
He said Syria will start exporting crude oil to new markets.
"We have overcome all difficulties and will return to the pace of exports to new markets of friendly countries," he said.