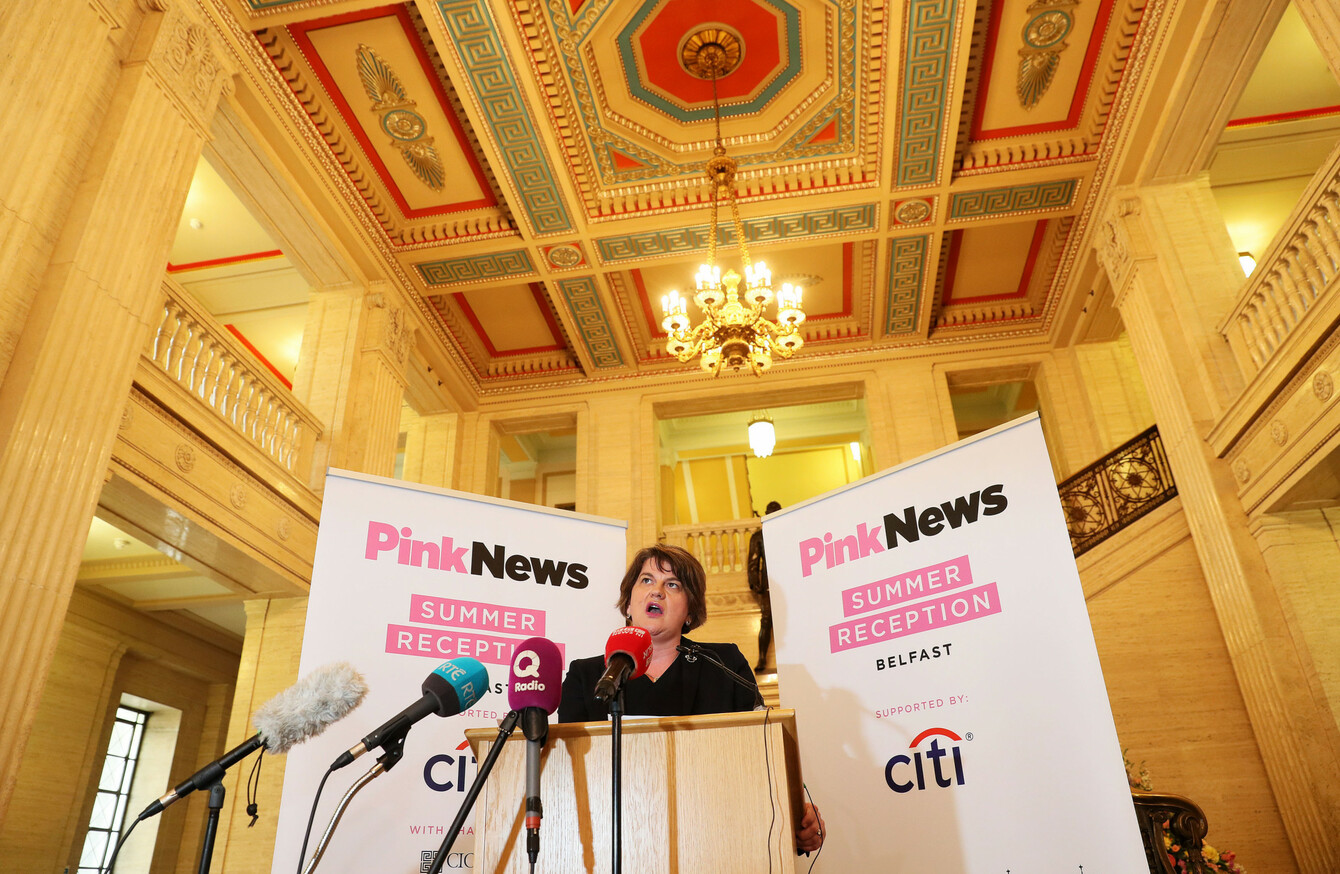 Foster at last night's event.
Image: PA Wire/PA Images
Foster at last night's event.
Image: PA Wire/PA Images
DUP LEADER ARLENE Foster has told the LGBT community in the North that she sees them as "fellow citizens", but said her opposition to same-sex marriage was a "principled position".
Foster last night became the first DUP leader to attend an LGBT event as she spoke at a PinkNews event in Stormont.
While the DUP has blocked marriage equality in the North, Foster said that didn't mean she didn't respect LGBT people.
"I look at you as my neighbours and my fellow citizens.
"I wanted to send a clear message from this event, that we are all someone's child and we are all a valued part of this wonderful place we call home.
"I wanted to use this platform to encourage meaningful engagement rather than megaphone diplomacy."
However, she said that her position on marriage wouldn't change and she asked that it be respected.
"I believe I can hold to my principled position, particularly in relation to the definition of marriage, whilst respecting the diversity across our society.
"In Northern Ireland we have a very strong faith community.
Just because we disagree on marriage does not mean that I don't value the LGBT community. It is not a zero sum game.
"All I ask in return is that my, and our views, are also respected if not agreed with.
Whilst we disagree, this does not prevent us from finding common values to keep Northern Ireland moving forward."
Northern Ireland remains the only part of the UK where same-sex marriage is still banned. It was legalised in England and Wales in July 2013, and Scotland in February 2014.
The issue of marriage equality has been a central sticking point in the talks to restore power-sharing in Stormont, with Sinn Féin calling for it to be legalised and DUP strongly opposed.
Speaking during his trip to Washington DC earlier in March, Taoiseach Leo Varadkar said same-sex marriage should be allowed in Northern Ireland.