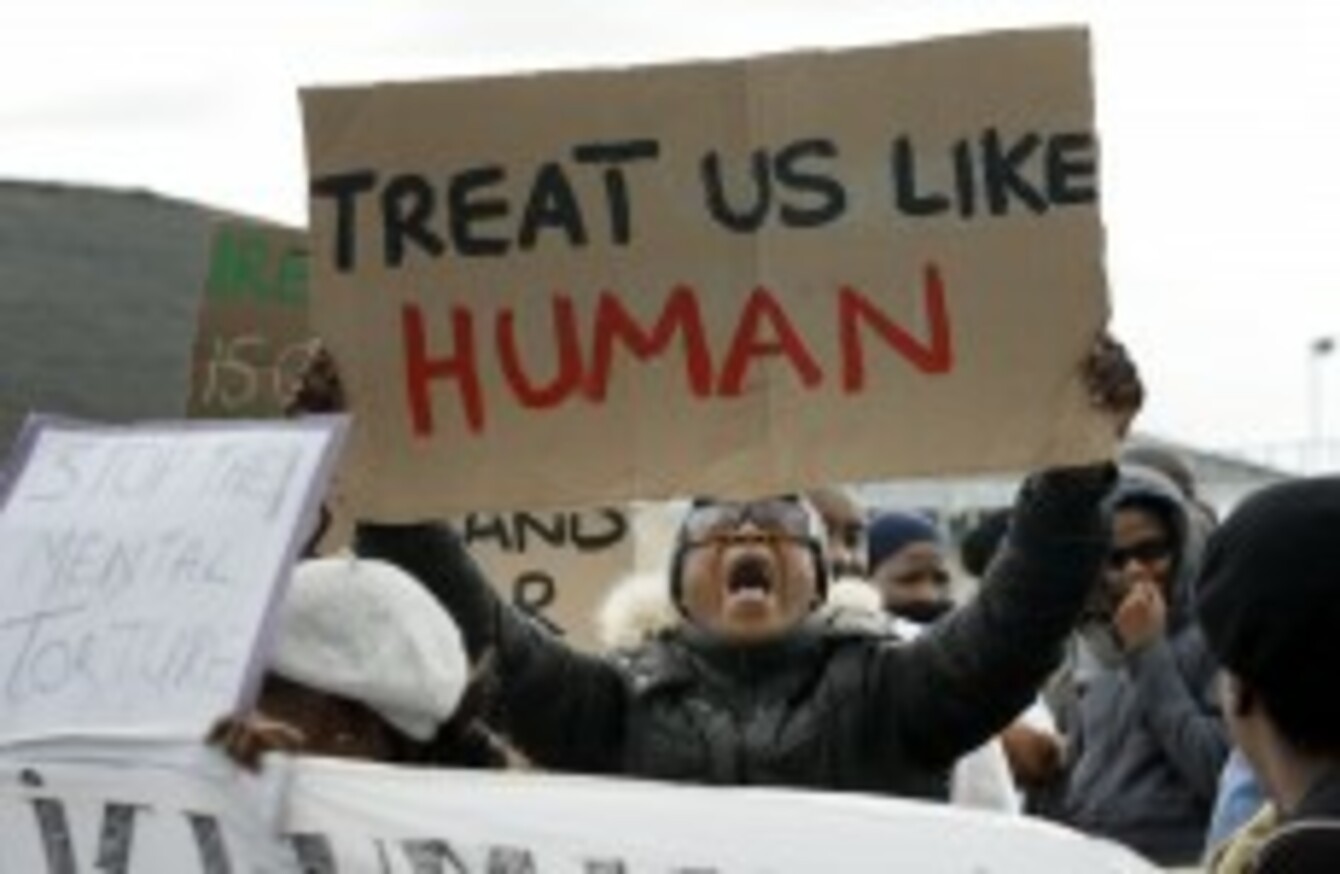 Asylum seekers protest at Mosney centre in 2010 (File photo)
Image: Mark Stedman/Photocall Ireland
Asylum seekers protest at Mosney centre in 2010 (File photo)
Image: Mark Stedman/Photocall Ireland
FIFTY THREE PEOPLE seeking asylum in Ireland have died while in State care over the past decade.
One quarter of those who died were under five years of age. The highest number of deaths took place in 2008 when eight people died in one year.
The Reception and Integration Agency, which falls under the Department of Justice and is responsible for the accommodation of asylum seekers, said it does not have access to death certificates and so is unable to confirm the causes of death.
It said the majority of deaths took place outside asylum centres.
Minister for Justice Alan Shatter said contrary to media reports suggesting high levels of suicide among asylum seekers, only one of the deaths was confirmed as a suicide.
There are currently 5,098 asylum seekers in Ireland who are accommodated in what are known as 'direct provision' centres which provide accommodation, three meals a day, and €19.10 per week for adults while they wait for their application for asylum to be heard.
"While all of these deaths are, of course, tragic, RIA has provided accommodation for over 50,000 persons over the course of the twelve years the direct provision policy has been in place, and the numbers of deaths need to be viewed proportionately and against this background," said Alan Shatter.
"It needs to be recorded that the [figures] relate only to asylum seekers living in the direct provision," Shatter said. "Some asylum seekers choose not to avail of the direct provision system and stay with friends or relatives. It is possible that during the period in question, there could have been deaths among this cohort but such data is not available to RIA".
While the RIA has responsibility for the accommodation of asylum seekers, the direct provision centres are operated by private companies.
One third of asylum seekers in Ireland (1,789) are children. The Irish Refugee Council has criticised the care given to minors in direct provision centres saying that they experience a lack of space, poverty, and problems with food. The IRC has said it could be tantamount to child abuse.
Number of deaths of asylum seekers:
2002: 6
2003: 8
2004: 3
2005: 6
2006: 4
2007: 8
2008: 7
2009: 1
2010: 6
2011: 1
2012 (to date): 3
Age range:
0-5 years old: 13
6-10 years old: 0
11 – 15 years old: 0
16 – 20 years old: 4
21 – 25 years old: 3
26 – 30 years old: 6
31 – 35 years old: 9
36 – 40 years old: 5
41 – 45 years old: 3
46 – 50 years old: 5
51 – 55 years old: 3
56 – 60 years old: 2