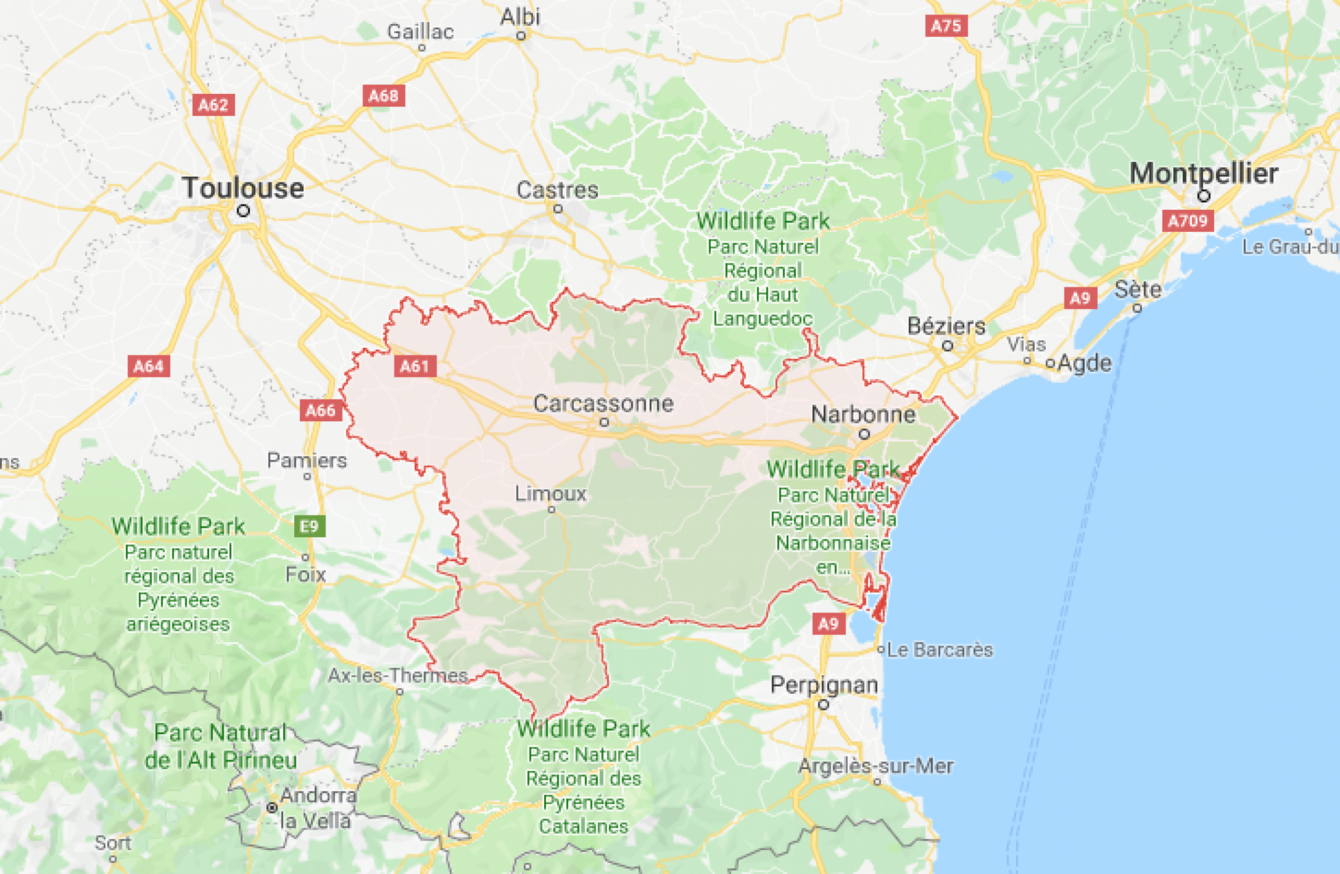 At least five people have been killed in the Aude region of France.
Image: Google Maps
At least five people have been killed in the Aude region of France.
Image: Google Maps
THIRTEEN PEOPLE HAVE been killed in violent storms and floods in southwest France, it has been confirmed.
Flash floods swamped a number of towns and villages around the fortress city of Carcassonne, leaving a trail of overturned cars, damaged roads and collapsed homes.
An elderly nun was swept to her death as rising waters smashed through a nunnery in the village of Villardonnel to the north of Carcassonne.
Meanwhile, at least four people died overnight in the village of Villegailhenc, local authorities said on Monday. 
As Prime Minister Edouard Philippe headed to the scene, the French interior ministry said a total of 13 people had died after the equivalent of three months' of rainfall in just a few hours.  
"There's water everywhere in the house. Everything is flooded," Helene Segura told AFP by telephone from Villegailhenc where at least one small bridge had collapsed.
"When I look out the window, I can only see water and mud everywhere.
"It's sad when you're 70 years' old like me and you need to redo your house, change the furniture and all the upholstery," she said. 
Authorities rushed in helicopters and 600 firemen to help with rescue operations, particularly those in the floodplain of the Aude river which hit its highest level in 100 years, according to the Vigicrues flood agency.
In the town of Trebes, near Carcassonne, the water in the Aude rose eight metres  in just five hours, officials said.
Around 1,000 people were evacuated in the area of Pezens, also near Carcassonne in the Aude area, due to fears that a nearby dam could burst.
The storms were triggered when a front of warm and humid air from the Mediterranean Sea slammed into colder air around the Massif central mountain range in central France, inundating an area from the eastern Pyrenees to Aveyron further north. 
#Open journalism No news is bad news Support The Journal

Your contributions will help us continue to deliver the stories that are important to you

Support us now
Violent storms also hit Portugal on Sunday, leaving 28 with minor injuries and hundreds of thousands without power amid flooding in the region around the capital Lisbon.
The heavy rain, which later rolled on through Spain, was the tail end of Hurricane Leslie in the Atlantic, which weakened to a post-tropical storm as it made landfall.
Last week, an unrelated weather system moving across the Mediterranean left 12 dead in the Spanish island of Majorca, while another two died in southeastern France.