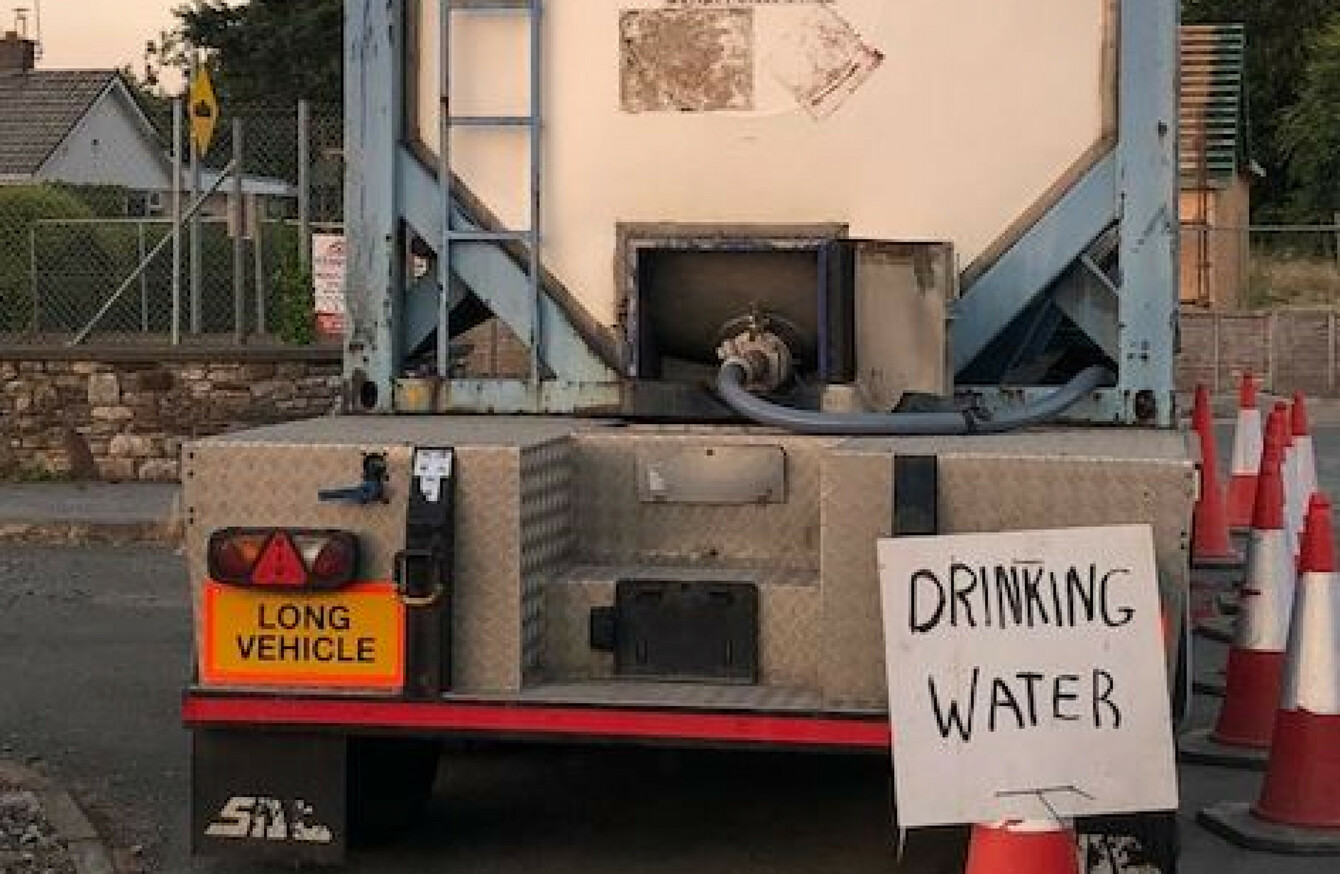 Image: Cllr Frank O'Flynn
Image: Cllr Frank O'Flynn
A VILLAGE IN Cork which experiences a "sporadic" water supply year round has been left without water in certain areas because of the two-week heatwave.
A 10,000-gallon water tanker is in place at the entrance to Lios Ard estate, which is one of the worst affected areas. The water is replaced every 48 hours and residents are being advised to boil and cool the water before drinking it or using it for cooking.
Local councillor Frank O'Flynn said that there were around 65 households affected by the low water supply. He said that in some cases, Irish Water had been shutting the water supply off between 10.30pm and 6am in the hope of increasing pressure.
But the focus for residents was on finding a long-term solution.
Josephine O'Driscoll, a spokesperson for the Residents Association in Lios Ard, said that there's low water pressure in Ballyhooly year-round, and hasn't been caused solely by the heatwave. The hot spell has however has "majorly" exacerbated the problem.
"I just got a message from my neighbour five or six doors up," she told TheJournal.ie. "She came back from work and there was no water. And that's the issue."
We're always on rations here, if there's more than 2-3 people who take a shower, there might not be water for days. I know of families with younger children, and if they bathe their children they could have no water for a day or a day and a half.
She said that the tankard is a welcome move, but that "it's a good walk if you have to haul water" and that the community are looking for long-term solutions.
She said that although the high temperatures have seriously affected water supply in the area, that the same thing had happened last year.
"It was the same problem, one morning you'd have water, the next day you wouldn't."
She said that the reason why the water pressure was so low was because of a pipe that's too small to transport water. The pipe, which is around 5 miles long and runs from the reservoir to Castletownroache, is "too small to feed into a big pipe".
It's been described to be as 'trying to fill a bucket of water with a jam jar'.
Josephine said they've tried to contact Irish Water about the issue, but said that their response has been "disappointing": "They just issue press releases".
If there's water coming out of the tap, Irish Water are happy but they don't think that there's toilets to flush, there's baths to fill, etc.
In a statement to TheJournal.ie, Irish Water said that it is monitoring water supply levels in Ballyhooly.
There is reduced water pressure and intermittent interruptions to supply affecting parts of the Ballyhooly scheme, particularly in the estates of Lios Ard, Ard Abhainn, Gleann Úll, Glash na Brack and The View.
It said that it had taken some measures to increase the water supply.
The Ballyhooly scheme is being augmented by opening valves at the connection to the adjacent Castletownroche water supply scheme. This augmentation is intended to provide alternative supply to the western side of Ballyhooly thereby improving pressure and volumes in the remaining areas.
Night time restrictions on the scheme, combined with the supply augmentation, have helped to regain some levels in the reservoir.
It said that it hadn't found any leaks in the system, and that higher demand due to the weather was contributing to the shortage in Ballyhooly.
Pressure on the network is monitored daily and while water supply is at kitchen taps, the pressure is not always sufficient to fill attic tanks.
Irish Water has arranged for pressure logging to inform analysis of the existing infrastructure and consideration of potential alternative network options.
Irish Water apologised for the inconvenience, and asked businesses in Ballyhooly to conserve water where they could.
Next Monday night, a public meeting will be held on the subject of water shortages in Ballyhooly to discuss a course of action.