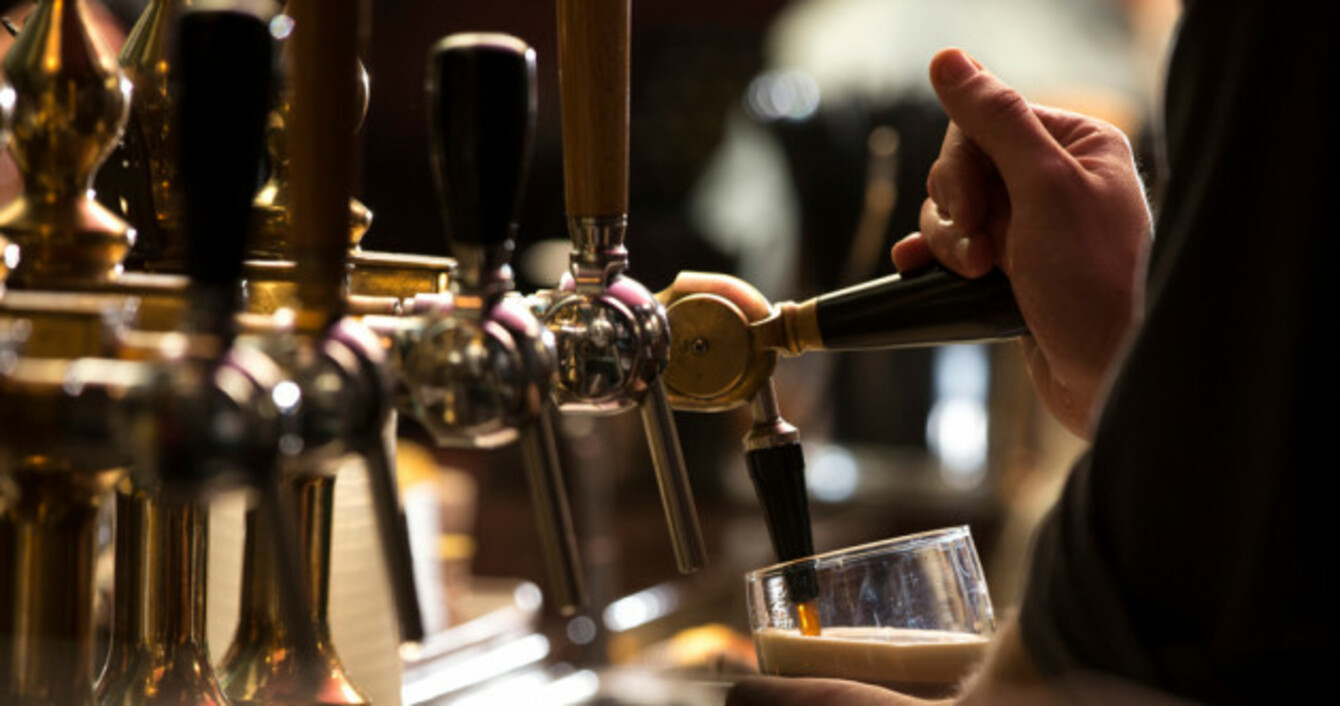 Image: Shutterstock/IsabellaO
Image: Shutterstock/IsabellaO
AH, BARTENDERS. THE facilitators of the craic whose heroics often go unsung.
Whether it's memorising lengthy orders, dropping a round to your table or somehow managing to do ten things at once, there is nothing easy about working behind a bar. 
But what makes a good bartender? We asked some veteran bar staff from around the country for the tips and tricks they have learned over the years. 
Greetings and farewells are a must. 
After all, manners don't cost a thing. "A good bartender says hello when a customer comes through the door and says goodbye and thank you when they are leaving," says Brian O'Meara of Rody Boland's in Rathmines.
As is a friendly face behind the bar.
So always be ready to muster up some polite conversation and banter. "The most important thing is to be a good listener and to have a friendly word when someone comes in the door," says Mike McGuane, who has been working behind the bar of Limerick's JJ Bowles for the past thirty years.  
Hilary Kelly, bar manager of Sin É in Cork, agrees. "Someone who has a bit of personality and is not afraid to chat," she says of what makes a good bartender. "Not meaning loud or intrusive, not a busybody – just someone who is pleasant and has respect." 
But know when not to overdo it.  
Because sometimes customers aren't in the humour for the chats. "A great bartender must know when a customer is having a bad day and move on," notes O'Meara.
"Sometimes people want to be on their own, you have to play it by ear and suss a person out," adds Frank Boyce of Devitt's. 
A good dose of cop on goes a long way. 
"You can teach an idiot how to pull a pint but you can't teach them cop on or observation or common sense or understanding," says Hilary Kelly. That means having initiative, being able to think on your feet and, crucially, not being afraid of hard work. 
"I always know who had a job as teenager," she says. "I always recognise that work ethic."
Don't get complacent with the pints of plain. 
There's nothing worse than getting a subpar pint of Guinness. You know the ones. Therefore, a good barman must never get complacent and always be on his Guinness game.  
"The science behind the perfect pint is not to be underestimated," says McGuane of JJ Bowle's. "That includes ensuring that the beer is stored at the correct temperature, lines are cleaned on a regular basis and careful stock management so that you have the freshest product at all times."
Don't get *too* casual.
Frank Boyce is a bartender in Devitt's with more than 50 years' experience. He recalls a lesson he learned early on in his career.
"One day the boss man walked in and I was being lazy and leaning on the counter. He called me after and he said, 'Frank, just to let you know you never lean over the counter. You keep the width of the bar between the barman and the customer.'"
It may seem small and insignificant, but Boyce says he took it to heart. "You can be familiar with the customer and you can be over familiar," he says. 
Keep an eye on the door like a hawk.
An ability to spot and observe things as they're happening is vital. "A good bartender should always glance up when someone comes in through the door to see see what condition they're in, what they're wearing, are they staggering," says Kelly of Sin É.
Frank Boyce of Devitt's recalls a rule he was told by his boss. "I was always told you have two minutes as they walk from the door to the counter. Are they jarred? Are they undesirables? Lest you be right or wrong, you have to make the decision there and then. That's what I was always told. Always be on the ball."
His tip for deciphering whether someone was jarred? 
If you thought they were jarred, you'd ask for their order and they'd reel off, 'A pint of Guinness, please' because they had it prepared in their head. If you wait a minute and say, 'Excuse me, what did you say?' you put them on the spot and you can see what condition they're in. 
Likewise, keeping tabs on customers and their welfare is important.
That means making sure everyone is comfortable and having a good time. "I try to make sure if a woman is on her own and if a man goes over to her that he's not invading her space or making her uncomfortable," notes Kelly of Sin É.
Repeat after me…
Struggling with complicated orders? Repetition is your friend.
Per Hilary Kelly: "If someone tells you their name repeat it back to them. And if they order something say it back to them. For instance, if someone orders five things, I'll say it back to them. I'm confirming things and they're also getting a chance to say, 'Oh did I say that? I meant this.'"
Thanks to Mike McGuane of JJ Bowles, Limerick; Hilary Kelly of Sin E, Cork; Brian O'Meara of Rody Boland's, Rathmines; and Frank Boyce of Devitt's, Dublin.