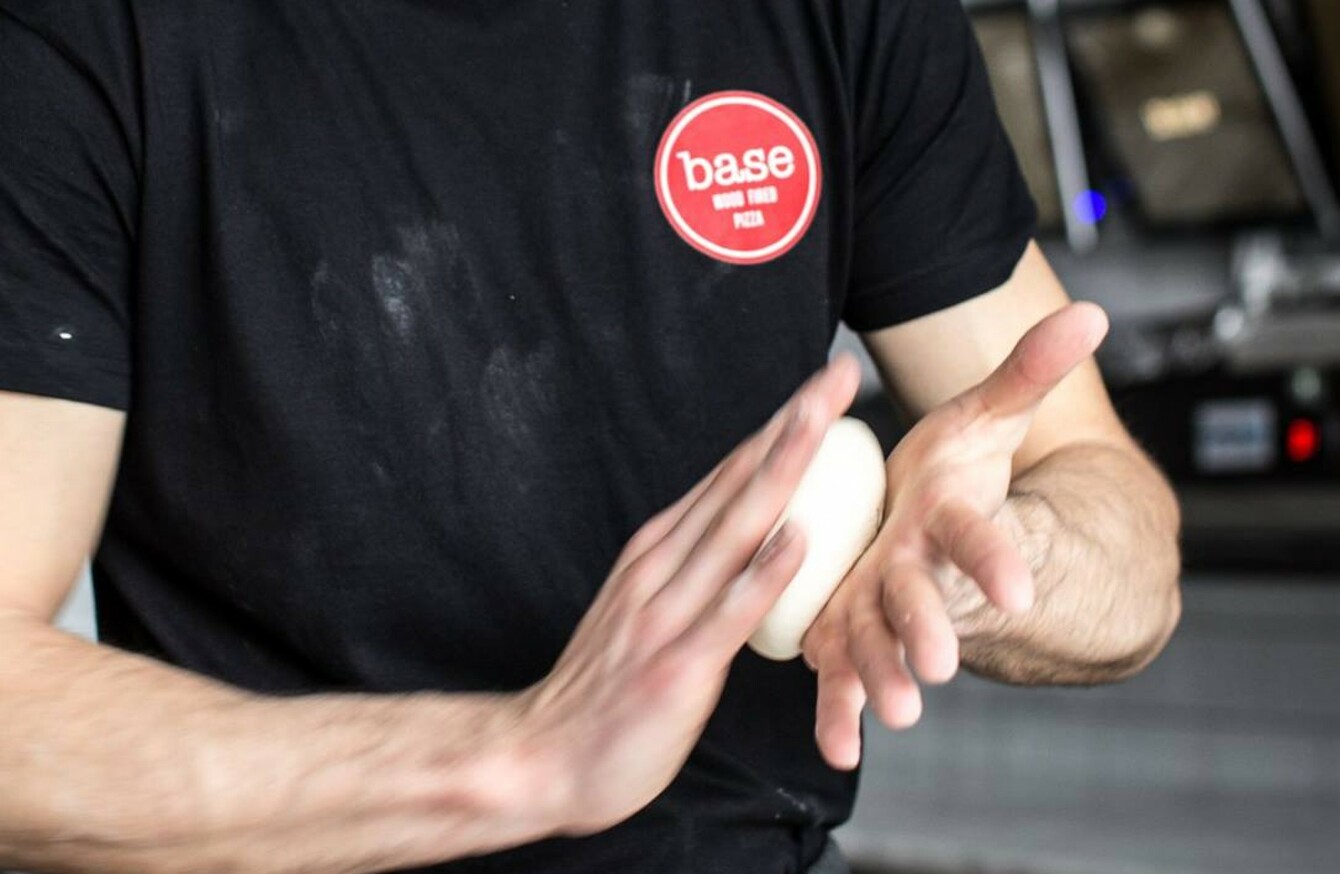 Image: Base Wood Fired Pizza
Image: Base Wood Fired Pizza
DUBLIN'S BASE WOOD Fired Pizza plans to install a dough-rolling robot at its new headquarters to help the firm cope with demand at stretched kitchens.
The company, which has been in the pizza game in Dublin since 2008, moved from Terenure to its new premises in Kimmage around 18 months ago.
The 3,000 sq ft unit, which is being fitted out with a €250,000 investment, will house Base's back-end functions as well as its revamped production and dry stock storage facility for imported ingredients like pizza flour.
Base Wood Fired Pizza founder Shane Crilly told Fora that the company had simply outgrown its old Terenure home.
The group has reported annual turnover of €5 million for 2016 – and is aiming to increase that figure to €6 million this year.
Crilly added that his company is also pumping €40,000 into kitting out its HQ with a new facility to house a state-of-the-art robot, which will roll all of Base's pizza dough.
"It's a major piece of kit and a big investment. You feed it dough we have mixed into this machine and it splits it up into the weights you want, and then rolls it exactly how we would roll it by hand.
"So now we'll have a van come to Kimmage at 6.30am and deliver the pre-flattened dough balls."
Crilly said that the machine, which was developed in Italy, will cut out a very labour-intensive step of the pizza-making process for its stores, which are producing over 700 pizzas on busy nights.
"The way it's done now is all our dough is made at our HQ and then rolled by hand in the stores. But because of how busy we're getting, we're extending the dough room and we're going to build on a cold room.
"In theory, it's great to roll it by hand, but what we've found is that there is quite a bit of training that goes into actually teaching someone how to roll a ball of dough.
"We asked ourselves, 'Are we taking a step out customers will notice?' But to be honest with you, it will not impact the quality. It will lead to a more consistent dough ball."
Expansion
In addition to the big investment at its headquarters, the company has also laid out plans to expand its store network.
Base recently opened its fifth outlet in Glenageary, Dublin, and has a five-year expansion plan to launch in 10 new locations.
Crilly told Fora that the expansion plans will be focused on the greater Dublin area and that the company is in discussions for two new locations in the city's south and an additional two on the north side.
Looking further ahead, there was also the possibility of moving into another Irish city such as Cork or Galway.
#Open journalism No news is bad news Support The Journal

Your contributions will help us continue to deliver the stories that are important to you

Support us now
A €300,000 investment in the development of the new store in Glenageary will be followed by a further €300,000 project to refurbish the firm's Ballsbridge and Terenure stores.
Crilly said, as part of this investment, new water filtration systems will be installed and larger ovens will also be put in place.
He said the work was needed because of an increase in demand, which meant the company is now at capacity in many stores at the weekends.
"It has been a big challenge for us. Our complaints have gone up because our delivery times are a lot higher in some stores. It's not down to people, we just don't have the space in the oven.
"We're not a greedy business. We are just up-front and say the kitchen is under pressure at the moment. There's no point in us having two-hour delivery times and say, 'Sure we'll just take the order and who cares when it's delivered'. That's not how we work."
Written by Killian Woods and posted on Fora.ie