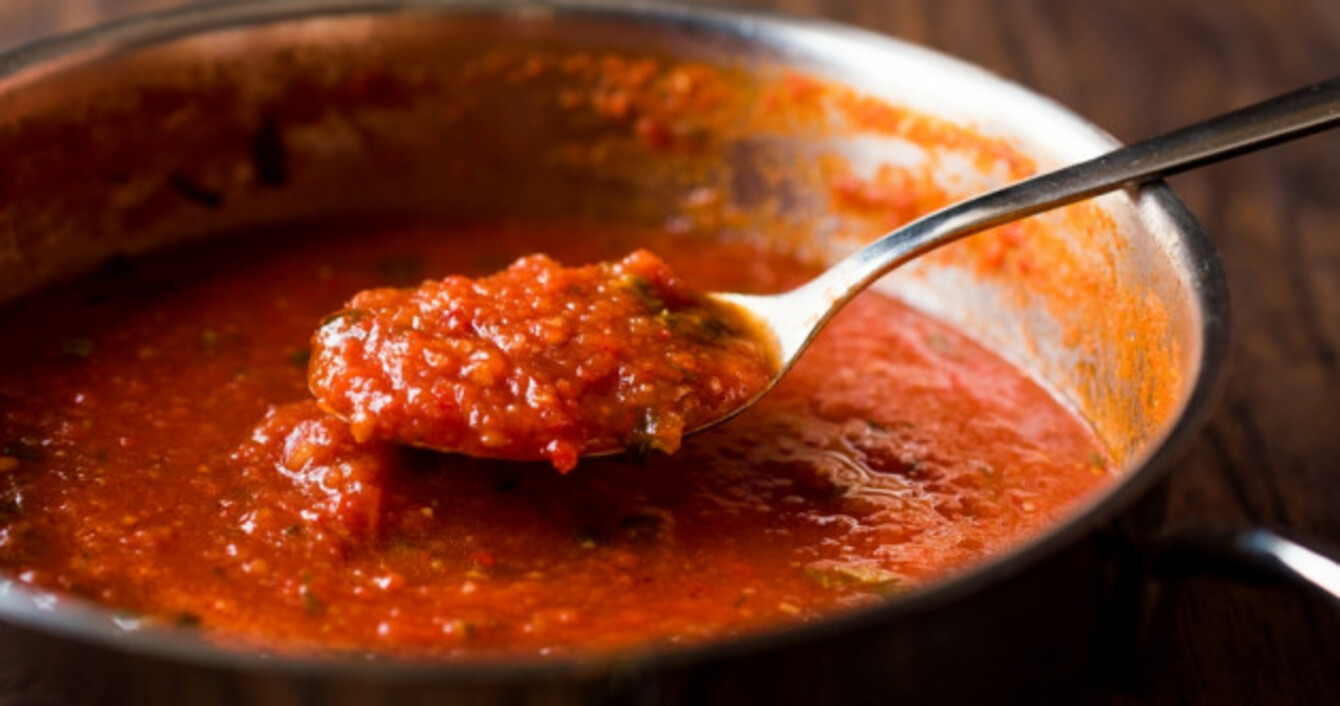 Image: Shutterstock
Image: Shutterstock
COOKING IS MUCH more fun when you've mastered some basic skills and techniques. Whether you're just getting started in the kitchen, or you're a more seasoned home cook, it's important to get the basics right.
Getting familiar with a few solid basics can help to expand your knowledge of cooking, and form a foundation for more complex dishes – as well as helping you gain some extra confidence in the kitchen.
We've compiled a list of 10 skills all grown up home cooks should master.
1. Make a basic salad dressing
Once you master a basic salad dressing, you'll never go back to shop-bought. For a basic vinaigrette, mix three tablespoons of olive oil to one part of vinegar. Add in a teaspoon of Dijon mustard and seasoning, and mix thoroughly together. Keeping the 3:1 ratio of oil to vinegar in mind, you can swap out oils and flavours depending on what type of salad you're making – a combination of sesame oil, rice wine vinegar, soy sauce and honey makes a delicious Asian inspired dressing.
2. Slice an onion properly
One of the most important aspects of slicing an onion is the quality of the knife used. It's really important to use a good quality, sharp knife, as a blunt knife can result in accidents.
Firstly, cut the onion in half (from the root to the stalk), then lay it down on a chopping board and remove the root. Hold onto the onion so that your baby finger is where the root would have been, and your thumb is at the other end, then slice lengthways, making sure to angle your fingers downwards so that the knife won't come into contact with your skin.
3. Bake the perfect potato
A baked potato can take a bit of time, but it is most definitely worth it, and can be used to accompany any meal from steak to a roast dinner.
Once your potato is scrubbed clean, the most important rule is to prick it all over with a fork to allow steam to escape. Rub olive oil and salt all over the skin of the potato and bake for 90 minutes at 200 C. There's no need for tin foil, just pop it straight in as it is!
4. Whip up a roux
From a cheesy pasta sauce to gravy, a roux is one of most useful cooking techniques to learn. For a basic roux, melt 35g butter (or meat fat if you're making gravy) in a saucepan, and whisk in an equal amount of plain flour.
Continue to whisk until a paste has formed, then whisk in a small cup of milk or stock, turn up the heat and continue to stir until the mixture comes to a simmer. Whisk in another 2 or 3 cups of liquid depending on the thickness you require, stirring constantly. From here you can add in cheese, or herbs, depending on what you're making.
5. Peel tomatoes
There is only one way to effectively peel tomatoes. Make an X with a knife at the bottom of your tomatoes, and place in a bowl of boiling hot water for a minute.
Have another bowl of ice cold water ready beside you, and once they've sat in hot water for a minute, use tongs to plunge them into the cold water. After just 10-20 seconds in cold water, lift them out and the skin will easily peel off.
6. Poach an egg
There are few things as satisfying as a perfectly poached egg, but it can be a difficult skill to master.
Start off by cracking the freshest egg possible into a small cup or saucer. Bring a large pot of water to a boil (seasoned with a pinch of sea salt), and stir in round motions to create a whirlpool effect. Tip the egg into the centre of the water in one quick movement, turn down the heat, and cook for about for minutes (depending on how hard/soft you like it).
Lift the egg out and drain, then serve on toast, fried rice, alongside smoked fish… the list is endless!
7. Make a basic tomato sauce
A simple tomato sauce is one of the most useful things to make. As well as avoiding the mounds of sugar in some shop-bought sauces, the taste is so much better from a sauce made from scratch. Using just a handful of ingredients, it can be made in batches and stored in the freezer.
#Open journalism No news is bad news Support The Journal

Your contributions will help us continue to deliver the stories that are important to you

Support us now
Heat olive oil in a frying pan and gently fry onion and garlic until soft. Then add tomato puree and a tin of chopped tomatoes, and simmer on a low heat for about 20 minutes. Season, and serve straight away on pizza or pasta, or store until later.
8. Sear meat for flavour
The importance of searing meat properly is sometimes overlooked, and we can all be guilty of rushing the process. This first step forms the wonderful, deep flavours to come later.
Meat should be seared in a very hot pan with vegetable oil; a cast iron pan works best. Once the oil is hot, pat the meat dry, then brown it in batches, taking care not to overcrowd the pan (this will result in the meat stewing).
Avoid the urge to stir it straight away – give it time to brown before you move it, then toss to brown on all sides. Remove from the pan and continue until all of your meat is browned and you'll end up with some seriously delicious flavours!
9. Cook the perfect rice every time
Who knew there was an art behind cooking a basic rice like basmati? While it can be tempting to throw it into a pot full of water, taking some extra steps can make a huge difference to the end result.
First, measure out your rice and rinse it under cold water. Add the rice to a pot and pour over double the quantity of cold water (if you've used two cups of rice, use four cups of water). Bring to the boil, then cover with a lid and lower the heat. Cook for about 12 minutes, then break apart using a fork and serve.
10. Ice a cake
A basic buttercream icing can be used to decorate sponge cakes, fairy cakes and brownies – and can be adapted by adding in flavours like lemon or chocolate.
As a starting point, you need a 2:1 ratio of icing sugar to butter. Soft butter works best, so add 150g to a deep bowl and sift in 300g icing sugar. Mix with an electric whisk or food processor, and add in spoonfuls of milk until you're happy with the texture. You'll need to use the icing quite soon after making it, to avoid it hardening.