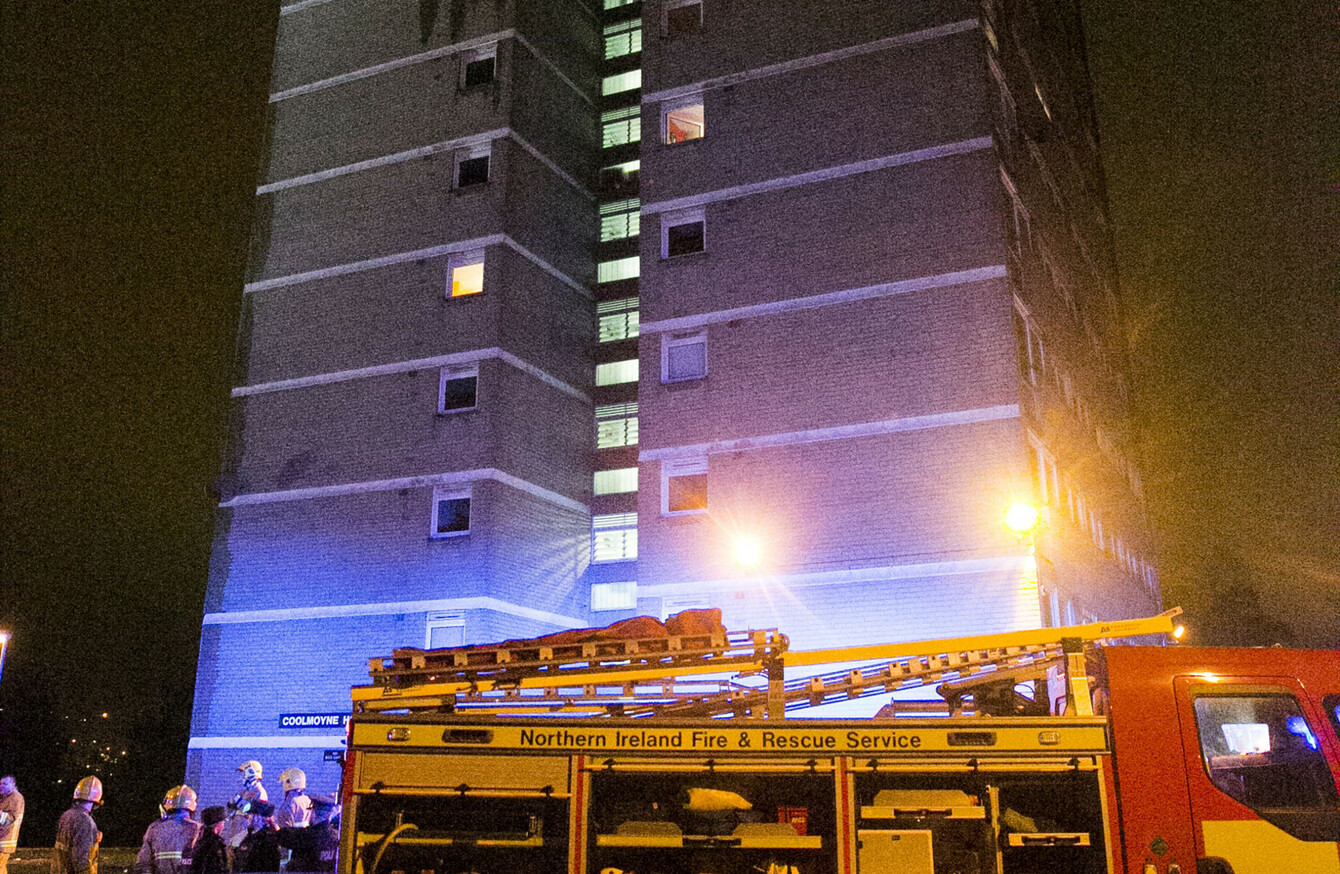 Updated at 10pm
OVER 50 FIREFIGHTERS attended a fire that broke out at the Coolmoyne House apartment block in Dunmurry last night.
One person was rescued from the building and brought to Lagan Valley Hospital for minor injuries, and four other residents were led to safety, the Northern Ireland Fire and Rescue Service (NIFRS) said.
The Northern Ireland Ambulance Service was dispatched, with seven ambulances, three fire units and a number of other emergency units.
The east branch of the NIFRS called the fire "well developed flat fire", which was "quickly brought under control".
The fire broke out at around 5.40pm on the ninth floor.
It's as of yet unknown what caused the fire; the BBC are reporting that it started from a toaster. The extent of the damage is also unknown.
Lisburn & Castlereagh City Council is facilitating a community support and information centre staffed by multi-agency personnel at the Kilmakee Activity Centre from 8:30am today. Its contact telephone number is 028 9030 1545.
SDLP MLA Pat Catney said a lot of residents were "very angry" that alarms did not sound throughout the building. But Northern Ireland's Fire Service commander told the BBC that the fire alarms worked as they should.
The only time when smoke alarms would operate in other flats is if there is smoke entering those flats.
"So the way these premises are configured is that the smoke alarm in the common hallway will operate automatically opening vents and it's my understanding that these did successfully operate and it is only when the smoke would enter a flat that the fire alarm would go off."
Grenfell Tower
Today, the Met Police confirmed that the death toll from the Grenfell Tower fire on 15 November as 70. This included a stillborn baby boy called Logan.
In the aftermath of the fire, there was much speculation about the number of people who died as a result of the fire.
Today, the Met Police released a statement saying that officers had been engaging in a "mammoth search and recovery operation".
"Every single flat on every single floor and every communal area has now been thoroughly and meticulously searched. This has included a full forensic fingertip search, with officers examining 15.5 tonnes of debris on each floor."
It said that following the incident, there were numerous reports of missing persons, and some people had recorded the same person as missing a number of times.
"On Thursday 15 June, the Met was facing the challenge of 400 people listed as missing.
"That included reconciling multiple missing reports of the same person, for example one person was reported 46 separate times.
"Some were reported under a number of different names, even the slightest differences in spellings had to be thoroughly investigated and reconciled. Until that process was complete those people continued to be regarded as missing."
- With reporting from Gráinne Ní Aodha