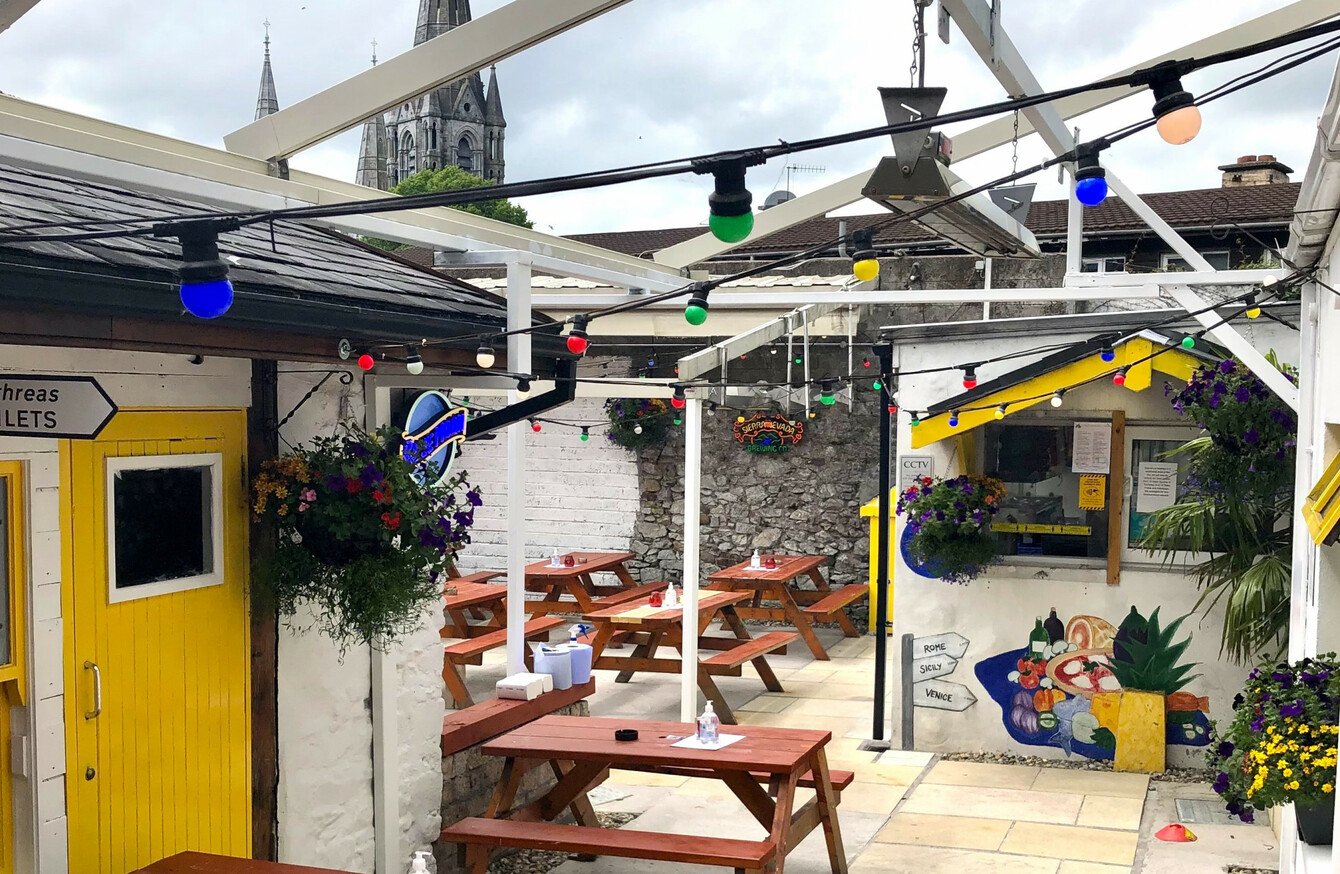 The beer garden at Tom Barry's in Cork city.
Image: Tom Barry's
The beer garden at Tom Barry's in Cork city.
Image: Tom Barry's
The summer weather is finally kicking into gear, and Irish bars are making the most of their outdoor spaces, meaning a cold beer with friends is a tantalising prospect right now.
In the first instalment of our Social Spots series with N26, we're asking people around the country to share the beer gardens they'll be visiting to reconnect with mates this summer.
With N26′s new bill-splitting feature, sharing moments with loved ones is simpler than ever – it's finding the right venue that's the tough part. So which beer gardens are a match for all the funds you've saved after over a year of nights in?
Take a look through this list for starters, and vote for your favourite at the end…
Dublin
Bonobo, 119 Church St Upper, Inn's Quay : "There's loads of space here, great drinks and Dublin Pizza Company serving gorgeous woodfired pizzas right there in the garden. I'm dying to get back for another of their Spicy Margaritas." – Patrick K.
Open 4 to 11.30pm Mondays, then Wednesday to Sunday, and closed Tuesdays. Book online here or chance your arm for a midweek walk-in.
Drury Buildings, Drury St, Dublin 2: "The on-street seats to the front are a great spot if you love people watching, but Drury Buildings also has a beautiful courtyard out the back, so there's the option of a quieter space – a rare find in the city right now. I met a couple of old work friends there for cocktails a couple of Fridays ago and the place was buzzing." – Trudi McD.
Open daily from noon until 11pm for brunch, lunch, dinner and drinks (don't skip the Negroni). Last orders for food is 9pm, with last orders for drinks at 10.30pm. Walk-ins available but booking recommended here.
Lucky's, Francis St, Dublin 8: "I live just around the corner from Lucky's, and the outdoor area to the back is one of my favourite Dublin 8 spots for a Graciosa IPA and a Coke Lane pizza. The staff are sound and they love their music so you could hear anything from local indie to Eighties pop. They take walk-ins so it's perfect for meeting a gang in the evening." – Fionn J.
Open weekdays 4pm – 11.30pm and weekends noon – 11.30pm for pizza, craft beers and cocktails (non-alcoholic options available). Bookings recommended for groups of up to six but there are often walk-in tables.
Cork
Tom Barry's, 113 Barrack St: "Tom Barry's is a Cork classic and their beer garden out back is exactly where I want to be for an ice cold pint on a sunny day. The whitewashed walls, pizza and lush plants and flowers give the place a Mediterranean holiday vibe, but with St Fin Barre's steeples in the distance you'll never forget where you are." – Mae M.
Open 4 to 10.30pm daily, with 11.30pm closing on Fridays and Saturdays. The reservations line is closed all weekend from 3pm Fridays, so plan ahead if you want a booking.
Deep South, Grand Parade: "This spot has a huge beer garden with loads of seating, an awning in case of rain, and great staff. I was in there with a gang of lads recently for a pint (mine was a Murphy's) and there was a brilliant atmosphere. It's a great location for that kind of group." – Niall O'C
Open from 4pm on weekdays and 2pm at weekends, with walk-in tables only.
The Courtyard at Sober Lane, South Gate Bridge: "The Courtyard is part of the Flying Enterprise complex and is the perfect place for an outdoor pint and pizza in the city. It's spread over three levels with plenty of parasols to shelter from the sun (or other weather conditions). The terrace is a favourite spot for watching matches with its large outdoor screen and cool pints." – Adrian R.
Book here for a food and drink table under the retractable roof at The Lower Deck in The Courtyard from 12pm – 9pm daily, or come for a walk-in in the central, uncovered area.
Galway
The Blue Note, 3 William St West: "The Blue Note is the type of place where you feel like a local your first time there, even if you're a Dublin blow-in like me. Most of the West End is pedestrianised now so there's a full outdoor area to the front of the bar. There are great craft beers and an even better vibe, just really authentically friendly." – Roisín P.
Open from 3pm to 11pm daily. The outdoor seats here are weather dependent so it's walk-in only, like much of Galway's West End bars.
Taylor's, 7 Dominick St Upper: "Taylor's is a great spot on GAA match days. The beer garden isn't huge but it's mighty craic. I was in there when Tipp played Limerick the other weekend, and there were loads of jerseys, lots of banter and competition. Make sure to try the chicken wings from Roost while you're there." – Niamh B.
Open from 3pm to 11pm daily, with food served at Roost from 5pm to 9.30pm. Book for the beer garden here with a €10 refundable deposit. 
Tipperary
Mikey Ryan's, 76 Main St: "My fiancée and I were delighted to discover Mikey Ryan's on a recent weekend visit to Tipperary. It's a gastropub vibe – we had a brilliant dinner and a couple of drinks after. I'm pregnant and they were happy to make a non-alcoholic cocktail for me. It's dog friendly too so expect a few cute doggies!" – Niamh M.
The kitchen is open daily from 10.30am to 2.45pm, and again from 6pm. There's no drinks-only service here, but there's a full drinks menu available for diners. Don't miss the weekly cocktail specials, like last week's Rhubarb Martini. Booking is essential and you can do so here. 
Waterford
Jack Meade's, Cheekpoint: "This beer garden is a bit out of the city, but great if you're heading for a whole day outside in the sun, and they have a full lunch and dinner menu too. It has loads of outdoor space as well as lovely grounds to walk around so it's a good one if you have kids with you. It's a bit of a blackspot for phone coverage though, so order your taxi home ahead of time." – Niamh K.
Open daily from 12.30pm until 9pm, with food and drinks served all day. If you're a large group, be sure to book ahead here.
Belfast
Cargo by Vertigo, Titanic Quarter, Queen's Rd: "Cargo has the best of both worlds, because it's a big outdoor space, but it has private booths where you can order drinks and food to be delivered to your table through an app. So it feels very safe while, at the same time, you get the atmosphere of a buzzing beer garden. If you're there with a group, the drinks pitchers are great value." – Joey K.
Private seating areas here are pretty quirky: you can choose from a ski gondola, a renovated concrete pipe or a converted shipping container. Book ahead for tables from noon to 8pm here.
Ulster Sports Club, 96 – 98 High St: "You can drink indoors here, but it has a brilliant beer garden to the side away from all of the hustle and bustle of Main Street with deadly graffiti on the walls, fairy lights and plenty of seating. While it mightn't have the fanciest cocktail menu going, it's a fuss-free night out." - Amy M.
Open daily from noon until 1am, with indoor and outdoor seats available. It gets busy on match days and weekends, so book ahead for a group here or by emailing jonny@ulstersportsclub.com
So, which of Ireland's beer gardens gets your vote? Pick your favourite here…

N26 is The Mobile Bank, helping you manage your bank account on-the-go, track your expenses and set aside money in real-time. And as the world opens back up, we're giving everyone a free year of our premium N26 You account with travel insurance that covers COVID-19 related claims.
The premium N26 You account includes up to 10 Spaces sub-accounts for budgeting and saving, along with a range of incredible benefits including a free Mastercard debit card in the colour of your choice, free ATM withdrawals worldwide, 24/7 customer care and premium partnership discounts to help you save money on some of your favourite everyday brands.
Like all N26 plans, you'll get free payments worldwide, 100% mobile banking and no hidden fees. Get a free N26 You account for one year using the code FREEN26YOU on N26.ie until July 31, 2021.