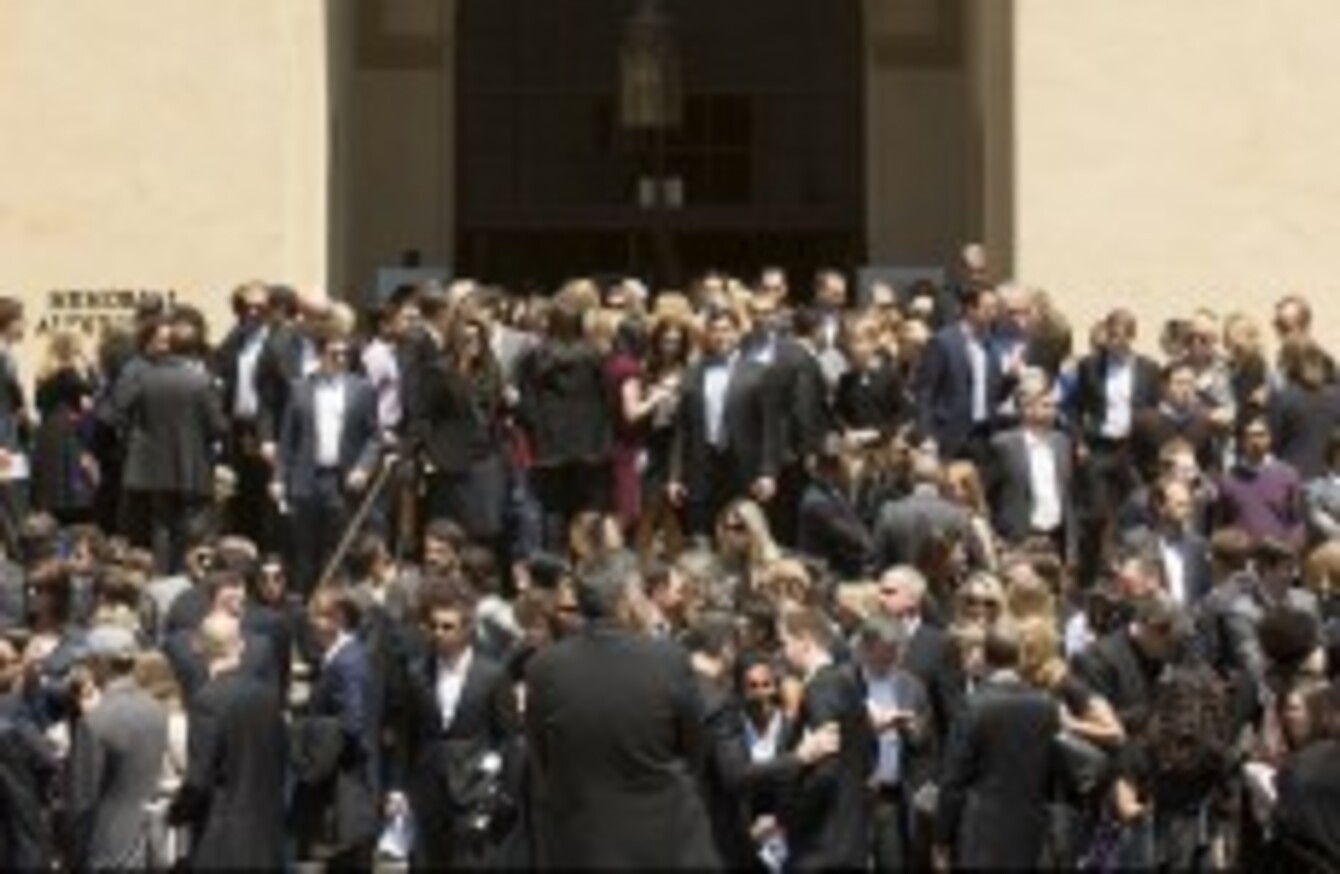 Image: AP/Press Association Images
Image: AP/Press Association Images
BONO WAS AMONG the huge number of tech industry luminaries and well-known faces who congregated yesterday to pay their respects to Dave Goldberg.
The SurveyMonkey CEO passed away suddenly last Friday. His friends, family and colleagues gathered at Stanford University's Memorial Auditorium to remember the business leader.
According to Fortune magazine, he was celebrated as a "kind, humble, giving, intelligent and fun-loving man".
Many of the mourners wore Minnesota Vikings paraphernalia to commemorate the NFL team he loved.
During the service, Bono sang a touching version of 'One'. He exchanged the word 'Jesus' for 'Abraham' as Goldberg was Jewish.
"Today we will put the love of my life to rest, but only his body," his wife, COO of Facebook, Sheryl Sandberg told the congregation. "His spirit and soul are still with us."
She had earlier written a tribute to her husband on Facebook, calling him her "rock".
"I met Dave nearly 20 years ago when I first moved to LA. He became my best friend. He showed me the internet for the first time, planned fun outings, took me to temple for the Jewish holidays, introduced me to much cooler music than I had ever heard," she wrote.
We had 11 truly joyful years of the deepest love, happiest marriage, and truest partnership that I could imagine… He gave me the experience of being deeply understood, truly supported and completely and utterly loved – and I will carry that with me always. Most importantly, he gave me the two most amazing children in the world.
Among the mourners yesterday were director George Lucas, founder of Facebook Mark Zuckerberg and actor Ben Affleck, as well as the CEOs of many major tech firms.
According to the New York Times, The Walt Disney Company pushed back its earnings release so executives could attend the service.
Speakers included a number of players from his poker group. One joked: "We went to Vegas almost 35 times… "The real number is 47. One year was on a Mother's Day — in hindsight, that was a mistake."
His brother and brother-in-law also eulogised Goldberg.
President Barack Obama extended his sympathies online.
"His skills as an entrepreneur created opportunity for many; his love for his family was a joy to behold, and his example as a husband and father was something we could all learn from," Obama wrote on the White House Facebook page.
"He was a perfect cross between a teddy bear and a tiger," former Yahoo President Sue Decker wrote on a tribute page for Goldberg.
The 47-year-old Goldberg died Friday while on a family vacation at a villa near Puerto Vallarta, Mexico. He slipped while exercising on a treadmill in the villa's gym and struck his head.