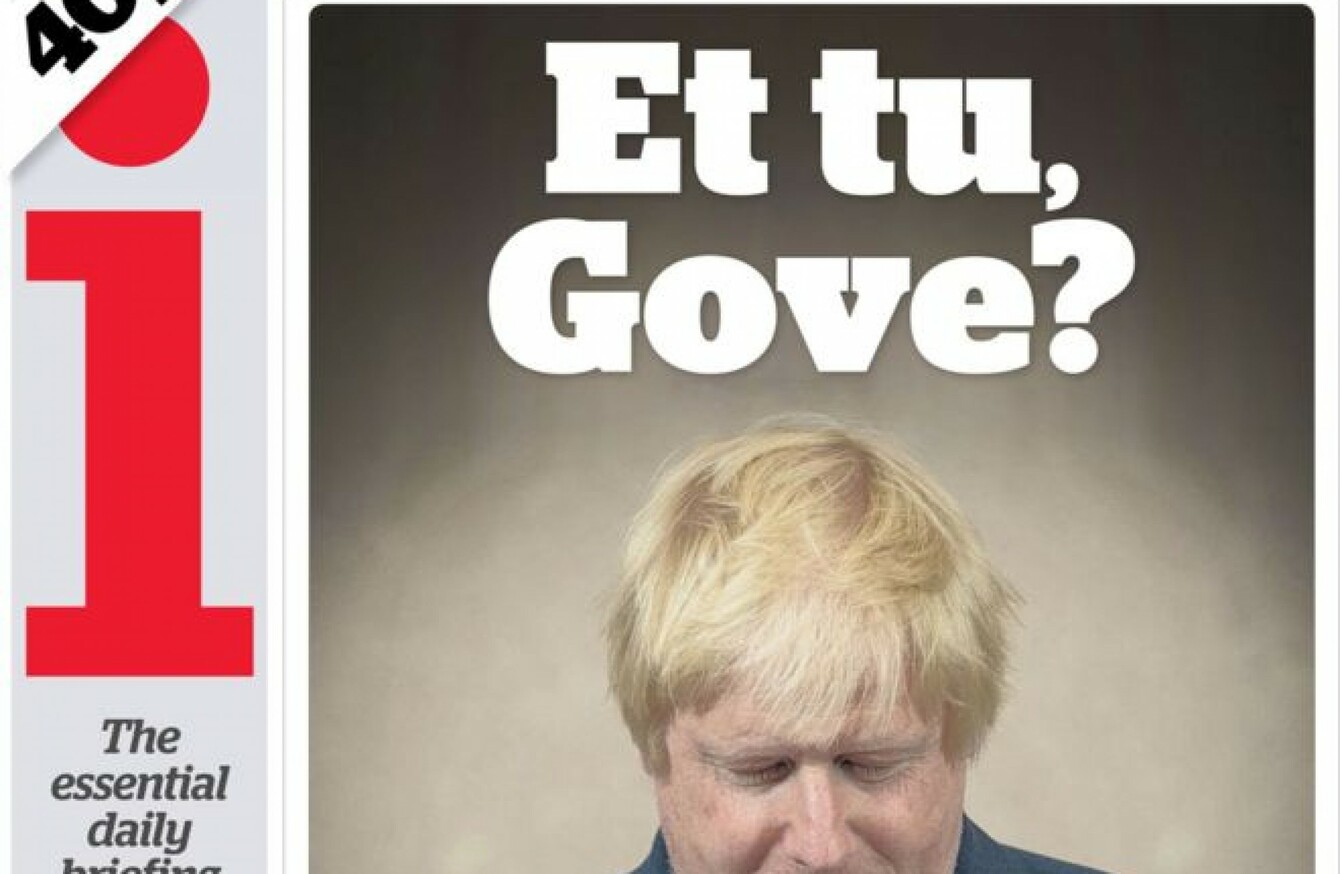 BORIS JOHNSON'S FATHER has compared Michael Gove's decision to stand as leader for the Conservative Party to Julius Caesar's assassination at the hands of Marcus Junius Brutus in the Roman Senate in 44BC.
The flak continues to fly in the Tory leadership race, following Michael Gove's unprecedented 'midnight plot' to steal support from Boris Johnson and claim the Tory crown for himself.
As founder of Environmentalists for Britain, Stanley Johnson was actually on the Remain side, but has since rowed in behind his son following the UK's vote to leave the European Union.
He told Today with Sean O'Rourke on RTÉ Radio 1 that, like others, he first learned that Gove was going to stand for the leadership, rather than support Boris at the last minute.
I was here in Greece and I was listening to it on Skype and I was as shocked, as many people were, when Boris announced that he would, as it were, not put his hat in the ring at the last minute, and Michael Gove did. 

And that's why I made that comment, 'Et Tu, Brute?' – which good Irish listeners will remember came from Shakespeare's Julius Caesar's. Whether Caesar actually said 'Et Tu, Brute?' is actually a matter of some controversy but anyway.
But – 'Et Tu, Brute?' – three short words and I still stand by them[...] It was pretty much at the last minute… Did Boris swing [Brexit]? I would say yes, he probably did. If you wanted to be cynical, you could say that Boris carried Gove and Gove jumped off at the crucial moment.
Gove is now considered second-favourite for the leadership behind Theresa May.
Four years ago, Gove – then known as the 'J-cloth of the Cabinet' for taking on hard jobs – told the BBC's World On One:
I could not be Prime Minister; I'm not equipped to be Prime Minister; I don't want to be Prime Minister.
Source: Nick Sutton/YouTube
The interview was lampooned by Andrew Neil, presenter of the BBC's Question Time.
Allies of Johnson, a former mayor of London, including Jake Berry MP said that there was a "very deep pit reserved in hell" for Mr Gove.
They accuse Gove of having plotted with chancellor George Osborne to oust Boris as a nominee and claim the candidacy for himself.
Gove says his decision to stand to become Conservative leader is driven by "conviction" about what is right for the UK, rather than personal ambition.
The justice secretary told a press conference today that when he concluded Boris Johnson was not the "right person", his "heart told him" that he should put himself forward.
He has pledged to lead the UK out of the EU's single market and reduce immigration.
Johnson had been second favourite to land the Tory top job behind Home Secretary Theresa May, who remains in pole position.
In a statement yesterday, May said she favoured immigration curbs, but also said the Conservative Party needed to focus on helping the poor.
She has also won the influential backing of right-wing tabloid the Daily Mail.
#Open journalism No news is bad news Support The Journal

Your contributions will help us continue to deliver the stories that are important to you

Support us now
Having rejected some of Ukip's more lurid anti-immigrant campaign posters, Johnson was seen as the candidate most likely to strike a deal with the EU that would accept free movement of people in return for preserving tariff-free access to the single market.
Gove justified his about-turn and decision to stand for the Tory leadership contest by claiming that Boris wasn't up to the job. Stanley Johnson had this to say: 
Well, I think that is a little rich. I think Michael Gove alluded to a Daily Telegraph column [which was soft on immigration] which Boris wrote. Gove, as I understand it had sight of that text. And I repeat my point that as prime minister you're not trying to write something in half an hour, you have people making sure the words are finely tuned. As prime minister you are not freelancing, you are surrounded by a host of advisors who don't let you make mistakes – that's just the nature of the work, you are propped up by solid people.
The ascendancy of May and Gove, and their focus on immigration curbs over free trade, may consequently spell bad news for the UK economy – and Ireland's, too.
Boris himself, asked by journalists this morning whether he felt betrayed by Michael Gove, paused before saying:
I cannot, unfortunately, get on with doing what I wanted to do, so it'll be up to somebody else now.
The Conservative Party leadership squabbling comes as the Brexit referendum vote, the resignation of Prime Minister David Cameron, Scotland's attempt to stay in the EU, and Labour's inability to field a full Shadow Cabinet have all combined in Britain's biggest constitutional crisis since the secession of the Irish Free State almost a century ago.
In Scotland, Nicola Sturgeon has accused the Tories of taking the UK 'to brink of disaster', and has asked Taoiseach Enda Kenny to speak on Scotland's behalf at EU meetings.
Her push for Scotland to join the EU, however, has been frustrated by several member states who fear the secession of their own renegade regions, including a Spanish government fearful of giving succour to the Catalan independence movement.