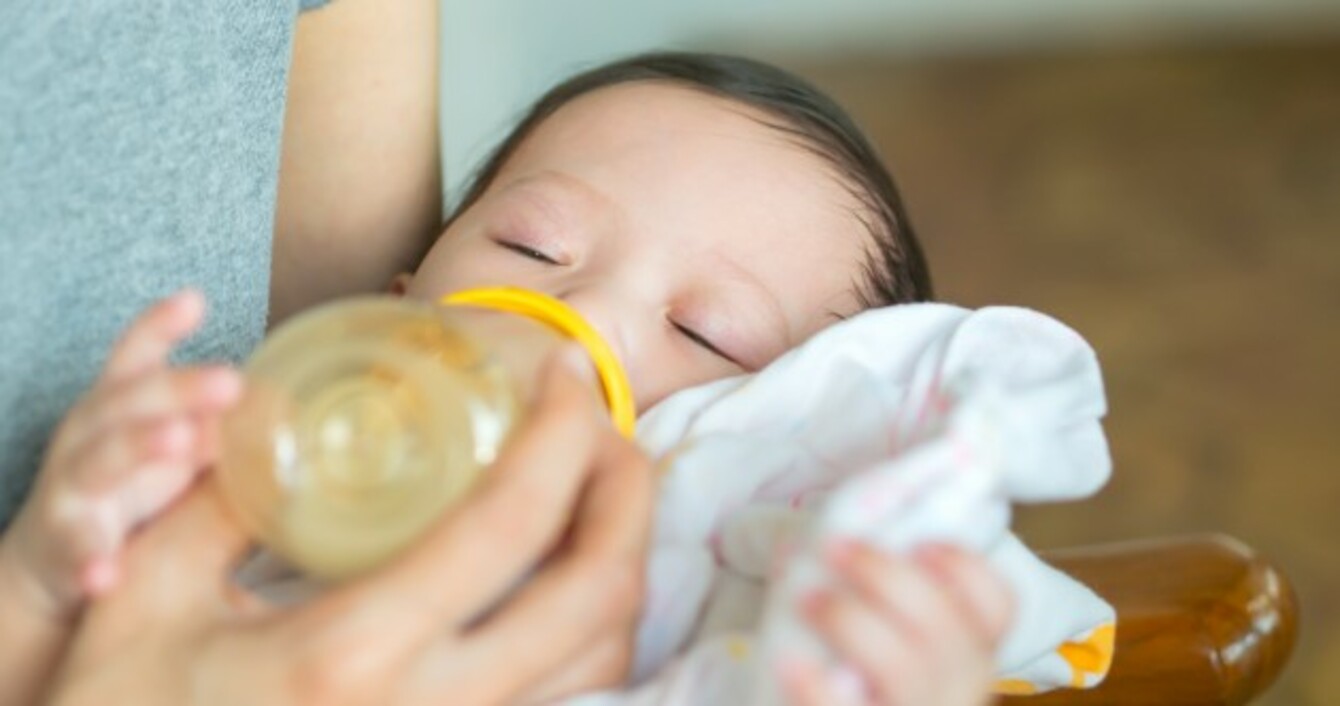 Image: Shutterstock/Arunsawat
Image: Shutterstock/Arunsawat
LONG BEFORE MY baby arrived, I knew I wanted to breastfeed. I was prepared: I went to a breastfeeding class during pregnancy, I read up all the books. So confident was I in my decision that I didn't even consider purchasing formula or bottles.
Our daughter was born in July 2019, she latched, and so began our breastfeeding journey. 
Due to some hospital admin around my delivery date, I didn't see a lactation consultant after my delivery. The midwives were great but for the most part I was doing things blind. So when I noticed some pain in the breast my daughter was feeding on the most, I wrote it off as a normal part of the process.
Days passed and my nipples became sore, cracked and green. At this point, every latch brought toe curling pain, but still I couldn't be deterred. My public health nurse told me it would take two weeks for my nipples to toughen up, so I waited patiently for the "eureka" moment to come.
It didn't. I loved breastfeeding. I loved the contact, the connection, the convenience, but something just wasn't fitting. 
Not gaining weight
Some more obstacles followed – continued pain, a hospital trip, an incorrect diagnosis of silent reflux for my daughter and an eventual tongue-and-lip-tie release – but it wasn't until my daughter reached 4.5 months that things really came to a head.
At her three month check-up, all had seemed fine, but since then she had been fussing on the breast, and I felt she wasn't gaining weight. I called the public health nurse who saw me as a matter of priority, and the checks revealed I was right.
In the weeks previously, she'd had some symptoms I thought could be linked to teething – hands in mouth, crying and so on. It was only after the check-up that I realised: my daughter was hungry. She was always on the breast, and though we'd had our obstacles I had assumed she was feeding well.
Apparently not.
I can remember crying and crying in the public health nurse's office, thinking I was broken and faulty. How could I not have noticed? How could I fail at the thing we are supposed to be programmed to do – feed our children? 
Around this time, I met my (amazing) community lactation consultant, who was able to shine some light on the situation. It turns out my breastfeeding journey had hit a perfect storm for two reasons.
The first was "supply and demand". The more the baby feeds at this age, the more milk the body produces. But my daughter didn't have the stamina to pull down enough milk, which was affecting my supply.
The second was my cortisol levels. I was so stressed and anxious about not producing enough milk, that my body had started producing even less. Go figure.
Formula feeding
I was told to start topping up with formula immediately, but that after that I'd need to pump three times a day and at night to get my breastmilk supply back up. 
I already knew that pumping was likely out of the question right now. It was something I'd tried repeatedly during my breastfeeding journey. I'd invested in not one but two pumps, and even rented a hospital grade one, but could only manage 10 – 30 mls across a pumping session. I'd had early visions of a "stash" of breastmilk in the freezer but the stocks that remained were depleting fast.
I couldn't face into that regime of pumping so much to produce so little, not when I was this mentally fragile. 
I'll never forget the trip home from the lactation consultant, stopping to buy bottles and formula on the way. I was in tears, total shock, with no idea what to buy, let alone what to do.
#Open journalism No news is bad news Support The Journal

Your contributions will help us continue to deliver the stories that are important to you

Support us now
In the early days with my little girl, I had started going to meetings of a breastfeeding group. I had a tribe. It was the one thing in my week that took me from the isolation of being a new mammy at home. Now I felt like a fraud.
New routine
It has been a tough road over the last few months. Formula feeding was a shock to the system – an assembly line of constant feed, wash, sterilise, make, repeat.
After initially trying to control everything and not let anyone help, a kind word from my husband made me realise I didn't need to shoulder this particular burden alone. So now we run the assembly line together, me mostly during the week and he at weekends.
New routine aside, the change has been hard on me mentally, living with what I've now realised is grief, pure and simple. Last night I woke my husband crying because I feel I'm still not moving on, and getting past things.
Thankfully there is a big positive to all of this: my baby is thriving, and her weight isn't an issue. She is actually deceptively heavy when you lift her! She took to the bottles, and now that she has started on solids, we are on a whole new chapter of her feeding journey.
Watching her grow everyday really helps negate the feelings of guilt, even if they never fully go away. Talking to my husband and my friends really helps too, and I'm hoping to go back to my breastfeeding peer support group as a volunteer helper – just in case there's a mammy there that I might be able to help.
When I see the formula vs breastfeeding mammies tearing strips out of each other online, I get upset. I'm in both camps: I'm a breastfeeding mammy and a formula one. I encourage and support women to breastfeed but I know that some people can't. 
There needs to be more acknowledgement of the struggles some new parents face, rather than public outcry about formula that does nothing but ostracise and alienate. Being a mammy is hard. But maybe if we all talk and listen a bit more, it might be a little bit easier.