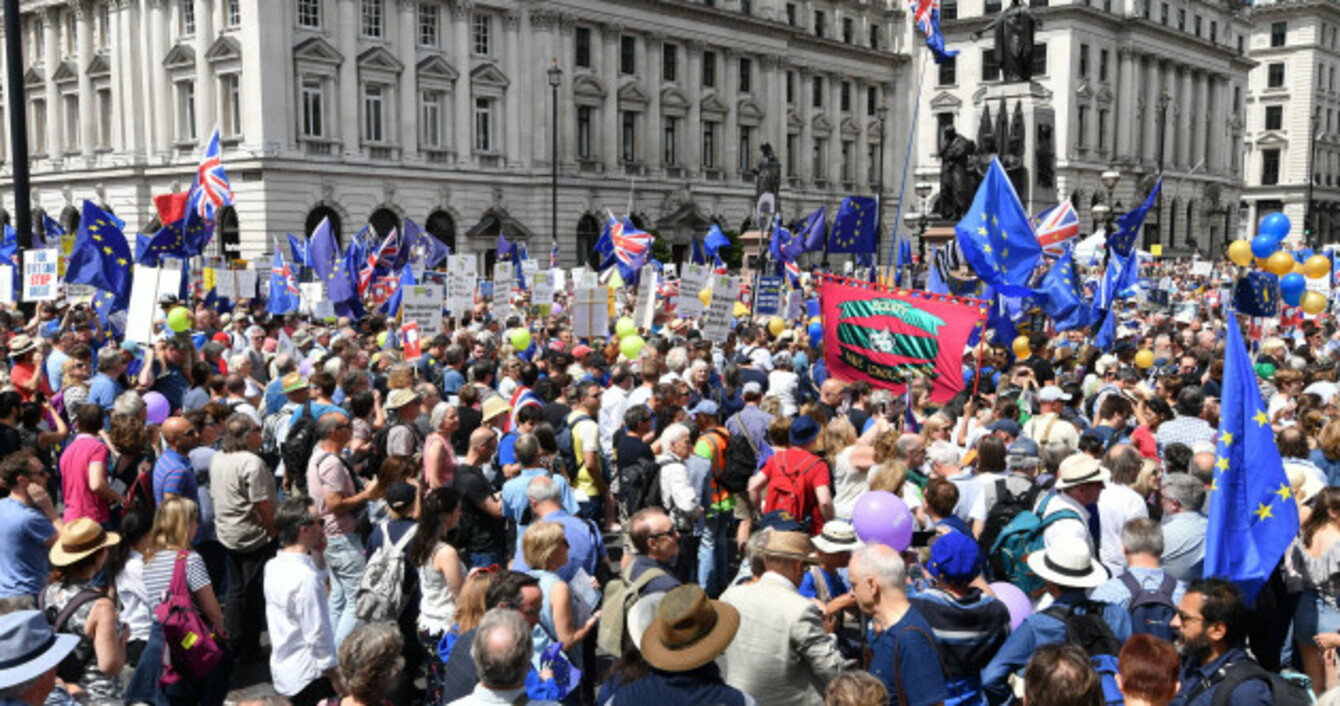 Crowds on Pall Mall in central London, during the People's Vote march for a second EU referendum
Image: John Stillwell
Crowds on Pall Mall in central London, during the People's Vote march for a second EU referendum
Image: John Stillwell
Updated Jun 23rd 2018, 7:27 PM
TENS OF THOUSANDS of Pro-EU protesters took part in a march in London today, on the second anniversary of the Brexit vote.
The People's Vote protest was calling for a second referendum on the UK's final deal. The march started at Pall Mall and continued to Parliament Square. Organisers say more than 100,000 people attended.
A People's Vote spokesperson said the past two years have been characterised by "arcane parliamentary manoeuvres about this amendment or that amendment" and that it's time to take the issue "beyond Westminster and back to the people".
It comes as Prime Minister Theresa May is coming under pressure from pro-Brexit ministers to deliver a hard Brexit.
May's team is about to enter into the next round of negotiations with the EU, but is still to define exactly what it wants from Britain's future relationship with the continent, particularly in the area of customs regulation.
Britain's foreign minister Boris Johnson, who was the most prominent face in the campaign to leave the EU,  warned the Prime Minister against a Brexit that was "soft, yielding and seemingly infinitely long" like toilet roll.
Writing in The Sun, Johnson urged against a "bog-roll Brexit"and called on May to "fulfil the mandate of the people and deliver a full British Brexit".
He said the British people "just want us to get on with it".
They don't want some sort of hopeless compromise, some perpetual push me-pull you arrangement in which we stay half-in and half-out in a political no man's land.
"Two years ago the people of this country recorded a verdict about themselves – that they had the guts to believe in Britain. They were right and will be proved right in the decades ahead."
However, aviation giant Airbus warned on Friday it could pull out of Britain if it leaves the EU without a deal, while carmaker BMW also warned that uncertainty was affecting the investment climate.
Yesterday, a survey by ITV's Good Morning Britain found 48% wanted a referendum on the final deal, against 25% who did not want another vote.
The march is part of a "summer of action" planned by campaign groups to put pressure on political leaders to hold a vote on the final deal.
Additional reporting by AFP