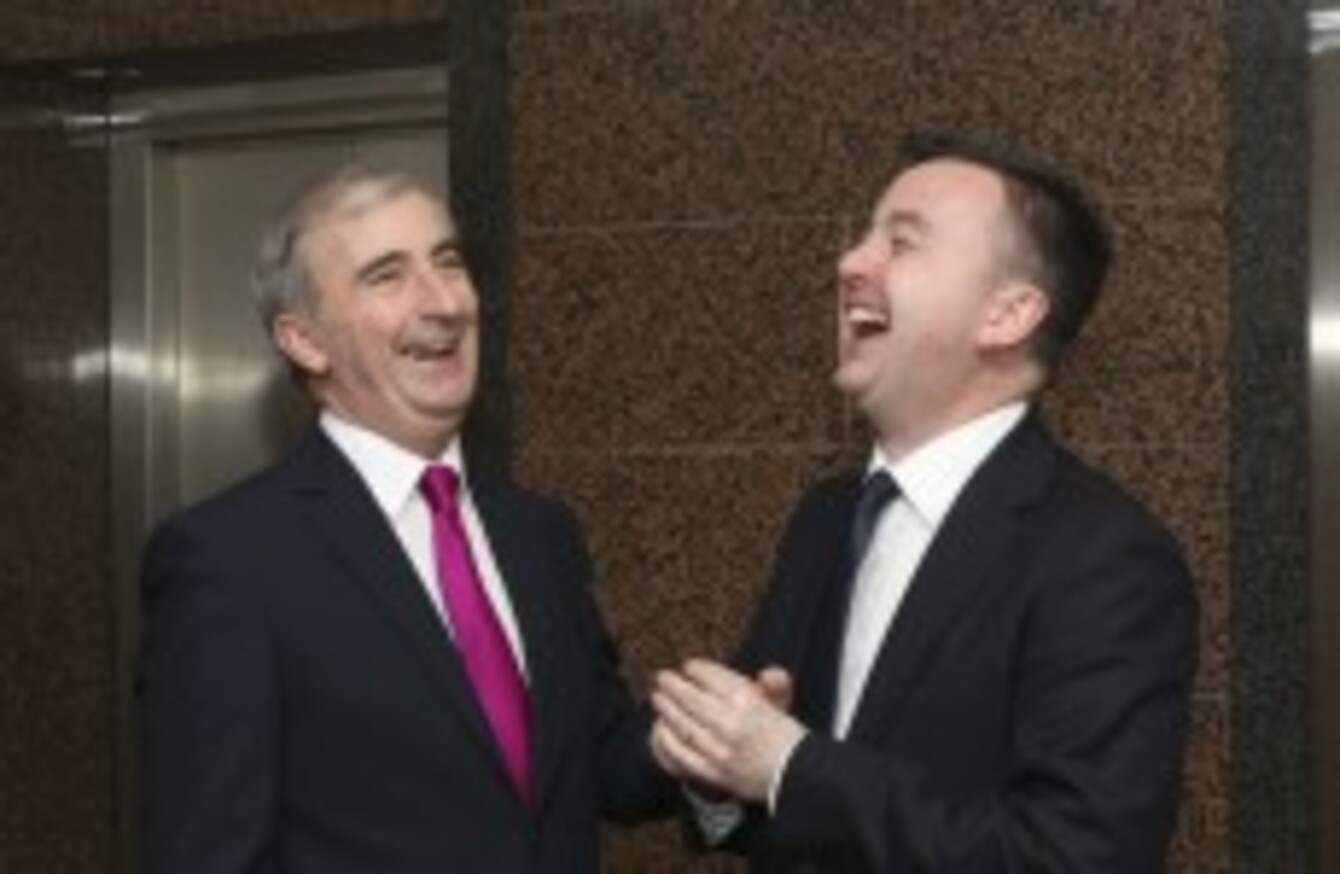 Brian Hayes (right) with outgoing MEP Gay Mitchell at the selection convention in Dublin this evening.
Image: Sam Boal/Photocall Ireland
Brian Hayes (right) with outgoing MEP Gay Mitchell at the selection convention in Dublin this evening.
Image: Sam Boal/Photocall Ireland
Updated 10pm
FINE GAEL HAS formally selected Brian Hayes as its candidate to contest the European elections in Dublin with several ministers full of praise for the Dublin South West TD this evening.
Hayes, who was formally selected unopposed, took the opportunity to praise Taoiseach Enda Kenny, describing him "as the most successful Fine Gael leader ever".
"He has united this party, and my God we're a difficult bunch at times to unite. He has led by example and as far as I am concerned he stands head and shoulders over any other political leader in this country," Hayes said this evening.
The junior minister took aim at Sinn Féin saying their aim was to create "maximum political chaos and failure" while he criticised Fianna Fáil's record in Europe.
Taoiseach Enda Kenny said of Hayes: "Brian Hayes is going to make a brilliant MEP. I like him."
He half-jokingly referred to "some little tensions in the past" with the TD who voted against him during the attempted leadership heave in June 2010, but said such differences are "so far back in history they're irrelevant".
In a lengthy, passionate and rousing speech to party members in Dublin, Kenny repeatedly banged his fist on the lectern and offered praise to several ministers including Health Minister James Reilly saying "we will give you all the help you need." He also joked that Leo Varadkar could run a 10k race in "I dunno, half-an-hour"
Pic: Sam Boal/Photocall Ireland
As well as the Taoiseach, several senior ministers attended the selection convention in a Dublin city centre hotel, including Jobs Minister Richard Bruton, Reilly, Children's Minister Frances Fitzgerald, Transport Minister Leo Varadkar and Environment Minister Phil Hogan.
Hogan (above left), who chaired the meeting, paid tribute to the outgoing Fine Gael MEP in Dublin, Gay Mitchell, who himself said he was "privileged" to serve ten years in the European Parliament having succeeded Mary Banotti, who was also in attendance.
In a speech to party members, Mitchell praised the European project, saying history will show that the EU "saw off" the financial crisis.
Prior to the selection, Senator Catherine Noone, who had been formally nominated, said that a two-candidate strategy "would have had a lot to offer the ticket and perhaps enhance and even broaden the Fine Gael appeal", but she gave her backing to Hayes, wishing him "every success".
Formally proposing Hayes, Reilly said that the junior minister's commitment to the party had been "unwavering".
The Minister said Hayes could persuade people in Europe "that Ireland is indeed the best small country in the world in which to do business".
"Brian didn't get in politics to make up the numbers. He's always been passionate about serving our country," Reilly said.
In his own speech, Hayes praised the outgoing Mitchell and Reilly who said "more than any minister in this government his is the hardest job".
First published 9.18pm
Other candidates running for the European elections in Dublin include independent Nessa Childers, Mary Fitzpatrick for Fianna Fáil, Emer Costello for Labour, Paul Murphy for the Socialist Party, and Brid Smith for People Before Profit, Lynn Boylan for Sinn Féin, and Eamon Ryan for the Green Party.