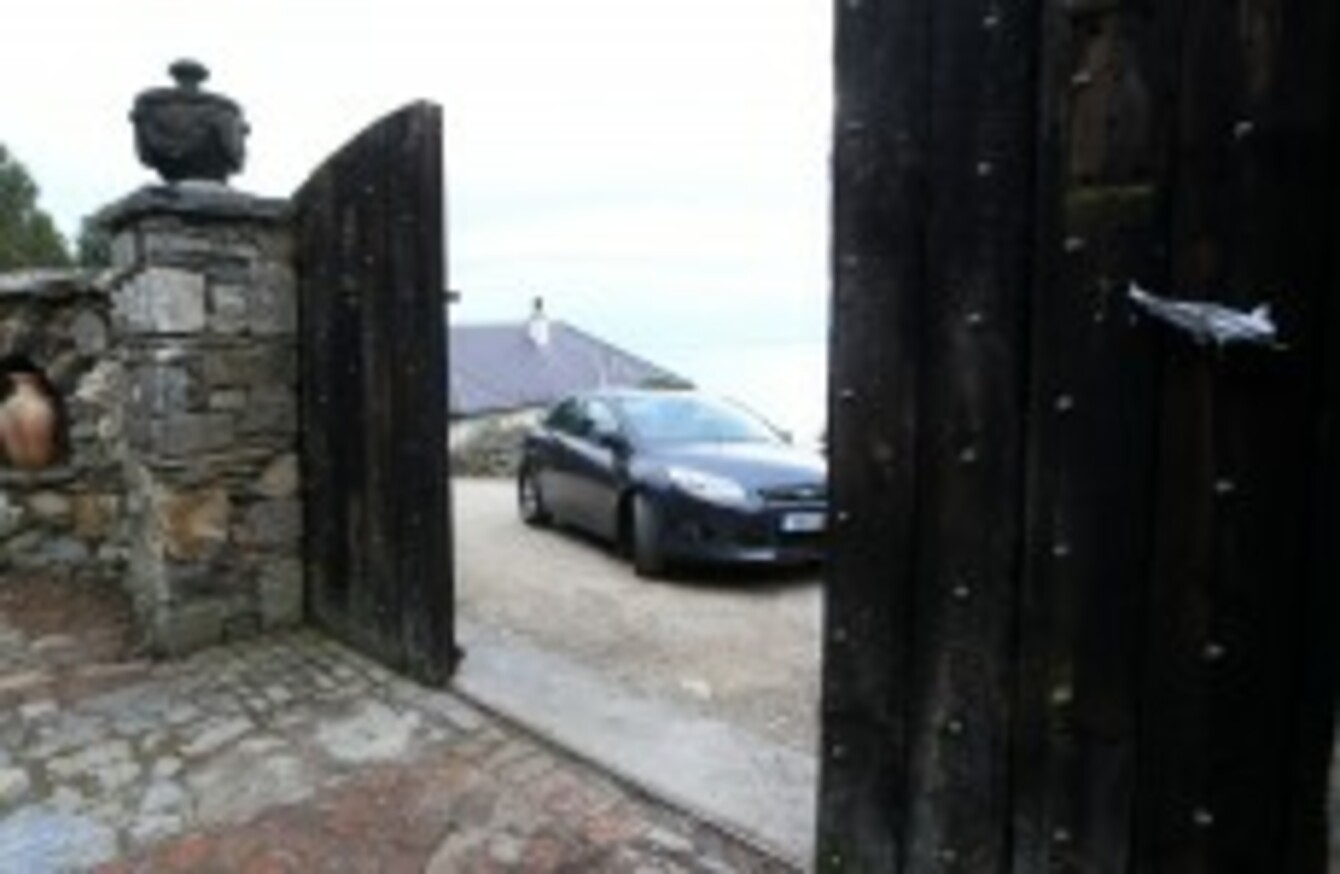 The gates opening at Gorse Hill as Brian O'Donnell leaves for court.
The gates opening at Gorse Hill as Brian O'Donnell leaves for court.
Updated 5.48 pm
BRIAN O'DONNELL has denied that he barricaded himself inside the disputed Gorse Hill mansion.
He claimed in the High Court today that cars blocking the gate were there to prevent members of the media and others from entering.
"The purpose of that was because there was three occasions when there people running into the property and all over the gardens," he said as he represented himself and his wife in court.
"Vincent Browne led a posse," he added.
Judge Brian McGovern was hearing an attempt by receivers on behalf of Bank of Ireland to bring a trespass injunction against solicitor O'Donnell and his wife.
After a full day in court, Judge McGovern has reserved judgement on the the request until a later date.
Brian O'Donnell left the Four Courts this evening saying that he had no comment to make because the matter is still before the courts.
He made no response when asked if he would leave the property if the judge requested him to. He is expected to return there this evening.
The bank has sought the repossession of the house on Vico Road in Killiney due to a debt alleged to be over €70 million.
O'Donnell told the proceedings that, "I do not know how much money I actually owe and nor does my wife."
This is because, he claimed, he was not provided with information he requested from the receivers.
He also claimed that he and his wife have repaid €700 million to banks worldwide and that Bank of Ireland have been pursuing them for five years.
The O'Donnells had been occupying the property since Tuesday, past a 4pm deadline yesterday they had been given to leave.
Cian Ferriter SC, for the bank, told the court that Michael Davitt "must be turning in his grave" at the involvement of the "self-styled Land League".
Ferriter told Judge Brian McGovern that the O'Donnells had "told every court here and in the UK" that their home was in Surrey in southern England.
"They clearly came back over here as a tactical manoeuvre," he said, adding that "they have no acceptable right to reside there".
He described Brian O'Donnell's contention that he can stay in the house as a "Walter Mitty assertion."
Ferriter argued that there seems to have been "an orchestrated barricading in by the self-styled Land League."
"We say that it has to be brought to an end," he added.
"We put it up in clear terms that he's perched up in the castle behind the walls. He's sent out his gallowglasses in the form of the Land League to act as his mouthpiece."
Ferriter commented that, if one is to look at the Facebook page of the Land League group, "there is a picture of Michael Davitt, who must be turning in his grave."
O'Donnell told the court that he has not asked the Land League group to speak on his behalf:
"I'm not a member of the Land League. I know Jerry Beades, he's a friend. He came here as a friend."
For his part, O'Donnell has questioned whether the hearing should be taking place in the Commercial Court.
"I would ask what a trespass injunction is doing before the Commercial Court," he argued, adding that "my wife and I have not been involved  in any of these proceedings."
The Gorse Hill mansion, which was once valued at around €30 million, was owned by Vico Ltd, a company the O'Donnell and his wife previously had an interest in.
O'Donnell has sought more time before the proceedings continue. He said that "impossible timescales" had been placed on himself and his wife after a legal orders was placed on them on Tuesday.
#Open journalism No news is bad news Support The Journal

Your contributions will help us continue to deliver the stories that are important to you

Support us now
He claims that they have been given only 24 hours to respond with an affidavit.
Source: Video TheJournal.ie/YouTube
(Jerry Beades of the New Land League was present in court and spoke to reporters outside after the conclusion of the hearing)
Earlier, O'Donnell had also asked Judge McGovern to consider recusing himself from the proceedings based on two issues.
The first, he said, related to comments the judge made to his son Blake O'Donnell in Tuesday's hearing that "we can do this the easy way or the hard way."
The second point raised by O'Donnell related to alleged dealings Judge McGovern's wife has had with Bank of Ireland and the receivers.
Judge McGovern did not recuse himself. He added that O'Donnell raised two points about his wife that were "factually incorrect".
"I regret that Mr and Mrs O'Donnell have sought to introduce issues involving my wife and her siblings," the judge told the court.
O'Donnell described as "a circus" the scenes around the Gorse Hill home.
He claims there has been "65 journalists and satellite trucks" outside and that people have entered the property.  "We can't go in and out," he said.
O'Donnell noted that he was representing himself and his wife and questioned whether he could fight the proceedings.
"I do not have the resources of perhaps one of the largest companies in the State," he said.