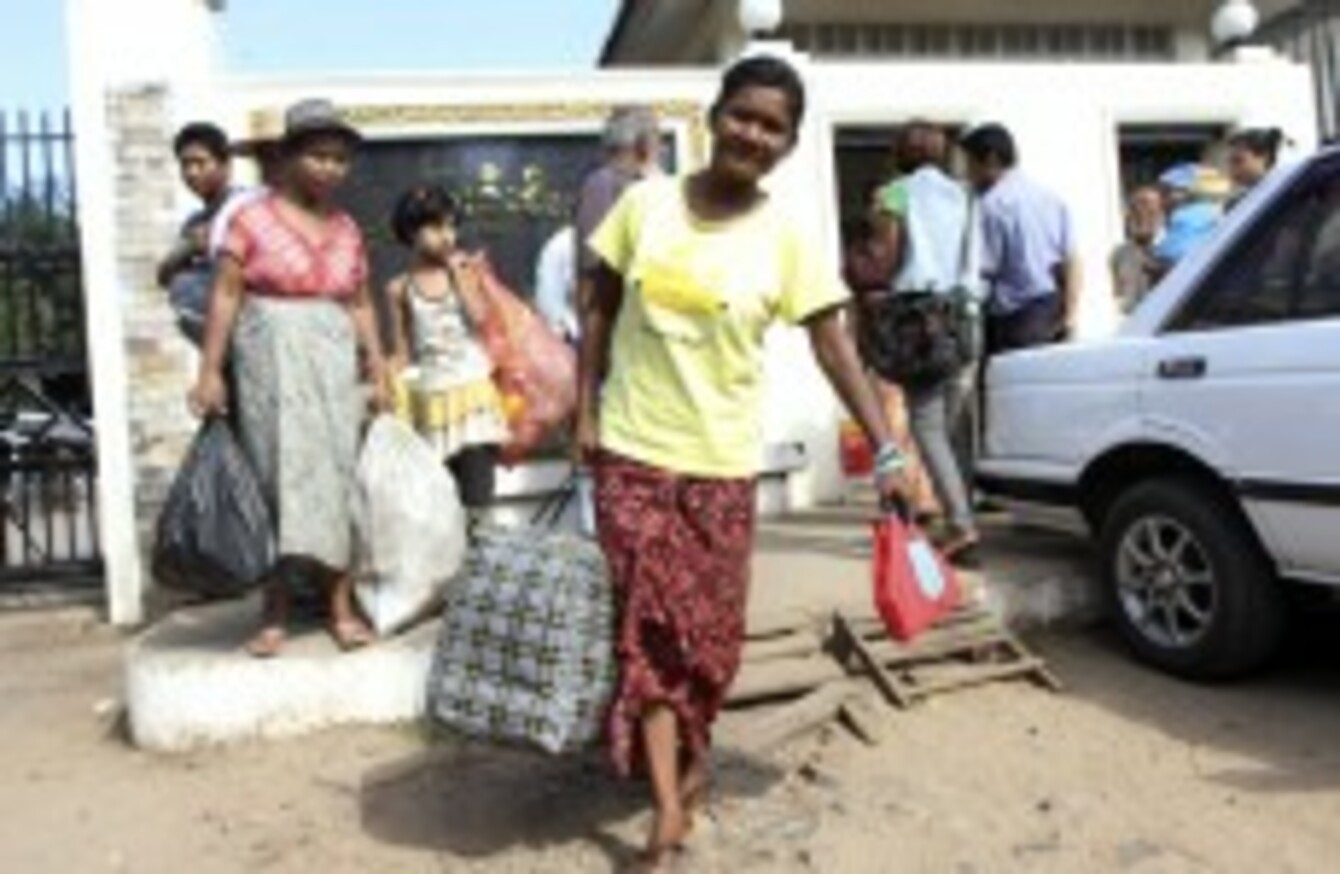 Myanmar prisoner walks outside Insein prison in Yangon, Myanmar after she was released today.
Image: Khin Maung Win/AP
Myanmar prisoner walks outside Insein prison in Yangon, Myanmar after she was released today.
Image: Khin Maung Win/AP
MYANMAR PARDONED HUNDREDS of prisoners today under an amnesty criticised by pro-democracy activists as a cynical ploy to curry favour before a landmark visit by US President Barack Obama.
Officials said 452 prisoners would walk free, but most or all of them appeared to be ordinary criminals. Rights groups said they were not aware of the release of any of the scores of dissidents still in jail.
The Assistance Association for Political Prisoners (AAPP), a Thailand-based campaign group, described the pardon as "the worst amnesty to date".
Myanmar, formerly known as Burma, has already freed hundreds of political prisoners incarcerated by the former junta, as part of reforms that have led to a dramatic thaw in relations between the one-time pariah nation and the West.
Campaigners including New York-based Human Rights Watch cast doubt on the motivation for the latest amnesty.
"New game"
"It seems there is a new game in Burma, which is the political prisoners game," said HRW deputy Asia director Phil Robertson, calling the release "cynical" and lacking in transparency.
Obama will on Monday become the first sitting US president to visit Myanmar, where he will meet former general President Thein Sein and opposition leader Aung San Suu Kyi, the country's most famous former political prisoner.
A spokesman for Suu Kyi's National League for Democracy (NLD) also questioned the timing of the latest mass pardon.
"It is strange that they released prisoners just before Obama's visit," Ohn Kyaing told AFP.
"They should have done it before and showed their genuine will to give the amnesty," he said, adding that it was unclear if any NLD members were among those being freed.
Other prominent pro-democracy figures also called for an immediate release of all prisoners of conscience.
Kyaw Min Yu, a leader of 88 Generation, named for a student uprising brutally suppressed by the army in 1988, called a full amnesty "critical to national reconciliation" after five decades of military rule.
"The release of prisoners should not be related to Obama's trip. It's just something the government should do as quickly as possible," he said.
Visit to United Nations
The last major amnesty in September saw dozens of dissidents freed just before a historic visit to the United Nations in New York by Thein Sein. But many political prisoners were left behind bars, to the dismay of democracy campaigners.
Estimates of their number vary but the AAPP put the figure at 283 in a list posted on its website on October 31.
The group said it had not heard of any dissidents freed today.
As recently as about a year ago, rights groups accused Myanmar of wrongfully imprisoning some 2,000 political opponents, dissidents and journalists.
The visit by Obama – fresh from his re-election victory – has been lauded by Myanmar as a sign of confidence in the reforms introduced under a nominally civilian government, which replaced the junta in March 2011.
It also comes as deadly communal violence between Buddhists and Muslims in the country's impoverished west casts a shadow over the political changes.
Clashes in Rakhine state have claimed 180 lives since June and forced more than 110,000 people, mainly Rohingya Muslims, into makeshift camps.