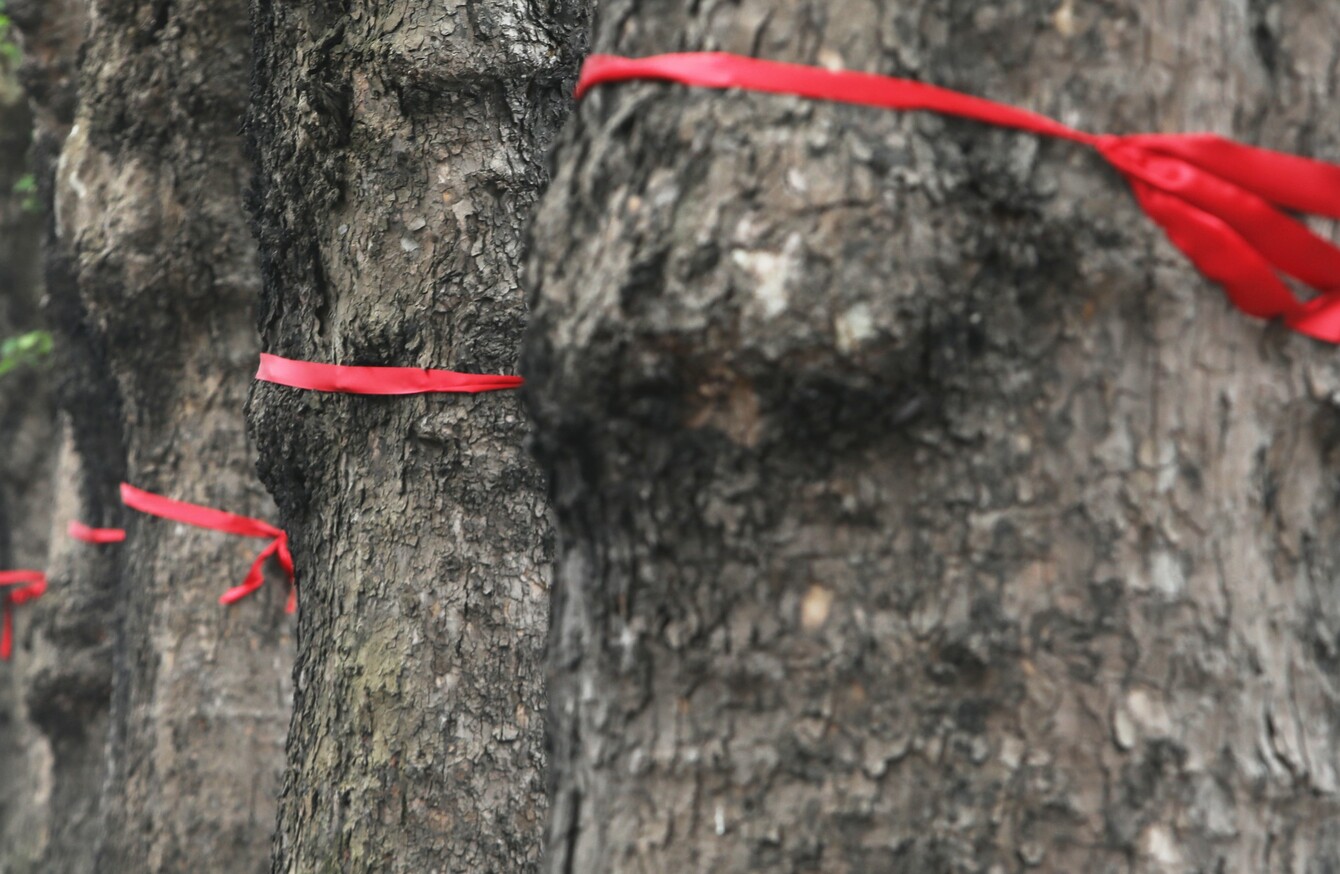 Trees with red ribbons around them on Baggot Street last year.
Image: Leah Farrell/RollingNews.ie
Trees with red ribbons around them on Baggot Street last year.
Image: Leah Farrell/RollingNews.ie
FEWER HOUSEHOLDS WILL lose their front gardens and fewer trees will be felled under revised BusConnects plans for Dublin unveiled today by the National Transport Authority. 
The revised plans state that 42% fewer properties will be impacted.
The NTA previously estimated that up to 1,500 property owners could lose part of their land to the project. Under the new revisions, the amount of affected properties are estimated to be 776. 
Speaking today, NTA CEO Anne Graham said that while the revised plan may impact some "minor additional properties", overall there would be a "significant reduction" in property acquisition.
A comprehensive replanting programme will ensure more trees are replaced than are removed during the development of the ambitious bus corridor project, according to planners. 
Roughly 2,500 will be cut down, with 509 trees alone being felled along the planned Lucan to city centre route. 
Enhanced cycling facilities, including off-route cycle tracks, are also being proposed. 
Another addition is 'signal controlled priority' junctions, where traffic signals stop general traffic, allowing the bus to pass through. This will be employed at bottleneck 'pinch points' and junctions where buses can potentially be obstructed. 
The latest plan follows a lengthy consultation process with over 13,000 submissions, as well as public information events, community forums and residents' group meetings. 
Under BusConnects, first announced in July 2018, the NTA plans to create 230km of dedicated bus lanes along the 16 busiest corridors in Dublin, as well as the complete redesign of the bus network along seven central "spines".
Concerns, however, were raised after it emerged that some homeowners will lose a portion of their gardens and other properties due to the plans.
People in a number of areas of north and south Dublin have also protested against the NTA's plans, with locals claiming it will destroy communities.
Last September, the NTA said it was looking for 'front garden negotiators' to negotiate  around property acquisitions. Speaking today, Deputy Chief Executive Hugh Creegan said that their work wouldn't begin until An Bord Pleanála considers the revised scheme. 
TheJournal.ie previously reported that a number of TDs – including one government minister - had written to the NTA to express their own concerns over their ambitious plan.
"One of the biggest concerns raised during the first round of consultation was the removal of trees in historic areas of the city. The NTA has introduced multiple changes to protect long-established trees in historic parts of Dublin," the authority said today. 
Among the changes being introduced in this revision:
No trees to be removed along Rathgar Road
All trees on the residential side of Nutley Lane retained
Up to 90% of existing mature trees being retained on Baggot Street Upper and Lower
Up to 90% of existing mature trees along Pembroke Road being retained
80% of trees along Merrion Road maintained
Over 85% of existing trees along St Mobhi Road being retained
The consultation period is open until 17 April. More info on the BusConnects website. 
- With reporting by Cónal Thomas