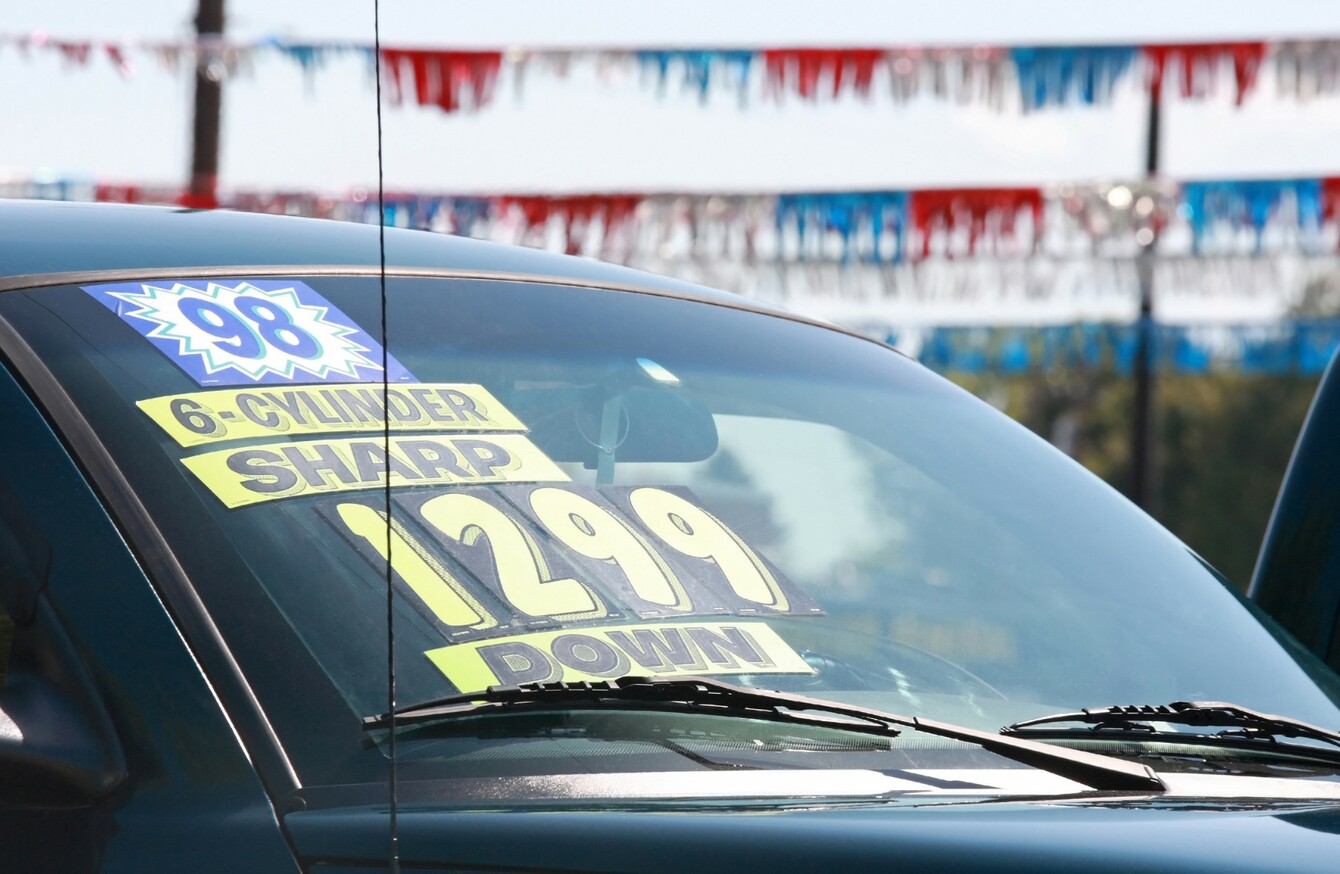 Image: Shutterstock/sonya etchison
Image: Shutterstock/sonya etchison
WHETHER YOU ARE a first time buyer or seasoned pro, working out what used car to buy, navigating the ocean of adverts and sealing the deal can be tricky. So we are here to give you some guidance that will hopefully lead to you buying your dream (used) car.
Budget
How much do you have to spend on the car and how much tax and insurance you can afford to pay each year?
Older cars may be cheaper to buy and tax but they may be more expensive and difficult to insure. Also, you'll have to budget for an NCT every year if the car is over ten years old.
Put the reg into an online insurance database and get a rough idea of insurance cost. Look at tax bands and shop for cars that fall into or below the tax bands you can afford.
An eight-year-old car for €3500 may be cheaper in the long run than a ten-year-old car bought for €3000.
What do you want?
Make lists: Decide on the basics first - eg, manual vs auto transmission, petrol vs diesel engine etc. Then list extras that you want eg, power steering, Bluetooth etc. List things you'd love to have but aren't deal breakers, eg privacy glass, leather seats and so on.
Search: Don't just look online – local supermarket and library notice boards and free newspapers are great places to search and looking local makes it easier to arrange viewings. National newspapers and some motoring magazines run classifieds, too.
Online, Google will provide pages of results but use sites with good search facilities, ones that let you search and filter results by year, price, county etc. If a site has a login option use it, as it will usually bookmark any favourites you find.
Setting the scene
Contact seller: The seller may be a garage, auction house, private seller, SIMI registered dealer or a non-registered dealer. Buying from any seller has its pros and cons but all come with the warning; caveat emptor. However, your consumer rights are stronger if you buy from a trader or dealer than from a private seller or at an auction.
Go through the advert with the seller and make sure the price advertised is correct. Arrange a time, during the day, to view the car and make sure they know you'll be test driving the car.
Insurance: Make sure your current insurance policy covers you to drive another car – known as DOC or Driving Other Cars cover. If your policy doesn't have DOC cover, ask your insurance company if they can temporarily cover you to test drive the car. Bring the policy documents with you to show the seller.
If you don't have an insurance policy ask the seller if they can or have extended their cover temporarily to 'any driver' to cover test drives. If they say yes, then make sure you see the insurance policy, you do not want to be caught driving a car with no insurance. Garages usually have their own insurance that covers you for test drives.
If you can't get insured, bring someone with you that can drive the car and you sit in the passenger seat. Whilst not ideal, it may be the only way to test drive if you don't have your own insurance.
Showtime
Viewing: Take someone with you – if you can find someone mechanically minded all the better, but bring someone who's opinion you trust.
When you view the car there are plenty of things that you need to look out for visually and mechanically (here is a checklist) but you should ALWAYS test drive the car. If for some reason the seller won't let you test drive the car then walk away, now.
Ask the seller to show you proof of tax, NCT and the logbook, also known as the Vehicle Registration Certificate (VRC). Jot down the serial number on the VRC, the NCT cert/disc number and the VIN/Chassis Number, which can be found on the driver side door frame, dash, and the front of the engine block.
Car history check: Most car history checks offer a limited free version but you should pay for the full check when you have seen and driven a car that you are really considering buying. Doing the check after viewing the car will give you time to think about the car and helps prevent impulse buying or giving into pressure from pushy sellers.
The car history check matches the VRC, chassis and NCT cert numbers to make sure the car isn't stolen or cloned. Some sites even give you a car price guide and a cost of ownership – valuable information, especially when it comes to bargaining.
Seal the deal: If you are happy with checks, and the person at the viewing doesn't think you have a lemon on your hands, arrange a second viewing. At the second viewing, if you still want the car, haggle and see if you can save you a few quid.
Pay: Never pay with cash – use a bank draft or bank transfer. If you pay a deposit, get a receipt and get the seller to sign it. When the deal is done make sure both you and the seller sign the change of ownership section on the VRC and post this off asap.
Tax: If the car is taxed, has a valid NCT and you are insured to drive it, then you can drive your new car away there and then.
If the car is not taxed then legally you have to tax the car before you can take it on the road. However you cannot tax your vehicle until the change of ownership has gone through. So, technically, you may have to wait a few days till the registration and tax arrive before you can legally drive the car away from the seller's place. Or you can tow it away.
NCT: If the car has no NCT you are by law not allowed to drive it. You can of course tow the car away from the seller, book an NCT and tow the car to the test centre. So you need to consider this if you are buying a car with no tax or NCT. It is your responsibility to make sure the car is taxed and roadworthy and if the Gardi stop you they do have to power to impound the vehicle and you could face a fine and penalty points, but this is at the discretion of the Garda if you do get stopped.