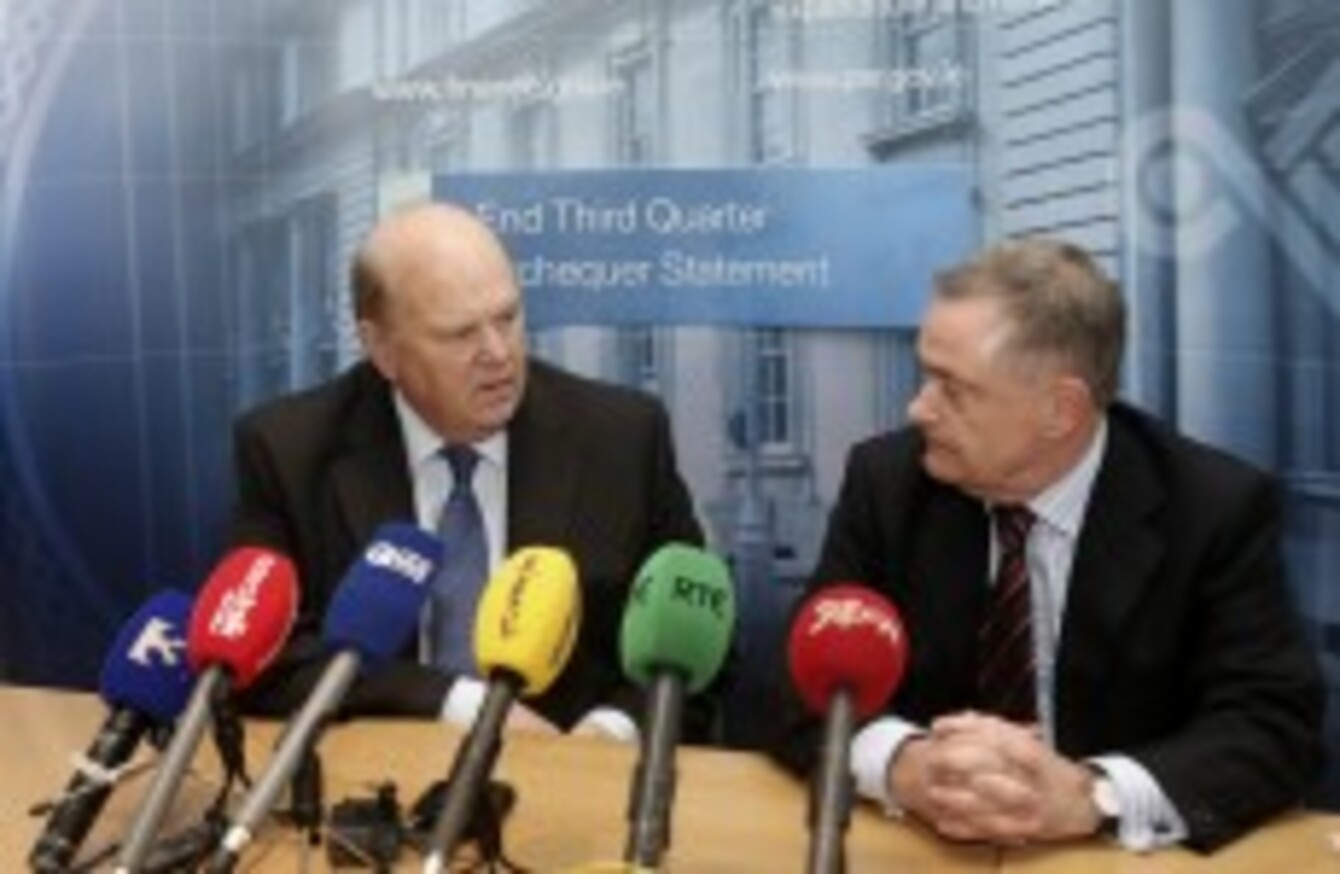 Ministers Noonan and Howlin will be telling us what's in the Budget tomorrow
Image: Sam Boal/Photocall Ireland
Ministers Noonan and Howlin will be telling us what's in the Budget tomorrow
Image: Sam Boal/Photocall Ireland
THE MAIN ELEMENTS of Budget 2014 have been signed-off on and will be announced in the Dáil tomorrow afternoon.
At a special Cabinet meeting in Government Buildings last night ministers reached agreement over the contentious areas of health and social protection.
The meeting continued longer than had been expected but concluded before midnight with ministers agreed on the taxation and spending adjustment measures that will amount to €2.5 billion in total.
It had been thought that just health – the budget for which it is feared will run over this year – was left to negotiate but some aspects of the social protection budget were also discussed in more detail last night.
All other departmental budgets were signed-off by Cabinet last night.
Speaking to RTÉ last night, Public Expenditure and Reform Minister Brendan Howling said that "by-and-large" the Budget has been signed off on with "a few little tweaking things" left to do.
"The overarching shape of the Budget has been agreed," he said.
The details will be outlined by the Minister for Finance Michael Noonan and Public Expenditure and Reform Minister Brendan Howlin tomorrow.
It is reported in the Irish Independent this morning that these measures will include free GP care for under 5s as well as changes in social welfare payments to young unemployed people.
In a speech at the Fine Gael national conference on Friday, Taoiseach Enda Kenny said that significant reform is needed to the social welfare system to tackle a culture fostered by previous governments where people became "caught in the welfare trap".
He said on Friday: "Today after the crash over a fifth, yes a fifth, of households are categorised as jobless. That's twice the European average.
"This is damaging to our society and is unacceptable. Particularly for our young people. The fact is without significant reform of the social welfare system. Ireland could be facing a prolonged and unprecedented period of long-term unemployment."
Meanwhile, several papers reported yesterday that a bank levy would be introduced as a way of replacing the fees the banks stopped paying when the bank guarantee scheme came to an end in March of this year.
Speaking at the Fine Gael conference on Saturday, Michael Noonan said there would be room to "ease back a little" in the Budget.
He also told the audience: "You'll be astounded at all the good news I'll be announcing!"