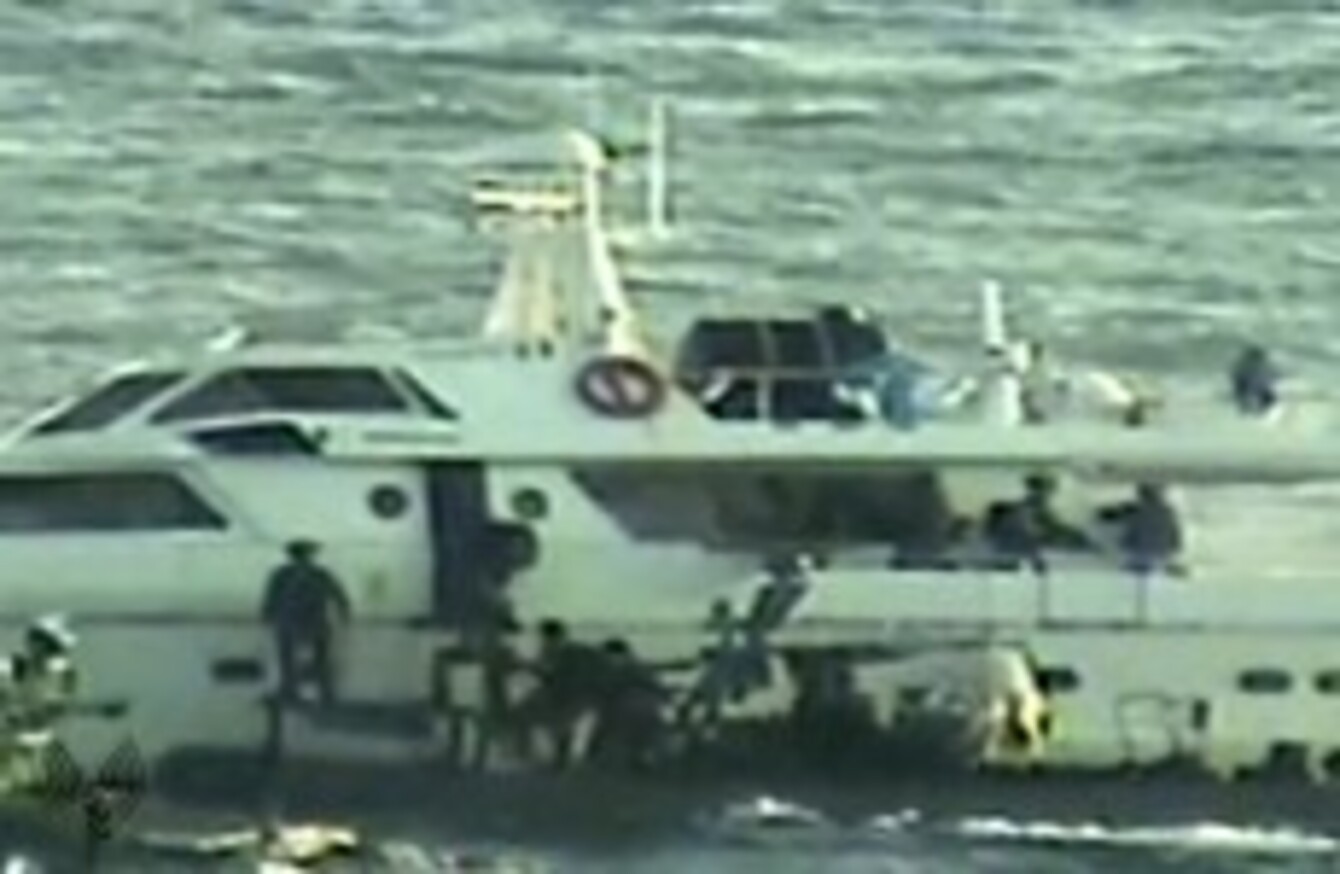 This image released by the Israeli Defence Ministry shows Israeli soldiers boarding one of the protest boats.
Image: AP Photo/Israeli Army
This image released by the Israeli Defence Ministry shows Israeli soldiers boarding one of the protest boats.
Image: AP Photo/Israeli Army
FIANNA FÁIL LEADER Micheál Martin has joined calls for the immediate release of a number of Irish citizens being held in Israel, after their boat was intercepted on the way to Gaza.
The activists – among them rugby star Trevor Hogan and former TD Chris Andrews –  are reportedly still being held in an Israeli jail, after refusing to sign deportation papers at a hearing in Ashdod yesterday evening.
They were among 27 activists from nine countries aboard the boats from a group called Freedom Waves to Gaza.
Israel's navy boarded the Irish boat the MV Saoirse and the Canadian boat the Tahrir. The boats were planning on breaking the blockade of the Gaza Strip on Friday. They were towed to the Israeli port of Ashdod after repeated calls for them to abandon their mission.
Micheál Martin has said that he salutes those who have taken part, and said that he has visited Gaza and "witnessed first hand the extraordinary conditions people are having to endure".
He has also commended the work of the Department of Foreign Affairs, which along with the Irish embassy in Tel Aviv is liaising with Israeli authorities.
The Israeli Defence Forces released a video yesterday which showed them communicating with one of the boats before it was boarded. A passenger on the boat was heard to say that there was no cargo on board. The Associated Press reports that the activists released a statement saying that the boats were carrying medicine and supplies for Gaza.
Israel says that the amount of aid carried in small boats used by activists is insignificant, as Israel transfers 6,000 tonnes of aid to Gaza daily.
Pro-Palestinian activists have mounted numerous attempts to reach the impoverished coastal strip by boat to draw attention to the 5-year-old blockade, which they say amounts to the collective punishment of Gaza's residents.
Israel says its naval blockade is vital in preventing weapons from reaching violent groups like Hamas, the Iranian-backed militant group that rules the Gaza Strip.
A spokesperson for the Irish Ship to Gaza campaign said yesterday that they had received unconfirmed reports that an Australian passenger on board the Tahrir had been "roughed up" by Israeli personnel.
Laurence Davis, a coordinator of the campaign has also said in a statement:
We have information from our Canadian counterparts that at least some of those aboard the Canadian boat were beaten. Concrete action must now be taken to express the justifiable outrage of the international community.
RTÉ reports that an Irish embassy official has met with the 14 Irish nationals, and said that they have not complained about their physical treatment.
The Irish Ship to Gaza spokesperson also said yesterday that they had had extreme difficulty in contacting any of the passengers, and that they had been unable to provide their own legal assistance. They had received a text message from Trevor Hogan, and said that the authenticity of the text had been confirmed.
Irish Ship to Gaza is calling in the Irish government to take a number of actions against the Israeli government, including taking "steps to ensure that no Irish state-funded institution engages in any cultural, academic, or economic cooperation with the state of Israel or its associated institutions".
It's also calling for an end to any arms trade with Israel, and a cessation of any grants to Israel made under the EU's framework programme for research.
The Derry Friends of Palestine  group has said that Sinn Féin leader Gerry Adams has been in contact with Israeli authorities, who have told him that two Belfast passengers John Mallon and Phil McCullough are in good spirits and in good physical condition.
It's likely that the activists will be forcibly deported by Tuesday, after refusing to accept the criminal charge of illegally entering Israel.

- Additional reporting by AP